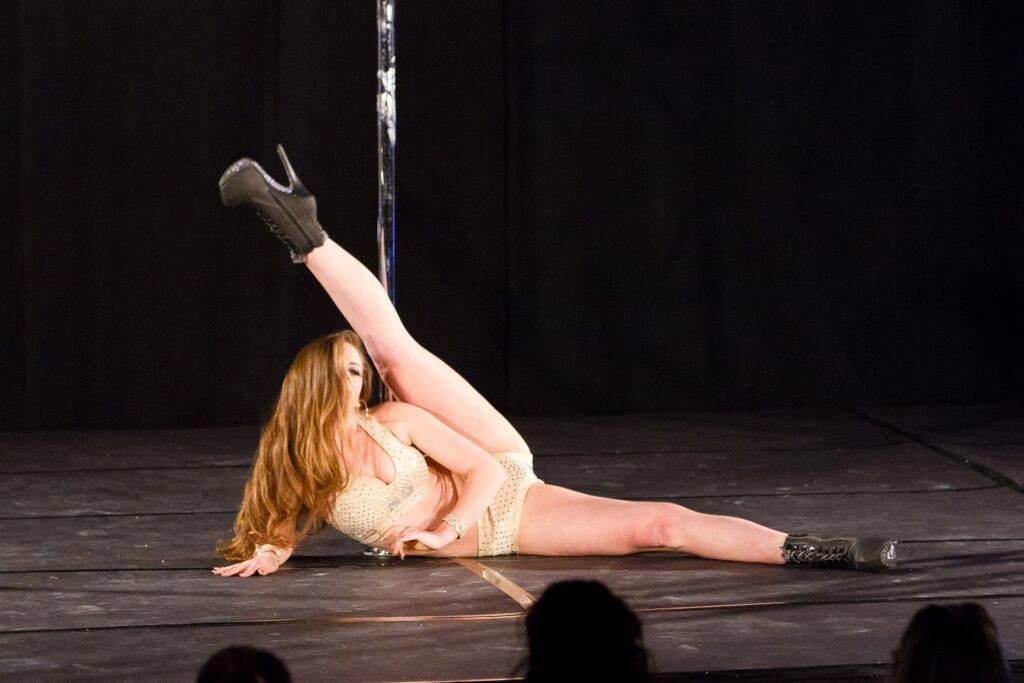 10 POLE DANCERS YOU'VE NEVER HEARD OF THAT ARE CHANGING THE GAME
I'm interested in tiny change, local hero's, underdogs, those who actively live their lives against the grain. As a community, we know that pole is magical because it embodies all of these qualities, which is why many of us attend classes, showcases, competitions, and productions involving pole with the dedication of the most devout congregation you can think of. Pole is inherently defiant of social standards and norms, attracts folks who are the opposite of risk averse, and functions as the slutty sister to the mid 19th century quilting bee. Women need women only spaces, this is a given (shout out Virginia Woolf). Women also need to see themselves represented in various spotlights to serve as inspiration, because if you cannot see it, you cannot be it.
We know of pole goddesses that are changing the game. We book privates with them at conventions, and sell out their workshops at our local studios. My inspiration for life, CEO of Pole Con herself, The Colleen Jolly, serves as perhaps one of the most innovative, generous, and kind individuals in the pole world and universe in general. There is no end to the accolades that can be spoken for Colleen, for Amy of PSO which allows almost anyone to take the stage, for Alethea and her classic sexy, for Brynne and her slow flow, for Lux and her amazing message that comes from an accent thicker than southern air on an August day at noon, and for Roz who is just simply fantastic in every way. These are pole's household names; women who have changed, or are changing the game.
Today, I want to talk about 10 pole dancers who are perhaps not well known but are shifting ground in a quieter, local space. They aren't famous, their Instagram might not have a lot of followers, or a lot of content, but these women have all significantly impacted my practice and I believe it is essential to recognize change at every level. Look for them at your next convention, competition or showcase. You should know their names because their impact is huge. Who is changing the pole game for you?
* I feel it necessary to acknowledge that 5/10 of these women are located in Richmond, Va. This strange little city called Richmond, Va is, in fact where I live, but do not let that fool you. RVA truly offers something in the pole community that cant be found in any other part of the world. I wholeheartedly believe this.
Nikki Eggelston
Instagram: @niclou86
Location: Richmond, Va
Pole Style: Athletic
Game Changer: Sick ass back breaking transitions on spin pole.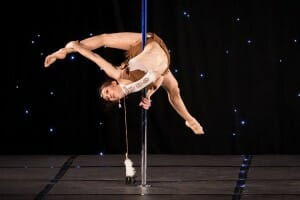 You haven't ever seen transitions like hers ever before. She's like a baby version of Maggie Ann, but with a winding (not that kind though) movement style on the pole that sets her apart from the classically trained athletic gymnast poler. I guarantee you that there aren't even names or claims to the tricks she executes, but that doesn't matter because the lay-poler could never knot yourself into them anyway. Her pole work is truly unique. Her bottom third flow on spin leaves you wondering how she got into the positions she's in, how anyone's low back can be that mobile, and how she manages to breathe. Her signature cartwheel into Janeiro may cause you to feel like you're going to have a heart attack, but she seems to stick it every time. Nikki placed 10th at PSO's APC in 2016. A conceptual/artistic dancer she is not, but her natural flexibility and innovative shapes mind bending.
Flynn Cross
Instagram: @soulaerial
Location: Richmond, Va
Pole Style: Modern Contemporary/Ballet
Game Changer: No frills classic style, and entrepreneurship that'll make you (and your bank account) cry.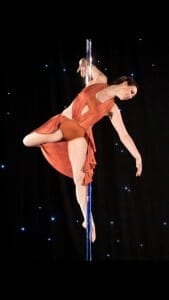 Flynn Cross is a classically trained dancer who picked up pole in her late 30's as a hobby. Read: A Hobby. She will tell you that she hates inversions and she does not care for the latest and greatest pole trends. Her interest on the stage lies in creating a well rounded, professional performance that captivates her audience with classical form and no frills, yet flawlessly executed shapes that compliment her music.
In addition to her dance style, Flynn is bringing something to the pole community that its never seen before. In August 2015, just a few days after medaling Gold in her category at PSO Nationals, Flynn opened Soul Aerial and Performing Arts Center, a 6000+ square foot performing arts facility that houses pole (with15ft poles), lyra, aerial hammock, flexibility, fire hooping, standard hoop dance, hip hop, vertical barre and kids classes, just to name a few. She has given everything she has to this dance studio, making it one of the most unique in the country and the only in Virginia that houses pole, aerial, dance, and circus disciples and more. Her dream was to create a space that houses everything with top trained artists in a space free from judgement that rejects over training and pressure based regiments. In short, she took everything about the dance and aerial world, subtracted the negativity, shaming, and competition and kept the art, movement, and soul. This is a massive business venture, something the pole community has never before seen. Her generosity to the community is unparalleled.
Heather Williams
Instagram: @evahhhnay
Location: Richmond, Va
Pole Style: Sensual Contemporary
Game Changer: Simple. Pristine. Movement. aka Melted Butta.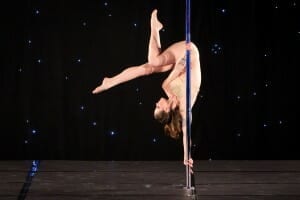 Heather Williams is new to studio pole. She's been instructing less than a year. She was a competitive gymnast for 10 years, but there is no rigidity or stiffness to her flow at all. Miss Butta Pole herself has a movement quality that the professional pole world has never seen before. Each placement, grip, and transition has its own breath. Her organic style and introverted gaze casts a spell on her audience, rendering them literally speechless. You will never ever see her stop in a pose, yet you will never question her form. You'll rarely see her make eye contact, but you will never once doubt her stage presence and engagement. She knows you're watching her, and her downward stare suggests to you that she wants you to watch her, but make no mistake: she is doing this dance for herself and herself alone. Her confidence and kinetic intelligence is captivating. Every single move this girl makes is considered, engaged, purposeful, and considerate of her sound source in a way that deconstructs music and turns it into perfection of line right before your eyes. She makes static poles look like they're on spin, she doesn't use ANY grip at all, and her club roots are apparent, though not explicit in the most sensual way possible.
When people hear of pole prodigy's like her, it typically comes with a "and she's also a world class lawyer!" or some other professional endeavor that adds value to their pole practice because in order for a woman to be amazing with her body, they also have to back it with something "real". Heather has no "day job" to speak of. Nothing fancy to woo you. She is a server because she would rather have her freedom than the label of a "real" job to impress people who don't matter.
She won a Gold Medal performance at APC this past year and qualified for pro, but is staying a level 4 for more experience. She never mentioned to anyone of her win because she isn't about competition. She wants to put art on a stage and competitions happen to be the only place to do that currently. She is changing the game because she took a simple gemini, scorpio, butterfly, aysha, combo, stuck it in a Level 4 routine and made jaws drop and birds sing and when she finished, the sun literally came out. She rejects angular, stiff, and trending moves in favor of perfectly executed classic shapes that are dynamic and perfect. She is taking pole back to simple passes that are elegant. The pole trick arms race is of no interest to her because she's too busy melting chrome and flesh together into one.
Margie Grepo
Instagram: @mgpoledance
Location: Philadelphia, Pa
Pole Style: Exotic/Sexy
Game Changer: Tailored instruction and sexy movement with the generosity of a nun.
Margie owns MGPole Sport Collective in New Jersey. Haven't heard of it? Thats because it only has three poles, 224 likes on Facebook and 130 on her Instagram. She charges $5 for up to two hours of open practice time (!!!!!) and has a unique business model of having a collective, rather than a studio. I met Margie years ago at a PSO event and she has always remembered my name, my artistic style, and has supported my pole practice even though she was a total stranger to me at the time. I got to know her a bit more at Pole Con in Ft Worth Texas this past summer. Margie listens. She cares deeply about what everyone around her has to say. She genuinely supports her pole sisters. She has her small studio tucked away and provides us with a real woman viewpoint of pole. Her rock and industrial tunes on her Instagram provide us with a keyhole peep into her personal life: a sexual, open, confident grown ass woman who has a lot of love to give. Margie is a normal woman. She's not iron X-ing, and her simple spinning pole sits in her very own studio suggest that her interest is in creating your own world, a true mark of courage in a world where women are expected to abide by social rules that pit them against one another.
Margie has a heart of gold. Her Instagram provides a wealth of inspiration for real life, attainable pole combos for classes and her intimate, giving spirit is clear in her eyes when you have a conversation with her in real life. I highly suggest you introduce yourself to her at the next competition and convention. The world needs more women like her.
Ti Lo
Instagram: @tilomagicbottom
Location: Planet Ass Clap
Pole Style: Exotic/Sexy
Game Changer: No fucks given absurd levels of bad assery and self love.
The Instagram name says it all. Ti Lo poles for herself. She doesn't compete (except for that one time at Dangerous Curves with Roz Mays). She will occasionally do a studio showcase at her home studio. Ti Lo poles simply because she is feeling herself, she loves her body, and she understands the value of a good pair of heel clacking stripper shoes. She's changing the game through a demonstrated track record of real, internal self worth and value. She is the physical embodiment of the reason we all say we got into pole; for ourselves. Her ass-flowography (I made that term up) and floor work is slow and exotic in nature but on par in skill with ATL twerk pro's.
Ti Lo doesn't care what you think. Not even enough to get on a stage. She already knows that thick thighs do indeed save lives and that a pelvic thrust is a pelvic must. She is changing the game because she doesn't believe there is a game. Only herself. Her journey. Her love.
Eva Rut
Instagram: @kyokowidz
Location: Reykjavik, Iceland
Pole Style: Athletic with a splash of Contemporary
Game Changer: Solid instruction in the studio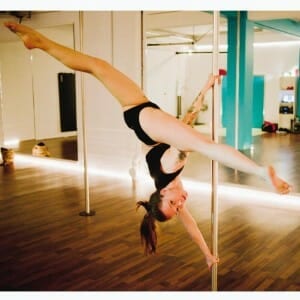 Eva is tucked away in beautiful Iceland at Erial Pole. She's got no formal training and told me once that she hated gym class in school. She's got a booty to die for, some feminist politics that will melt your heart, and is one of three people in this entire planet to teach me into an aeysha (I'm 5 years into that journey with no real success to speak of). She teaches balance and movement in a very intuitive way and always knows exactly how to fix whatever problem you're running into with a pose or flow.
I have had the privilege of training with her for one month last year and she teaches in Icelandic with a bit of English here and there. I speak no Icelandic and still managed to get more than I could handle out of every single class, which is a testament to her kinetic awareness and execution. Eva is strong, flexible and she belongs in a studio classroom teaching girls because she is simply fantastic at what she does.
Onya Williams
Instagram: @theexoticloft
Location: Nashville, Tn
Pole Style: Exotic
Game Changer: She owns the secrets to lower body isolation and exotic twerk.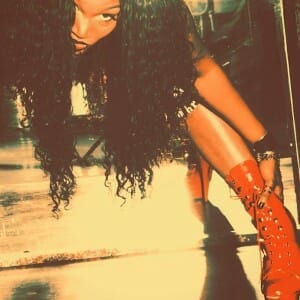 Her most magical quote of all is "you've got to listen to your fat". This is a quote I use to this day and is one of the best methods of teaching twerk I've ever experienced. This is truthful on a celestial level when it comes to exotic twerk. Onya works in a different way from Texas or ATL twerk. She isolates slowly and in a sultry manner that reminds you of your muscles and fat working together to create a shock wave of greatness.
I have taken one (just one!) class with Onya in the summer of 2015 while traveling. That one Twerk Out class at The Chrome Bar in Nashville is enough to land her a spot on this list. When I say this, I mean it: Onya's class will change your life. The Chrome Bar has a gem with this one. Her humor, instruction and butt magic can get the stiffest and least flexible hips to open up and work that back in a way you never thought possible.
You might know Onya from Miss Pole Dance America 2016 opening number: she was the one in the silver pants actively shifting the Earth's orbit from the sun to her fabulous shining ass. If you are within 100 miles of Nashville, you need to be in her classes. Hell, I drove 613 miles for 3 classes at The Chrome Bar and though everything I took there was off the charts amazing, Onya gave me one of the best classes I have ever taken. Worth every bit of the 9 hours.
Ms Vegas
Instagram: @thefamousmsvegas
Location: Northern Va
Pole Style: Theatre
Game Changer: Hilarious personality and contortion style shapes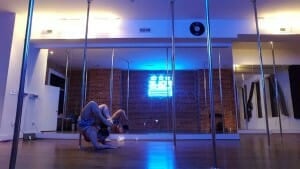 The first words I ever heard come out of the mouth of Ms Vegas is "Y'all are a bunch of sandbagging whores" at a PSO competition many years ago. Ms Vegas is one of the funniest people you will ever meet in your life and has a pole skill repertoire that rivals some of the bendiest pros you can think of. Her style is funny, she plays a crazy person and drug addict extremely well and her off stage persona is just as verbose as her on stage persona.
Vegas isn't what you would call a "sugar coater". She tells it like it is, points out problems as she sees them, and gives props where they're due. She's a published author, a yogi, and a great friend to anyone who meets her. Her criticality of problematic systems and rules in pole that exclude plus sized dancers, or fail to consider their journey in a thin centric world is precisely what the pole world needs more of.
Kat Weakley
Instagram: @prowler127
Location: Richmond, Va
Pole Style: Theatre
Game Changer: Willingness to make a spectacle of her self as an act of defiance against "classy"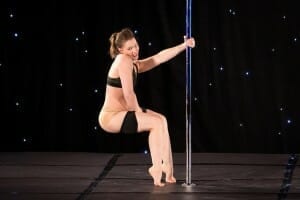 This game changer is short, sweet, and to the point. Kat Weakley don't care if you like it quiet. She is the loudest, trashiest, most no bullshit performer/instructor the pole community has to offer right now. She will bake you a paleo muffin, listen to you whine, and then make you do a two minute plank in the same 20 minutes. This pole dancer plays by no rules but her own. She makes all of the shapes on the pole until she's done, then take her students out for food truck night afterwards.
She is changing the pole game because putting on airs is a thing she does not have to do in her life. She wears this conviction proudly. Kat makes friends at every event she goes to, outright rejects competition with other women, she's smart, and tells it like it is.
Anna May
Instagram: @annamayfly
Location: Chicago, Il
Pole Style: Exotic/Sexy
Game Changer: Ally to strippers everywhere
Anna May is a poler who unapologetically defends strippers like its her day job. Anna has never been a stripper, but she very publicly stands up for the respect of the foremothers of pole. She is often loud and never without facts to back up her position, constantly defending a class of people with nothing to gain herself. Her selfless demeanor comes through in almost all of her status posts; she's a vulnerable woman who doesn't fear who she is or what she believes in. Her stewardship in the pole community is refreshing and helpful. She loves everyone, and you can see that in her eyes.
Plain and simple, Anna is a sweet angel pole dancer in black pleather. If the sex worker ally parade were marching down the street, Anna May would be right at the front of it twirling the baton.

Latest posts by Nia Burks
(see all)