AN OPEN LETTER TO NON-STRIPPERS ON EXOTIC RESPONSIBILITY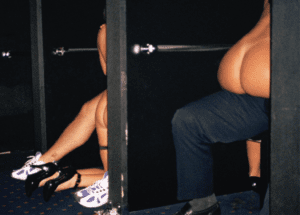 Dear Exotic Pole Dance Sisters,
So, you have never been a stripper? You are competing or showcasing an exotic pole piece soon? This is an open letter to you.
You are among the few that are brave enough to step on stage with the vulnerability and authenticity required to perform your raw sexuality before a live audience. Rock on, I'm rooting for you.
You are among even fewer who get to do so safely. Many strippers work in dangerous and abusive environments for sums of money that aren't as large as you may think in exchange for favors that aren't as empowering as you've been told.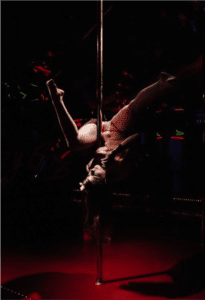 My dear girl friend, your responsibility here is massive. Your stage performance is using the language of desire that centuries worth of women have used as a form of labor. You are being permitted a space to use this language in a way that is not intended to open the door to your inevitable abuse, discard, and coercion. Whether you know it or not, you are stepping on that stage for women that have been hurt by this labor, for women who have been killed by this labor, for women who have been deemed a social liability for this labor. You are stepping on a stage and representing women who are silenced, for fear of loosing their jobs. You are representing the women who live double lives, the women who have had their children taken from them in custody battles for being unfit mothers because they are strippers, or the ones who cannot tell their families. You are representing women who have to bottle it up, hold it in, never talk because their experiences would cause them to be loved less by the ones they love most.
The women who strip today and decades past do not have the luxury you do; safety and voice. Dear friend, you are being issued a tiny approximation of the labor some women do daily; all of the benefits and none of the responsibilities. This showcase or competition that you are performing in is the closest thing to the dark human vending machines that we call strip clubs that many of you will never experience. Thank goodness for it, too. Your tiny approximation affords you the glorious privilege of ignorance, because you cannot un-know what a stripper knows about people, about men, about bodies, about money, and about consent.
You are stepping on stage and representing strippers, but you are also stepping on stage for women who have never been strippers, but fear their authentic sexual self. The women whose husbands won't "let them" dance in a sexy category. You are especially stepping onto the stage for the ones who scoff, and are "above" sexy pole and don't "need it" (not to be confused with the ones that simply prefer a different style!), because it is those women who seem to believe that unapologetic connectivity with the carnal self is something that you grow past. They are perhaps the ones I am most sad for. Dance for them too, girl.
You are stepping on stage for the women who came before you and were so cast aside for their sluttiness and simultaneously so exploited for it that their lives ended up in a tangle of addiction. Anna Nicole Smith, Courtney Love, that girl at your local strip club on a Sunday night. You are representing them. You are representing the women who truly believed they were empowered by their stripper career, only to find themselves 3, 6, or 10 years in wondering why they are unable to have a healthy sexual relationship. You are taking the stage for the women who are practitioners of this art professionally who get in fights with their boyfriends over and over about why they never want to have sex. Your exotic pole performance is pulling from the lives and culture of women who, to this day, disassociate when they have sex due to the undeniable need to do so in the club as a means of survival. When you turn the light of presence off, you don't get to select special places to receive a glow. One cannot selectively numb. You have a duty to be present in your body for the people who can't be.
You are part of a history of public hiding and secret revealing, of loud punishment and quiet praise. You are the potentially the first generation of women EVER who can spread their legs on a stage before a paid audience and do so without fear of bodily harm or social punishment. Think about that.
You are permitted this immense responsibility because exotic dance has broken from its main line of labor into a tiny vein of art. Certainly, it has always been art, and if you don't think seduction is art, I would invite you to step on a stage in front of a hungry audience and show me how its not. I implore you, take this performance you are about to do seriously. Demand that your competition judges be educated supporters of the acceptance of this art, insist that your authenticity not be limited by rules, ensure the safety of the women you share your stage with.
Strippers create a sexual connection on a stage without touching anyone at all. They make their audience aware of their own desire, awaken it, and make them mindful of their need for touch. Strippers go into a room of 300 men and make each of them feel like they're the only one in it. They literally put their bodies up for rent to the highest bidder. Their resilience in the face of abuse is uncanny. Strippers are magicians. Have you ever met a woman who was physically assaulted in VIP then told to take the stage right after, only to perform sex like it was her destiny to do so? I have. The ability to be bitten and then immediately go right back into the snake pit is nothing short of magic. Conjuring that is a skill set I hope you will never need.
The jaunt into the world of exotic pole is something that I personally welcome from those who genuinely support it. However, I implore you my dear sexy sister, take this inconvenient history with you on your journey. Its not pretty, it isn't sexy, but its real. Your privilege is incredibly immense, and the greatest way you can respect strippers (next to accepting the long over due magic that is exotic dance) is to acknowledge their very very real experiences.
With Love,
Nia
#butterandfilth
butterandfilth@gmail.com
butterAndFILTH
butterandfilth
ButterAndFilth
ButterAndFILTH
butter_and_FILTH
butter_and_filth
BUTTERandFILTH
butter.and.filth
butterandFILTH
Butter.and.FILTH
butter.and.filth
butter.and.FILTH
Butter.And.Filth
BUTTER.and.filth

Latest posts by Nia Burks
(see all)