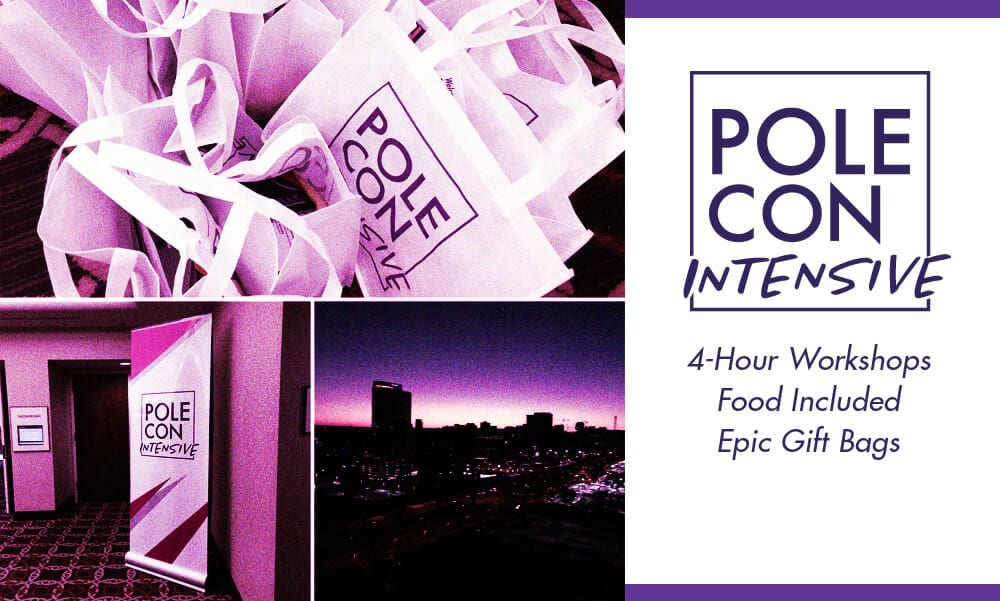 Check back for details on the next Intensive!
PoleCon:Intensive is a streamlined, "mini" PoleCon with just you, your favorite pole star instructor, and some amazing food. Oh! And epic gift bags.
1-4 workshop rooms: 4-hour morning workshop options, 4-hour afternoon workshop options for 2 full days.
Same instructors, different day: Missed your favorite instructor on Day 1? Look for them on Day 2 in a different time slot!
Food included: lunch or breakfast (with vegetarian options) depending if you do the morning or afternoon session (food is before your session).
Evening Social (Saturday only): socialize with your pole family in the evening at a special, Intensive-only event. Didn't book your workshop on Saturday? Come early for your Sunday session and mingle.
Epic gift bags: with real swag and samples from pole, fitness, nutrition, and lifestyle vendors.
Poles: Typically held in carpeted, hotel ballrooms on stage poles (45mm X-Pole Stages not Lites) with maximum 2 people per pole, 12 poles (24 people).
Hotel: There will be a discounted hotel room block available.
Discounts: Want to book more than two intensive workshops? Book 3 Workshops for $699 (early bird) and book 4 workshops for $929 (early bird). Get that right online! Go to "Online Store > Packages"
Pricing: Each workshop is $259 (includes breakfast or lunch) early bird (ends two months before event), price increases to $299. Schedule available NOW. Book just the workshop(s) you want. No additional event fee.
Privates: Can't get enough? Limited private sessions are available. Email us to book.
Massage: Now offering massages from a qualified massage therapist and pole dancer, Crystal Mclean. Email us to book.
Schedule: for both days (except social which is Saturday only).

7:30am – 9am Check-in for morning (and/or afternoon) workshops and get your gift bag.
8am – 9am HOT Plated Breakfast (for those who purchased a morning workshop)
9am – 1pm AWESOME 4-hour Intensive workshop

12pm – 2:30pm Check-in afternoon workshops and get your gift bag.
1pm – 2:30pm HOT Plated Lunch (for those who purchased an afternoon workshop)
2:30pm – 6:30pm AWESOME 4-hour Intensive workshop

7:30pm (Saturday only) Social! Details TBD.
**First Aid and CPR certified staff member + Registration and Lost and Found help available all day**
Want to Sponsor the Intensive?
We're keeping it super simple for our Intensive event:
sponsor an item in the "epic" gift bag for $100 + gift bag item. Provide an actual thing such as a sample of your product or your product rather than a flier (you may also include a flier for FREE if you are including an item).
sponsor a flier in the "epic" gift bag for $150.
Contact us directly to book and with any questions or ideas on how to sponsor. We can get creative!