THE HISTORY OF HARLOTS: SEX WORKERS IN ART FOR THE NON ART INCLINED
Naked ladies and the canon of art history go hand in hand. Women and their uncovered bodies have served as muses, currency, political statements, story tellers, sources of public disquiet, and trail blazers throughout the history of art ranging from the Venus of Willendorf effigies of 28,000 BCE to contemporary artists actively working today.
This is my second year writing for International Pole Convention. My interests are rooted in socially responsible media history as well as the accessibility of art. I wish to expand on that latter interest and provide a short comprehensive list of indecent women that appear in the history of art. This piece is for everyone; but its especially for readers who have limited experiences in art viewing in a formal context. Art is a tool of cultural transmission. The histories and representations of women in this article create a spectrum that ranges from genuine, to voyeuristic, to bro-art and they constitute an attempt to capture the worlds oldest profession with the lens of each artists bias and described using plain language as rejection of the academy that restricts access to the history of art to those who can afford to buy a ticket. Many artists who represent images of sex workers have situated themselves as a "reporter" of How The Other Half Lives (Riis), contributing to a socially permissible history of spectacle ethnography by the privileged onto the underbelly, the salacious, the untouchable. The position of reporter is interesting, as it stands to be a tried and true method of assigning history to those below the social alphas of our culture. My aim is to report on the reporting by add a line of visual analysis on how all of these works function in a contemporary discourse about the rights and permissions women have to their own bodies and experiences by using the following art works as a jumping off point for works from the mid 19th century to present.
1. Le Déjeuner sur l'herbe (English: The Luncheon on the Grass) by Edouard Manet, 1862-63, French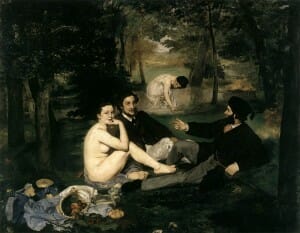 In The Luncheon on the Grass Victorine Meurent sits nude, addressing the gaze of the viewer (you and I), brightly lit and unapologetically knowledgeable of her undraped status. The Salon originally rejected this painting due to a number of factors, namely in response to the vulgarity of the type of men who painted nude women, as well as the hat that the gentleman on the right is wearing. It is meant to be worn indoors, thus insinuating that he is some sort of animal lacking social grace. This painting was thought to be a threat to decency and social order. Manet was openly disobeying the established decorous conventions of the time. Though there is no proof, the incongruent appearance of the dressed men and nude woman lunching in a pastoral scene commonly associated with higher class activity suggests that she is a prostitute. The work was thought to be in bad taste, despite the plethora of female nudes present in the Salon at the time. This one was just a bit too forward for the times. Victorine Meurent's unrepentant eye contact assaults the viewer as if to say "…and?" appears as a subject in much of Manet's work.
Manet's Olympia was completed the same year as Luncheon on the Grass. This painting shocked the French audience yet again with confrontation in the eyes of the subject. Instead of talking about Manet's motives or ideas, I'd like to discuss his reoccurring subject, for this work depicts Victorine Merrent from Luncheon on the Grass. She too was a painter, but you haven't ever heard of her; such is history, right?. In this work, her hand is blocking her vagina, which symbolizes her independence from men. She is looking directly at you, restricting access, insinuating that it is her that makes decisions regarding who gets what and when. Olympia's servant brings her flowers, which are probably a gift from a paying client, but she ignores them. The black cat to the right is a symbol of prostitution in art, perhaps because of its connection with darkness and alley's; a common circumstance of streetwalkers. Her status, however, is that of a high class paid companion. The name Olympia was a common one among prostitutes of the era. Symbols of sensuality and wealth surround her, namely the orchid in her hair, and the fabric that she lays on. Victorine Meurent as Olympia is perfect because in real life, Meurent was a sought after and highly compensated art model, artist, as well as a muse for a number of French painters of the time. This painting highlights Meurent's status as a bad bitch both literally and symbolically.
Un bar aux Folies Bergère (English: A Bar at the Folies-Bergère) by Edouard Manet, 1882, French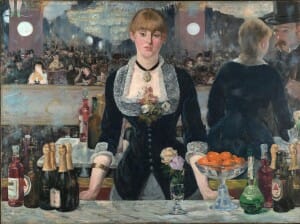 Enough about Manet, right??
This is our last painting by the hooker-loving vagina obsessed Realist/Impressionist painter. Manet often used oranges (to the right in this piece) to signify ladies of the night in his paintings. If you look in the mirror behind the barmaid, she is conversing with you, a man in a hat, the viewer of this painting. The history of aerial arts as a form of low and unrefined performance (unlike traditional dance) is shown at the top left. The green heels of a trapeze performer dangle almost out of frame above the patrons of the bar. The suggestion here is that these women are to be consumed alongside your favorite cocktail.
4. Medical Examination, Rue des Moulins by Henri de Toulouse-Lautrec, 1894, French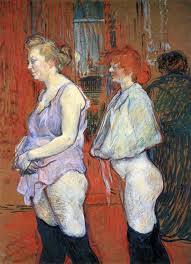 The Medical Examination depicts two prostitutes, one older and one younger in line for a mandatory bi-weekly STD inspection at the 24 des Moulins brothel—one of the best in Paris at the time. The blonde gathers what remains of her dignity in the form of her dress bunched in front of her naked lower half while the younger redhead matter of factly marches forward. When this painting was completed, there were over 30,000 registered prostitutes in Paris alone. About 70% of them had mind-deteriorating syphilis and as a result underwent exams to ensure that their health was maintained. The redhead on the right is named Rolande. She was a muse of Toulouse-Lautrec and appeared in 13 of his paintings. This work portrays the practical facet of sex work rather than the challenge of social narratives that Manet did in his pieces. Toulouse-Lautrec, a paying client as well as an artist, drew much inspiration from the Parisian night life and painted the scenes as if a reporter would take a picture. He did not aim to alter the reality of day to day life, but rather, present a unsentimental interpretation of women who were objects of consumption. This point is obvious in this particular painting, as seen in the crass methods by which women were inspected. It is certainly without civility. Unfortunately, Toulouse-Lautrec did not take note of some of the more pragmatic measures—he died of syphilis at 36.
Les Demoiselles d'Avignon by Pablo Picasso, 1907, Spanish
Five prostitutes in Barcelona confront the viewer in a threatening manner, all lacking traditional feminine characteristics of female nudes in art history. Their bodies are angular, and faces are primitive, which is evidence of Picassos interest in flat perspective and African masks. These faces had duel purpose, also alluding to his fear of disease in an environment he was very active in. Unlike the previous work of Manet, which was done during the same time period, the ego driven Art-Bro Picasso set out to make a name for himself through painting sex workers more like crude pornography by abandoning the sensuality of the female form that is present in Manet's work. The canvas is crowded by shapes, rather than being able to breathe like the works of his French counterparts. Picasso used these women to out-do his contemporaries, and placed symbols of sexuality like fruit amongst them. Picasso is no feminist, y'all. He feared women and used them for his own diminutive pleasures as a means of regaining a clearly lost sense of control.
Before I move on to photography and more recent works, I'd like to give you a few runners up: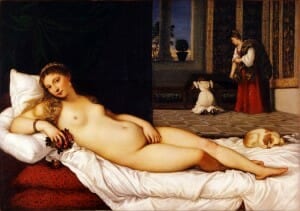 Titian's Venus of Urbino, 1538, Italy. Is she masturbating while looking at you? Is this vintage porn? Note the difference between her hand placement and that of Manet's Olympia. She is more coy and suggestive; more subservient. She does not boast of the same power that Olympia does. The gesture of the hand in these two works demonstrate two totally different expressions of power.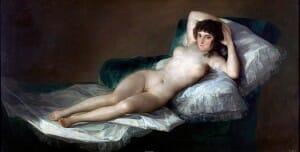 Francisco Goyas La Maja Desnuda (The Nude Maja) 1797-1800, Spanish. This was a private commission and is one of the first depictions of a nude female with public hair that does not overtly suggest that she is a prostitute.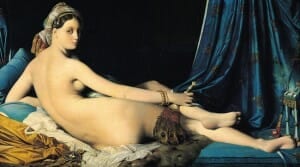 Jean Auguste Dominique Ingres, Grande Odalisque, 1814, French. She has an extra long spine.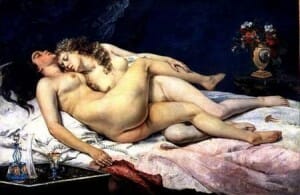 Gustav Courbet's Le Sommeil (The Sleepers), 1866, France. Early lesbian porn. Fantastic, if you ask me. Also known under the title Two Friends (Les Deux Amies) and Indolence and Lust (Paresse et Luxure) for those who need more sugar coating .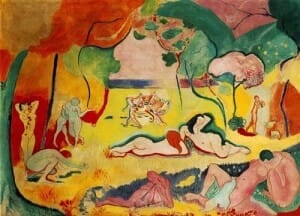 Henri Mattisse, Bonheur de Vivre, 1906, France. Picasso's biggest rivel.
Diane Arbus, Topless Dancer in her Dressing Room San Francisco California, 1968, American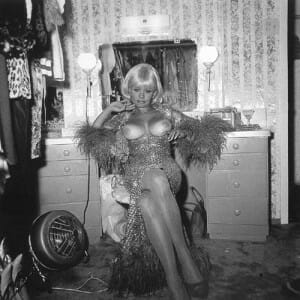 Yvonne d'Angers is a well-known stripper that worked in San Francisco in the 1960s. Here, she is in her dressing room, gazing into the eye of the photographer, Diane Arbus. Arbus was known for photographing social outcasts, namely strippers, transgendered people, and circus performers. Arbus was born and raised in New York City and was the shielded from the Great Depression as a child through her parents wealth. She went to prep school. She photographed the lives of those less fortunate then herself, and led a life marked by depressive episodes until her self inflicted death at age 48. Yvonne, pictured here, was a stripper who was a witness to the legal disputes over topless waitresses in California at the time and famously locked herself to the Golden Gate Bridge in protest the threat of her deportation (she is from Iran) for taking part in the politics of one of the earliest #freethenipple campaigns before it was even a thing. This photo is controversial. Not because of the subject matter, but rather, because of wealthy Arbus who descended upon the poor to make their lives her art. This is problematic in nature, however the controversy comes because without Arbus' privileged invasive lens, the important work of Yvonne d'Angers activism would never be known because history does not favor people like her.
Susan Meiselas, Carnival Strippers, 1971-1978, American.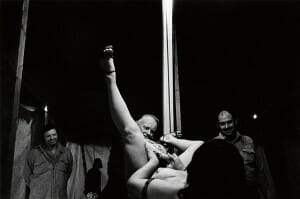 By the 1970s in America, the expectation of the people to anchor moral order was fading. Politics were shifting, as were the methods by which naked ladies were discussed in art. We've come a long way since the sensual French representations of sex workers. Susan Meiselas photographed strippers before they officially had clubs. in 1901 the famous Trapeze Disrobing Act marked the beginning of American striptease, and it gave way to burlesque theaters, but it wasn't until the traveling carnivals that stripping as a profession really took off. The Condor opened in San Francisco in 1965, offering strippers their first brick and mortar establishment outside of carnival tents. It was after this and well into the 70's that strip clubs became a staple of erotic entertainment. Strippers existed long before clubs, of course, but the clubs did not come to be until much later. In her work Meiselas takes a similar approach to Toulouse-Lautrec in the matter of fact documentation of the lives of strippers though black and white photography. In this particular photo, an entertainer props her foot up on the pole while the other shoots to the sky while she shows a customer her lascivious talent.
Juliana Beasley, Lapdancer, 2001, American.
Pulling from the style of Manet in his mirrored depiction of the barmaid, Juliana Beasley shows her viewer a three fold glimpse of the stripper she's photographing. The first layer is the one least seen; the customer. We can see his hands on her and parts of his face in proximity to her breast in the mirror. The central focus of the photograph, the stripper, can be viewed from two different angles. We view her from the front and the rear. Her customer is not privy to the information that the viewer is. While she performers her lap dance, the mirror suggests a completely different mind space, one of boredom and disconnection. She is mindlessly doing her job. This very accurate narrative is buttressed up by our third layer of viewing: the lens. The flash of the camera can be seen at the center of the frame in the mirror. As a viewer we get the most information. Were permitted 4 angles of the strippers body, suggesting that privacy is not hers, but instead, she is the property of many perspectives. The viewer of this image gets to be the customer as well as the arbiter of her representation.
9. Philip-Lorca diCorcia, Lucky 13, 2003-04, American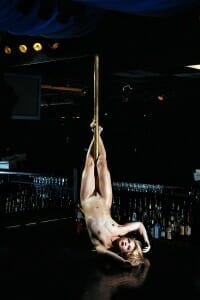 For his series Lucky 13 Philip Lorca Decorcia traveled to strip clubs in the early 2000's photographing strippers stage performances on the pole, suspending them in time and space. For much of the series, the gaze of the dancer is off into space, but not in a passive manner. The glowy lighting exists in sharp contrast to the black lighting common in most clubs, and suggests something along the lines of divinity in its composition. Many of the works in the series are reminiscent of romantic renderings of crucifixions or Virgin Mary iconography. Strong chiaroscuro adds to this narrative. Its clear that diCorcia is alluding to the virgin/whore dichotomy thats been present throughout history. This work is a mix between document and theatrically, asking the viewer if that narrative is true or a construct.
10. Awol Erizku, New Flower, 2013, Ethiopian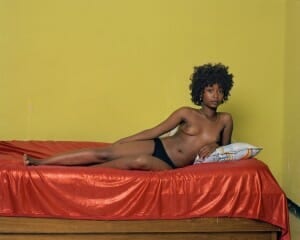 In his series New Flower, Erizku takes note from the Ingre and Manet by creating photographs that address art histories lack of representation of people of color, both artists and subject. In this work, the black woman is no longer the servant to odalisque or Olympia. Instead, she is the Venus. Erizku took on the history of paid companions as subjects and placed paid sex workers as the center of attention as a reinterpretation of the old French paintings. An essential part of the history of harlots.
All of these works can be characterized by a centrally placed subject, direct gaze toward the viewer, and unapologetic posture. If there's anything that strippers and other sex workers should take from the narrative of art history its that; demand attention, stare down your opposition, and never say sorry.

Latest posts by Nia Burks
(see all)