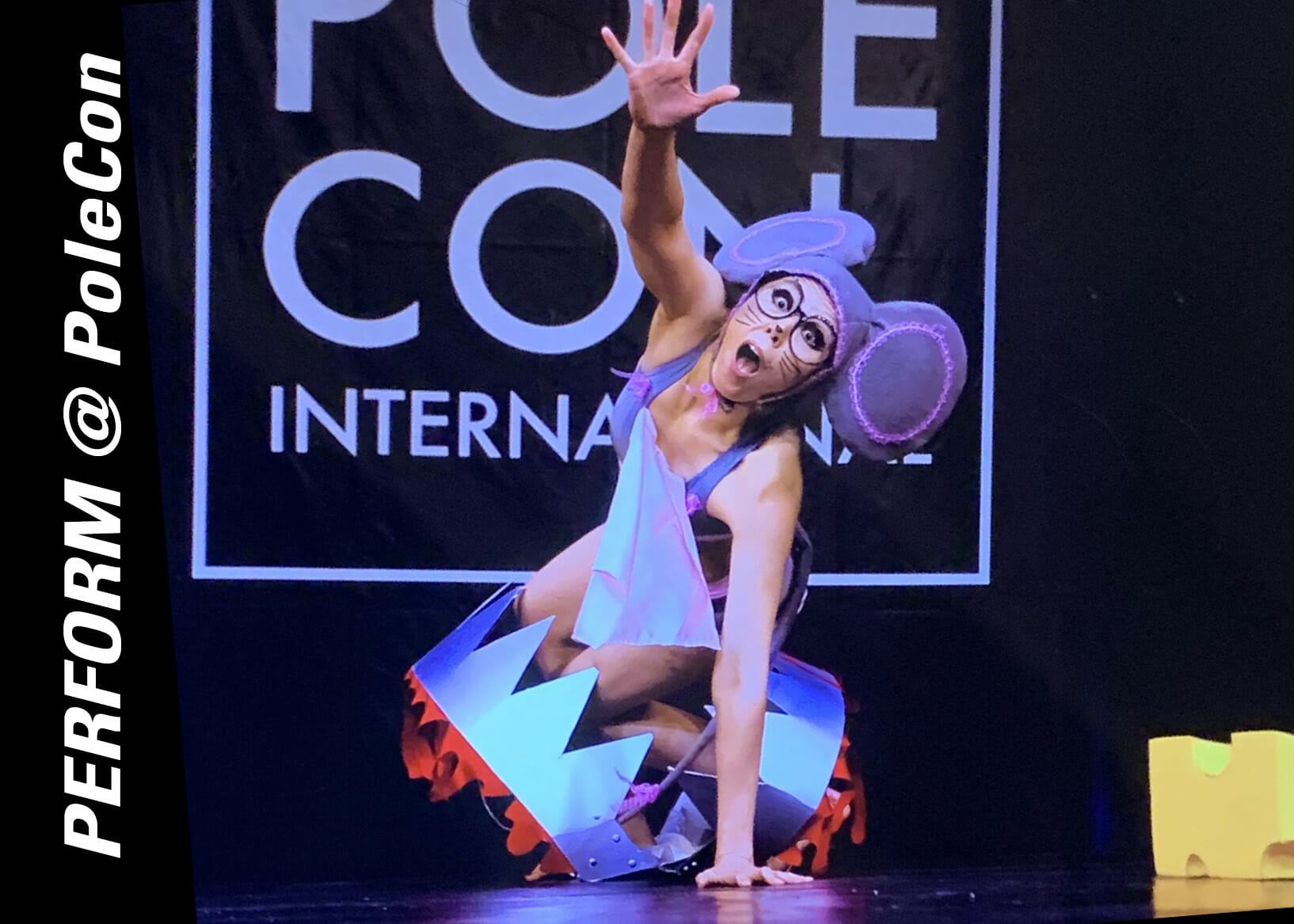 How to perform at PoleCon 2020
Thank you for wanting to be a part of PoleCon 2020! Performing at PoleCon is a wonderful experience!
2019 was the first year we did official Google-form applications and we will do the same this year. Performer applications are open now and due by December 1.
https://forms.gle/Uak9WWX1AaGzCw4y7
The form will automatically stop receiving applications on December 2.
2019 was also the first year we used several guest curators with specialties representing specific styles and/or affinity groups. We will continue this practice for 2020. Do NOT email applications to perform and do not contact curators directly. Contact me with any questions.
In 2019, we received more than double the amount of applications for available performance spots. We expect the same or more applications for 2020. We LOVE ALL OF YOU but cannot accept everyone into the shows due to time constraints.
PoleCon represents many styles and many performers of pole dance/sport/art/fitness as possible on our main stage in a non-competitive environment. Every year, we will review and update the showcases and add, remove or otherwise modify showcases depending on the current state of the pole community.
Tips on applying:
You can apply to multiple showcases. Please note, you will only be able to perform in a solo performance ONCE. You may be part of a troupe AND also have a solo. Apply using multiple applications. You cannot apply to multiple showcases using one application so please submit multiple applications to different showcases if you want to apply to more than one showcase.
Make sure your application video is PUBLIC. Curators will not review private videos and they will not contact you to make the video public. Ask a friend to test before you send the video in (using the Google form). If no curator is listed, I am reviewing the submissions for that showcase.
Be safe! If you share a video that has a text-based description (like a YouTube link or Instagram link), please do not say that you are doing anything unsafe in the description! Examples: "I'm so f-ked up right now, just took 10 shots." "I've never tried this before; hope I don't break my back again."
Be yourself. Do make your video representative of the style you are applying for. If you are applying for comedy, make sure your video is funny; if you are applying to sexy, make sure your video is sexy.
Perform somewhere else first. We don't recommend PoleCon as your first solo performing experience. While not a competition, performing for the first time can be scary and you will be sharing the stage with pole stars which for some is exhilarating and for others is terrifying. Please perform in a studio showcase, in a bar/club or in a competition before applying to PoleCon. Or be part of a troupe. A PoleCon troupe performance is perfect for a first time performer.
Everyone is welcome. You don't have to be a certain size, skill level, ethnicity or gender to perform in any showcase. Women and non-conforming/gender-bending folks are welcome to apply to Men of Pole (for instance), people of all sizes are welcome in showcases other than Dangerous Curves, etc. Apply for the showcase you WANT to perform in. The only exception is sexy – under 18 performers will not be considered for the sexy showcase.
New for 2020:
Priority will be given to people who have never performed at a previous PoleCon. This is a question on the form.
EVERYONE—including paid workshop leaders—must apply using the form.
If you submit your music and other required information later than the April 15, 2020 deadline then you will be assessed a $20 fine to perform at PoleCon to be collected before your performance in person.
Music can be no longer than 4 min (this was not fully enforced this year but will be for 2020 to ensure we have enough time for all performers).
We have reviewed our policy on music licensing and put the burden on PoleCon staff should we be audited and NOT performers. This means you do NOT have to provide music licensing information.
General Performer Info:
All performers receive a discount off admission + a small gift. You cannot share your performer discount.
Human props (up to 2) and the parent/guardian of an under-18 performer qualify for the performer discount.
Individual showcase tickets are only available for Sexy and BGP showcases. To watch any other shows requires a day or weekend pass.
We highly recommend joining the Facebook performer group if you are accepted to perform so you can help each other with questions.
If you are chosen to perform and then can no longer perform for any reason, please let me know as soon as possible. There is no penalty for dropping out. If you have already purchased your ticket, you may transfer it to another performer who has not purchased their ticket. Two alternate performers are allocated per showcase and the sooner you know, the sooner the alternate performers can prepare to perform.
If you have any questions, please let me know!