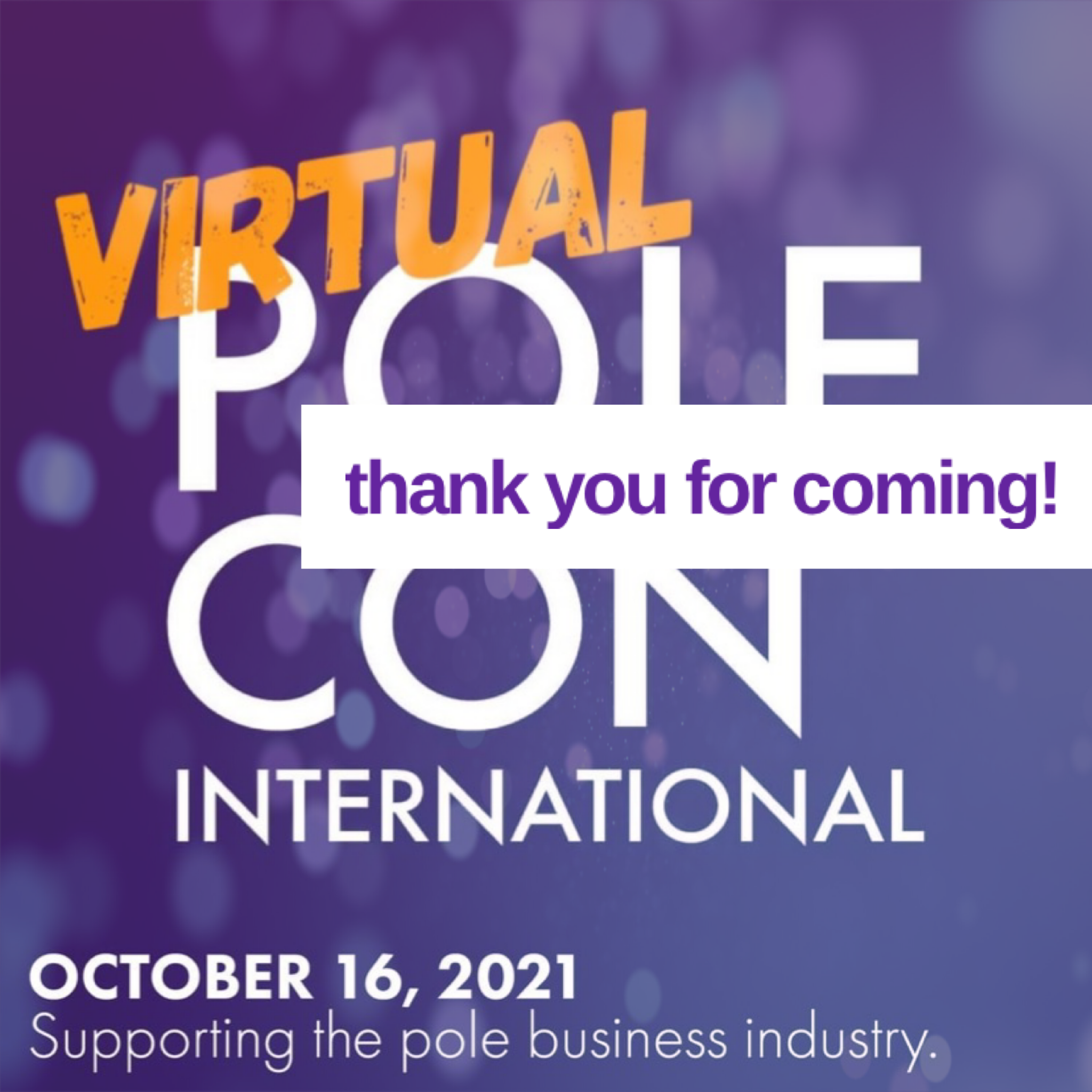 Recap Virtual PoleCon 2021
Hi folks!
Thank you so much for coming to the second annual #VirtualPoleCon!
This was my eighth PoleCon event and our second purely virtual event.
I'm continuing the tradition of providing you personally with my recap and combining it with our survey results.
The goal of this Virtual PoleCon was had three parts:
First, to give people who were not comfortable attending or able to attend the in-person PoleCon, an opportunity to participate.
Second, to continue supporting the pole business community through education and networking.
Third, to honor the commitments the IPIA made after the Pole Industry survey to make education more affordable (discounting the ticket) and to acknowledge the talent through paying an honorarium to (which we know is not enough but is a start in an industry that often thrives on volunteerism!)
We hosted five panel discussions, eight movement workshops and eight seminars capped off with an evening showcase of 21 performers!
100% of people rated Virtual PoleCon as either "Excellent" or "Very Good."
The panel discussions were all rated as "Excellent!"
"I learned a lot and was happy to be able to attend online."
We used the same tool as last year—Floor—which was updated and ran well throughout the entire event. It is based on a video + screenshare + chat which also included a vendor area, allowed for several workshops to run at once and for people to easily move between those workshops.
Most people said the tool used to host the event was "very easy to use."
From our last year's lessons learned, we moved to pre-recorded showcases with live MCs which was much smoother. We did have some issues with the high-resolution videos coming through with a delay or as choppy for some people. To compensate for this, we sent individual showcase video links to all those who had purchased tickets.
All showcase performances are available on the our YouTube Channel.
Most attendees loved the workshops and panels and thought that the content was "informative," "fun," and "a good use of time."
Some vendors also choose to leave their booths as advertisements (rather than hang around for possibly video chats) and did welcome videos that played automatically when people visited their booths.
All five of the 90 minute panel discussions across several important topics that intersect with the pole industry including business, sexual orientation, race, body size and sex work will be added to the IPIA website over the course of the next 5 weeks so people can learn from others who have a different perspective than they may have.
Watch out for that content soon!
Thank you for believing in PoleCon and in the community we all love and support. More information about future live events coming in the next few months.