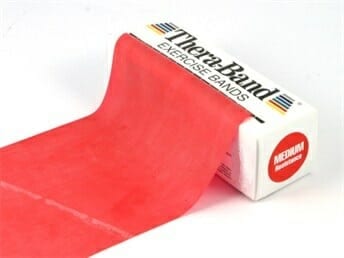 3 tips to get "Pole Ready" for your first class from a Physical Therapist
Before I tried pole, I knew it wasn't easy, but when the instructor in my first class had us practice basic spins, supposedly one of the first and easiest tricks to learn, I realized how right I was. If these were the "beginner," "easy" exercises, how could someone who was really out of shape do anything! By the end of the class, my shoulders felt like they might come out of their sockets, I realized how weak my hands and core were, and I felt even more respect for any pole dancer or gymnast I ever met. Since I'm a physical therapist, I immediately thought about the likelihood of a shoulder injury, especially if a participant did not have good shoulder stability and flexibility or abdominal and hand strength. I decided that if I was going to take more pole classes I had better do some preparatory training first. I came up with the following plan to help me be safer and more successful at my next class.
1.) Core Strengthening Exercises.
As with most sports, if you improve your core, you improve your sport performance. There is an adage "Proximal stability equals distal mobility." In layman's terms this means a stable core allows for joints farther from the body to work with greater success and safety. In pole, the abdominals and back muscles are key to creating the stability needed to perform tricks without putting too much stress on the joints. If you perform a basic spin without your abdominals engaged, you put a lot more stress on the shoulder, hand, and other joints. However, if you engage the abdominals, it dissipates that joint stress by creating a stable base for the joints farther from the center of the body. Pretty much any core exercise will be beneficial because pole dancing requires all types of core muscle use, including concentric (contraction and shortening of the muscle), eccentric (contraction as the muscle slowly lengthens), and isometric (sustained contraction at the same length). Basic crunches and supermans would help with the needed concentric strength, double leg lowering would help with eccentric strength, and no core work is complete without planks for isometric strength.
2.) Shoulder Strength and Flexibility Exercises.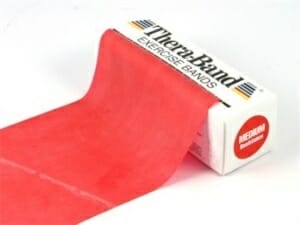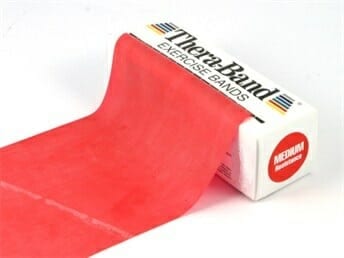 Although core work will reduce shoulder stress tremendously, it is also good to strengthen the shoulder stabilizing muscles themselves. The shoulder's ball-in-socket joint allows for great mobility. While this lets us have great variability in pole tricks, it also means the shoulder is at risk for injury if the stabilizing muscles are weak. A few basic strengthening exercises will benefit most pole newcomers. First are the basic internal and external shoulder rotation exercises. These are performed by 1) standing with the arm at the side and the elbow bent to 90 degrees (forward), with a rolled towel under the arm pit, 2) in this position, grasp a Thera-band tied to something on the opposite side from your arm, or a weight cable on an exercise machine, in a similar position, 3) and move the hand outward against resistance keeping the elbow in the same position as a pivot point. This will work the shoulder external rotators, which are part of stabilizing rotator cuff muscles. Next, turn your body around so that when you pull against resistance you are moving your hand towards your body. This will work your shoulder internal rotators, the other muscles of the rotator cuff. Repeat on the other arm.
In addition to shoulder muscle strength, shoulder joints need good alignment of the bones themselves, so that shoulder muscles aren't pinched (impingement). For many people, improved shoulder flexibility is key. For example, some people have poor shoulder mechanics because of tight chest muscles, especially the pectoralis minor that attaches to the corocoid process on the scapula and can tilt it forward if it is too tight. Chest opening stretches will improve alignment and prevent injury. One good chest stretch is to place a hand on a wall and then gently turn the body in the opposite direction.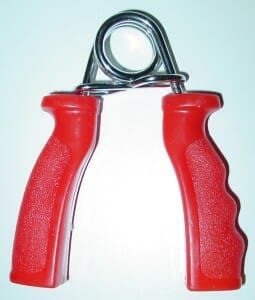 3.) Hand Strengthening Exercises.
I have always had weak hands. When I was a new therapist, my hands would shake when I was working on people's necks because they were so fatigued. I would joke that it was a new vibration therapy technique. All joking aside, there are many muscles in the hands. Some are what we call intrinsic muscles, meaning they are in the hand area only. These muscles do things like separate the fingers and bring them together or move the thumb. There are also extrinsic muscles that run from your hand up through your forearm and to the elbow area. Using the principle of specificity that says the best way to improve in a particular sport is to practice that sport, I always try to make my prep or rehab exercises as close as possible to the desired activity. In this case, I want to be able to hold my body weight up by griping a pole. I could use a typical grip strengthening tool ("gripper"), or I could also just keep going to pole class, but it might be frustrating or lead to an injury if I over do it. It would be better to improve my strength safely by performing progressive simulation. For instance, I could use a rowing weight machine at the gym. To do this, I would hold the row bar and step back enough to lift the weight. Then I would hold that grip for as long as possible. If possible, I'd use a bar about the same diameter as the pole in class. I can progress the exercise by increasing the weight towards my body weight as I get stronger, work on alternating one hand grip and release, and turn my body to the side to more closely simulate the grip needed on the pole. Another good exercise would be to try holding and hanging from a weight bar. I can progress the exercise by pulling myself up towards the bar and alternating one hand grip.
Next time I tried a pole class I did have greater success.

Latest posts by Noel McCluney
(see all)