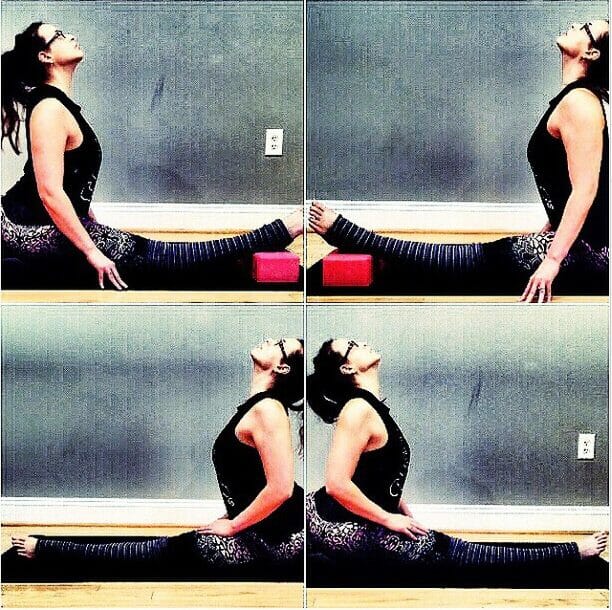 I try and train my flexibility every day – legs, back and shoulders. I have over-trained in the past, so I try and change up how intensely I train each day.
My flexibility goals are as follows:
Splits

Front over-splits
Over-split straddles for spatchcock
Middle splits (soooo close to getting fully down in this)
Standing splits for deadlifting into forearm stand (eventually handstand)

Bridges

Standing backbend
King pigeon pose (feet to head)
Bridge feet to hands
Walk-overs
Some of these are near-term goals, and others are much further off. Below is a typical weekly schedule, although work does get in the way and I can't always keep to this. Class days are for strength and conditioning with light stretching, all other days are heavy stretch days.
Warm-ups
I like to warm-up prior to stretching with a butt-load of handstands and forearmstands (another goal of mine). I get seriously sweaty working on these. I try and do these every day, even on class days, although sometimes these happen after class (and if lucky, during class).
Stretchy Sundays
Sundays are sometimes my day off, but when they're not, I love to do my two favorite stretchy DVDs – Cleo's Rockin Legs N Abs (RLNA) followed by Fitandbendy.com Bendy Body.
Monday – Class
I take two intensive hours of pole at my studio. Our instructor teaches both – the first is an upper level tricks class and the second is a combination conditioning and flexibility training. She is is super hardcore, so I get a good 1.5 hours of workout, and by the time we do stretch, my muscles are happy to do it.
Tuesday
It's splits day! I do a mixture of RLNA and Bendy Body to work on opening up those damn hip flexors and tight calves.
Wednesday – Class
Another 1.5 hours of intensive pole at the highest level class my studio offers. We get a good mix of strength training and stretch along with dance training (man, I suck at this) and trick combos. Lighter flexibility day.
Back-bending Thursdays
Back flexy Thursdays. First half of RLNA (all the floor work) and all of Bendy Body. I also throw in some additional shoulder stretches.
Friday – Class
One hour of pole at the studio with our resident pole-yogi who always does a much needed yoga strength and flexy portion. I follow this with another conditioning and flexibility combo class that typically spends several songs working on our butts and legs, which is a great supplement to RLNA.
Saturday – Class
One hour tricks class with our teacher who is thankfully having us working on straddles for spatchcock. She loves to do more flexy tricks, so we always get a good splits class. Open pole is after, so I work on flexibility, handstands, and various pole goals (aka strength training).
Whenever I train, I make sure to take progress pics, so I can compare how far along I have come. I probably spend at least two hours every day working on my goals. Thankfully, there is space right in front of my television to stretch – nothing like catching up with Hulu and Netflix while breathing through a backbend.

Latest posts by Daphna Kalman
(see all)