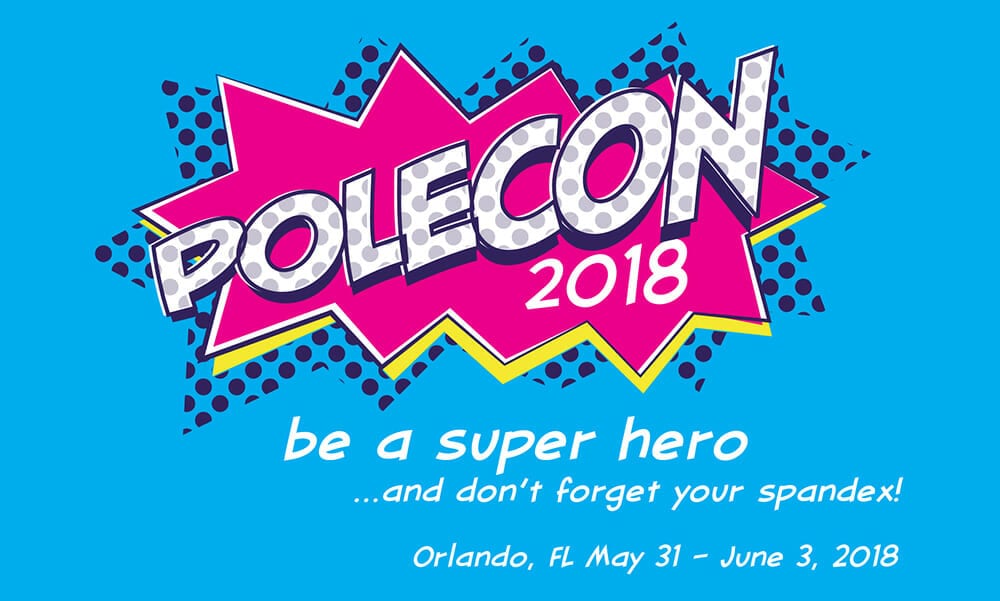 PoleCon 2018 Survey Results!
Thank you for taking our survey!
We more than doubled the number of responses to our event survey this year with almost 25% of event attendees taking the survey – every response makes us better! <3
The winner from our survey is @MaireJanePole! She has won a "free" trip to PoleCon 2019 – Weekend Pass + Thursday-Sunday hotel stay.
Overall
This year 96.71% of you said the event was "Very Good" or "Excellent."
93.57% of you said the paid workshops were "Very Good or Excellent"
Teachers who received several shout outs included:
Marlo Fisken
Bendy Kate
Anna Kia
Natasha Wang
Cirque Physio
Butter & Filth
Sarah Jade
Zoraya Judd
Ken Kao
Brian Wolf
Jordan Mazur
Carmine Black
What you loved:
Many of you loved the BGP showcase:
"absolutely love that BGP is the major showcase"
"BGP JUST AMAZING!!!"
"All of the showcases were amazing!!! A lot of great talent! The Black girls Pole Showcase was by far my favorite! So much energy so many amazing artist and such a community!!"
"The BGP showcase was AMAZING!"
"THE ENTIRE BLACK GIRLS POLE SHOWCASE. That was more than a showcase, it was an experience. I was so captivated by the performers."
"Black Girls Pole was a definite highlight of the weekend."
"Loved BGP showcase"
"BGP was the best curated one for sure worth the $$!"
You also appreciated the hardwood floor in Non-Pole Room 1 – Hurray!
And the food options were healthy, diverse and vegetarian/vegan friendly as well as the allergy labeling.
What you hated:
We still get that there's "too much" to do at PoleCon: "I didn't take a workshop because picking one was overwhelming. There was so many to choose from that it was information overload to look at the offering sheets." And that won't be changing.
And parking cost was a huge issue this year.
There was some concern over the "family friendly" hotel. Some people loved it and some people did not. I personally believe it's important to show the world that pole can be family friendly. While it might not be true for you, for some people pole is something that only their children do! Since PoleCon moves around every year, we have an opportunity to educate a new city on what pole could mean to them.
Some things we worked on from last year:
(last year's survey results were only posted in the event, they will now live in the blog)
Shoe Vendor: I know y'all want one! FIND ME ONE! I've asked several and no dice. If you are a shoe vendor — YOU PROB WILL DO WELL at POLECON! 2018 update: We had two shoe vendors and hope they both come back! (I bought two pairs of shoes and my mother in law won a shoe raffle! I love shoes!)

Paid Workshops During Lunch: it's gonna keep happening. Sorry. Paid workshops are the only thing that happen during lunch because it's a choice to take an extra class. 2018 update: This isn't changing in 2019. We are looking into possible pricing options that would remove lunch costs, so you can do your own thing at your own time and not feel like you're missing out
Discounted Parking: most hotels don't budge on parking. I'll see what I can do for the 2019 event but the contract is signed for 2018 already with no discounted parking options. 2018 update: This was still a problem and unfortunately, we have little control over it based on the hotels. Good news for 2019 though, from the hotel: "We are pleased to offer self- and valet parking in our spacious outdoor parking lot. Guests enjoy complimentary self-parking, or valet parking for a nominal fee including in and out privileges. We welcome tour buses and other large vehicles." Working on what the cost is for non-guests!
Tickets to see one showcase: I totally get it. You're in a showcase during the day and your friend/partner/mom wants to see you. It's impossible to police people coming in for one showcase. I made ALOT of exceptions in 2015 and spent ALOT of time chasing people out which made me feel bad and pissed the people I was chasing off too. 2018 update: This is still a challenge. For 2019 I'll put Troupes and Up and Coming on Sunday, so your family/boo can see you at the most discounted rate possible. I know that doesn't solve everyone's problem however these are the showcases that I hear most people asking for separate admission tickets (other than Sexy and BGP which will remain with an separate ticket option in the evening).
Timing of Paid Workshops: everyone is encouraged to be speedy — the workshop leaders are told, the volunteers are encouraged to help people keep on time AND it says so in your book and on the website to please stay on time. If I give you 5-10 min between workshops y'all will just use that time IN the workshop! 2018 update: We're looking at potential options to improve this. Keeping the schedule full, diverse, on time and checked in correctly is challenging and it's hard to keep volunteers — this is a process I keep trying to "fix" and it's still a challenge!
Sound Bleed in the Main Room to Free Workshops: it's always a struggle. This is the first year we had a partial "real" wall rather than just drapes. It helped but not enough. 2018 update: this is still an issue, we still had a partial "real" wall. Looking at options for 2019 to make this better. We want the free workshops in the same room as the vendors so you all shop more but understand the sound is a continual issue.
Too much stuff going on! Yup, that's gonna keep happening. 2018 update: This isn't changing in 2019
Looking ahead to 2019:
We have some other updates coming in the next few months:
Pricing Changes: including some real talk about costs
Changes to how you apply for showcases: we want everyone who wants to perform a to get a chance to perform however we recognize that some showcases were quite long. We are still committed to having diversity in style, body type, ability and level for all PoleCon sponsored/organized showcases.
Volunteer process updates: this is a continual issue. We need more people power to help us keep everything running smoothly!
Check in/Registration: looking at ways to make this more efficient, faster and friendlier. If myself or any of my volunteer "staff" seemed rude at check-in, it's only because we're trying to get you all checked in as fast as possible!
Thank you all for being a part of PoleCon!