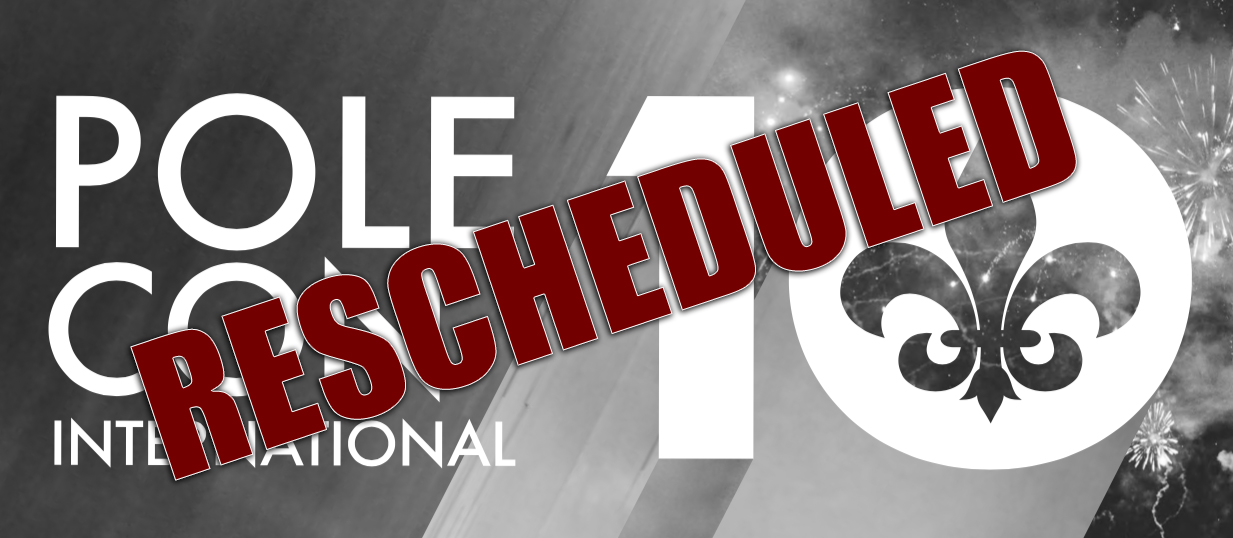 PoleCon 2021: Rescheduled to August
Thank you all for your patience and your support as we navigate an extremely challenging time.
Thank you for answering our most recent survey, your opinions helped us make important changes to PoleCon 2021.
Right now, more than 500 people have taken the survey which is more than double those of you that usually take our after-event survey.
35% of people say they are not comfortable going to a large event in June 2021.
37% of people say they may be comfortable going to a large event in June 2021.
Most "maybe"s cite the vaccine as the big question mark to whether they will attend.
TL;DR: PoleCon is rescheduled to August 26-29, 2021

Everyone who is already signed up for the June 2021 event will be automatically enrolled in the August 2021 event. If the August 2021 event cannot be safely held, we will push back to June 2022. Your pass and workshop credits will continue to be valid for that event. If you'd like to move your pass and workshop credits to #polecon2022, please email us.
Schedule: Booking for free and paid workshops as well as the call for performers (there are some slots available) and volunteers will happen in early June. We will have a very short turnaround time confirming everyone and finalizing the schedule presuming we can still move ahead with August dates at that time. We don't want to start planning the event before it's clear that we can legally hold the event and that it is safe to do so.
Hotel: If you have booked at room with the hotel for the June dates, your room reservation will be automatically canceled. A new room link will be available soon to book your room for the August dates. You must manually book a new room for the new dates.
Please note, only emails from PoleCon and social media posts from PoleCon accounts and NOT phone calls (there's a potential phone scam going around that has called a few vendors) can provide you with PoleCon information.
Don't want to read this? Watch/listen to this video from Colleen on our Instagram.
The longer stuff:
Running Large Events
Currently, we cannot legally hold an event in NOLA. Since there is no federal mandate on basically anything related to this pandemic, every state and in some cases, every city makes it own rules. While some places in the US can hold a large event right now, NOLA is currently restricting indoor events to 10 people. We hope this will lift in time for us to have our now August event. We will follow whatever rules are in place for indoor spaces in NOLA including, but not limited to, masks and social distancing if/when we can hold the event.
PoleCon is designed to be a large event. Which means, all the pricing and all the costs are designed for an event of 500 or more people. At 500 people, we will definitely lose money but could potentially hold the event with some modifications. At 750 people we would likely break even. There are some question marks in between those numbers depending on how workshops do (which are impacted by social distancing rules) and the number of vendors that attend.
The Financial Bottomline
I've been very open on this journey with you all about the costs associated with PoleCon.
This blog is about the costs to run the event in a "normal" time.
Some PoleCon-related costs like paying for website hosting, the email newsletter provider, our WellnessLiving scheduler (which we need open to process refunds and hold credits), loan repayments, etc., are regular costs which means that PoleCon pays them every month regardless of having an event or not. Additionally, in 2019, it was normal to put deposits down on the hotel and on our stage/lighting/sound company. This means, that there isn't 100% of refunds available if everyone wanted a refund tomorrow.
I know it's asking a lot for people to continue trusting PoleCon with their money, especially during these times when everyone is hurting. Please note, there is a chance, that the event will not continue past this pandemic and I need your help to keep it alive. I don't want to be alarmist, but I do want to be honest. I know that PoleCon is important to many of you and that it plays a role in keeping our community communicating and growing. I am working really hard so that it doesn't come to that.
Why don't you run more virtual events?
We did create a Virtual PoleCon event that ran in October 2020 and we are likely to run a similar event regardless of a live PoleCon event in 2021. We have resisted running a lot of other workshops or performance type virtual events to be mindful that everyone in our industry is in the same challenging situation. Why take a virtual PoleCon workshop with Pole Star X when you can book a private with them directly and they keep all the money rather than having to sell the workshop at a higher cost under the PoleCon brand? It's not something we're ruling out to help keep PoleCon alive, but it is something we're very mindful of.
I'm sorry for all the changes but there is literally nothing I can do but continue to update you all as things change. If we cannot hold the August 2021 event, we will push back to June 2022 and hope that the world is a different place then.
Stay safe.