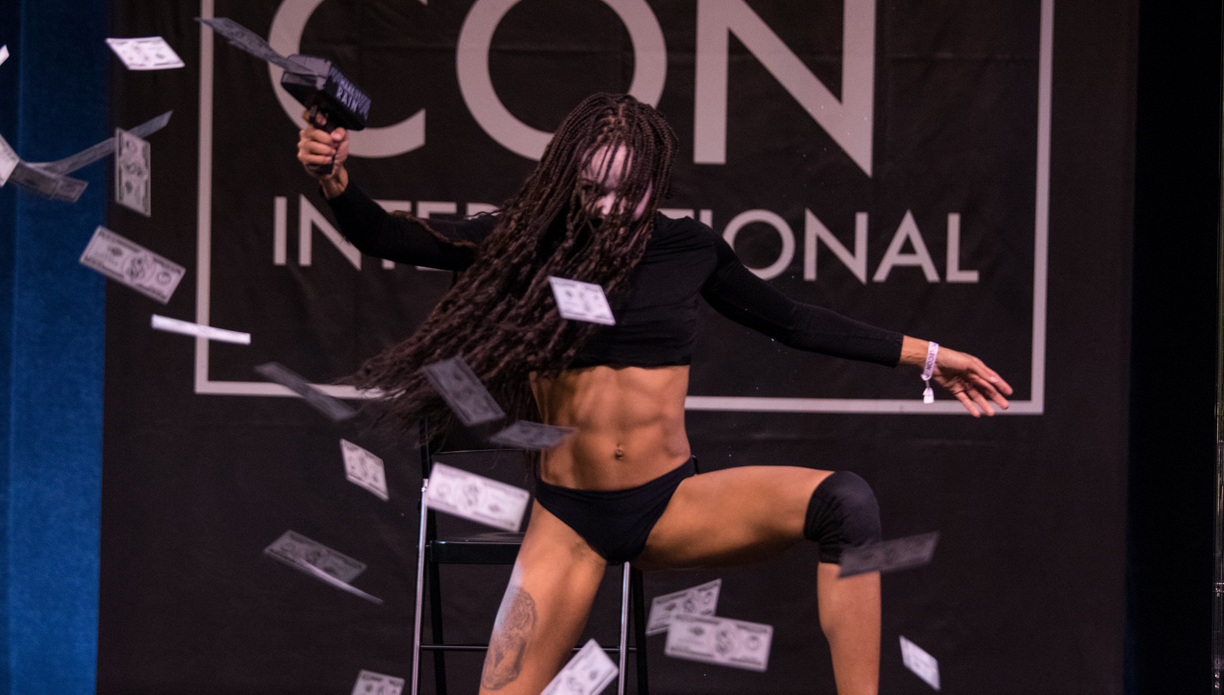 What does PoleCon do with my money?
In the continued quest for more transparency, someone recently asked what the fees for PoleCon – the price of a pass, the cost of an exhibitor booth and workshop costs – actually pay for?
Major Costs for PoleCon
~$115,000 Renting the hotel + providing food. This number also includes service charge (20-25%) and tax (6-12%). Approximate because the more people come, the more this number goes up. Service charge and tax change per location.
~$20,000 Renting the truss, the physical stage including lighting and sound equipment + labor for lighting and sound technician. Approximate because actual labor might slightly differ if evening showcases go late.
~$75,000 Payments for workshop leaders. Approximate because the more people take workshops, the more this number goes up.
$10,000 Marketing materials including gift bags, wrist bands, posters/banners, performer gifts, volunteer gifts, printing booklets/room signs/fliers, postage sending fliers and Google advertising.
~$9,000 Credit card fees. Approximate because it depends how many people buy tickets, workshops or booths.
$6,500 Fees for the online payment processer for booths, the online payment processer/scheduler for the schedule, Newsletter CRM and domain/hosting/email fees.
$6,000 Videographer
$3,000-5,000 Shipping poles. Cost depends on distance. Poles "live" in a warehouse outside of Philadelphia.
$3,500-$8,000 Exhibitor Booth Company (sets up booths, does cleaning) also sets up fake wall for free workshop room. This number fluctuates greatly depending on the hotel.
$2,500 Insurance and music licensing fees.
$1,250-$5,500 Electric and internet per the hotel. This number fluctuates greatly depending on the hotel.
Why PoleCon is Structured the Way that it is
PoleCon is a cross between a public event like a car show or tattoo convention and a private association event. We are open to the public, but the public is unlikely to stumble across us. We also provide food to foster a sense of community more like an association event. We provide educational sessions rather than just an exhibitor area.
Previously, I was the CEO (volunteer position) of the Association for Proposal Management Professionals. I modeled much of PoleCon off of their annual "Bid and Proposal Con" with one large exception: the association event costs attendees between $950 and $1,345. We go to the same or similar hotels – in fact, I use the same service to help me search for hotels as the APMP. The APMP provides a dinner and a breakfast buffet every day in addition to the lunches and one breakfast we already provide. They do not have non-stop showcases =) They do have big name keynote speakers.
Obviously, pole being for many people a second or third, part-time hustle is not going to cost the same as a corporate event.
Compared to a Yoga Expo which provides classes but no food or shows we are expensive for attendee tickets –$49 for two days. Their workshops are held in large rooms and you must bring your own yoga mat and props. Their exhibitor booths are $1,000 or more. Our booth prices are $725 or lower which include 2 passes to PoleCon which of course, include food.
The Interfusion Festival which has workshops, dance parties, an exhibitor area but no food costs $225 (Thursday afternoon to Monday midday).
My point is – there are lots of ways to do events. There is no wrong way to run an event or to attend an event and there are no standard costs or prices.
Sometimes I'm Too Blunt
Attending PoleCon can be expensive – I wrote a blog outlining the cost for attendees.
Ultimately, if PoleCon is too expensive for you personally to attend or for your brand to exhibit, then you should not attend. Some people choose to "lose money" on their first PoleCon to be a part of the event and see value in the community building and networking. Sometimes teaching a free workshop one-year can mean teaching a paid workshop the next. Or performing on stage can help launch a career. Most people according to our surveys – 96% for 2019 – love PoleCon.
In case this isn't clear – I very want you all to come to PoleCon and receive tons of value – money, fame, warm fuzzies – whatever that means to you. I'm a VERY blunt person and I understand that money is always tight for everyone. Please take this blog in the spirit of information sharing and not money-shaming in way.
Thank you for being a part of PoleCon <3