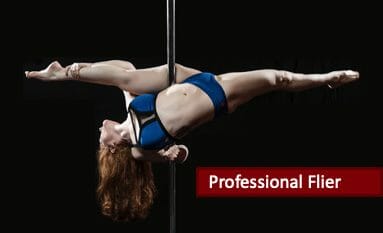 Design Hacks: How to look professional on a budget
(previously published on the Bad Kitty blog, republished with permission)
In an ideal world, we have a graphic designer friend (who is also an amazing and affordable photographer with tons of free time!) with all the professional tools standing by to execute the best ads, fliers, social media memes and other visual components of all the daily advertising we do to promote ourselves, our studio and/or our small pole-based business.
Ah, reality, you are a harsh mistress.
If we even have time to think about making a flier for the next workshop, product launch, social media, whatever—we certainly don't have this mystical unicorn friend whose going to just do things immediately for us (ok, maybe some of us do!). So how do we still look professional on a time- and money-budget?
Invest in some high quality photos: I know, I know, this one isn't free or cheap but it is well worth it! There are a lot of great pole photographers out there and they take WAAAAAY better pictures than your phone. How do you find them? Ask for recommendations in the pole-related Facebook groups for ones in your area, they are likely to be more affordable and have more flexibility in availability than the more famous traveling ones. That said, if a famous, traveling photographer comes to your area—book them! Getting as many high quality photos as you can of your products, yourself, your studio/students/teachers gives you a great base to build all the marketing material you'll need.
Free photo resources: I know a lot of folks are going to "the Google" and just stealing images. Please don't do this! If you can't afford high quality photos, try the following free websites. While they may not have pole-specific photos, they do have lots of other random images you can use for free in a high resolution (so it doesn't look pixelated; pixelated = less professional). I use them all the time for my blogs!
http://www.freeimages.com: Most of these are free however they will also show you pay-for images in your search results that will take you to a different website so don't get too attached to a photo before you confirm it's free.
http://unsplash.com/: Also free with really nice and modern images and a decent search function.
The pay-for sites aren't that expensive and often do package deals or discounts so if you can't find what you're looking for on the free ones, my favorites are Dreamstime.com and istockphoto.com
Actually Making a Flier. "OK, I've got some images, but I don't have Photoshop! How do I make a flier—HELP!"
Adobe has made it very affordable to use their professional-grade software through the Creative Cloud for ~$10-$50/month for an individual. The downside is, the programs do have a learning curve so if you're not ready for that, try PowerPoint (or if you're Mac-only, try Keynote which is similar).
PowerPoint is a WYSIWYG tool—a fun acronym that stands for "what you see is what you get" and it's not just for presentations! Unlike Word, which can make laying text over images, multi-column layouts and moving information around difficult, PowerPoint makes it easy. I recommend changing your page/slide set up to the size of your brochure, flier or other marketing piece that way you can work on your "canvas" without worrying about changing the size later. Import images; make text boxes and other shapes, easily laying them out and moving them around until you're happy with your piece. When you're done, save a pdf or a jpg to be printed or shared on social media.
Don't have access to a desktop/laptop, just your phone? No problem! There are lots of apps you can use—some of them free—to make little social media memes or posters. Check them out here:
http://www.iphoneness.com/iphone-apps/awesome-poster-makers-for-iphone/
and even more:
http://www.guidingtech.com/31479/iphone-ipad-apps-posters/
My favorite app for making graphics on your phone: https://itunes.apple.com/us/app/typorama-text-on-photo-editor/id978659937?mt=8
Less is More: If you're not sure how to do the awesome photo collages that our designer here at Bad Kitty, the extraordinary Pete, does then don't do it. Focus on getting great photos and overlaying your information on top or around in way that compliments the image while keeping the text readable. If people can't read your information then what good is it?
Here is a step-by-step sample on how to make a simple, "less is more" flier in PowerPoint 2010 on a PC (other versions of PowerPoint have things in slightly different places).
Step 1. Change the page/slide set up to be 6x4inch (Design Tab > Page Set Up button) – this flier is going to be postcard sized (your printer/their website will tell you what sizes are common and cost less, versus a custom size). Always start your design by setting the final size – don't create it and then try to scale up or down.
Step 2. Insert the photo (Insert Tab > Insert Photo). The photo is a little big so I'm going to crop it (must have the photo selected to access this option). It is better that your photo too is big and you have to scale or crop; if your photo is too small and you try to scale it up, it will look pixelated. Remember to hold down the "Shift" key to scale proportionately. Otherwise your jade will be really looooong.
Step 3. Add and arrange your text in text boxes as well as any other shapes or photos as necessary. Generally less is more in text too. Get to the key points in clear, as big as possible text. Play around with the fonts you have on your computer that look appealing while also being easy to read. Don't use too many fonts. Most of what you need starts on the Insert or Home tab.
Step 4. "Save as" a jpg OR Click "save and send" to save as a pdf. The default resolution on a PC is 96 dpi for your jpg, which isn't good for printing (on a Mac you can specify the resolution). I'm sending this to print and making a pdf which my printer prefers. The standard resolution setting for pdf in Word is 220 dpi, which you can print from without it being pixelated.
Have more apps or tricks to design quickly and cheaply that you use? Please share!
Questions about the PowerPoint steps? Lemme know. I train people on design, including using PowerPoint as a tool in my "other life."