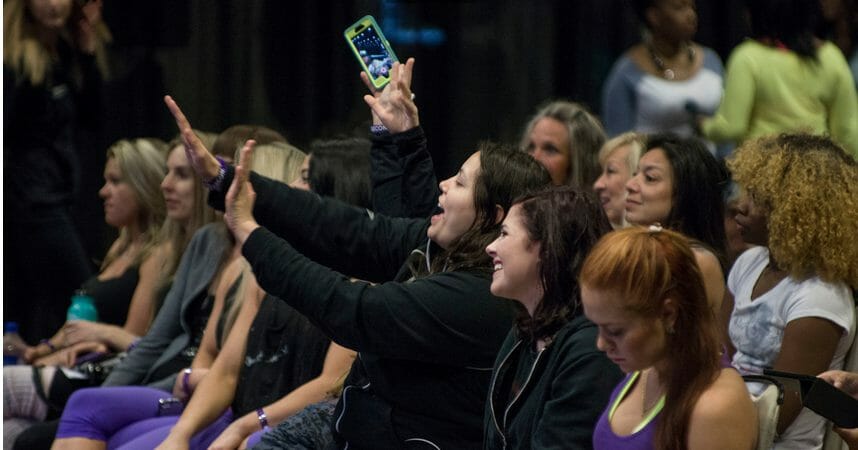 How to combat your Post-Pole Con blues
Many polers experience significant downtime after a large pole event like Pole Con. It's almost like going through a "what do I do with myself for an entire year?" revelation.
Have no fear, I'll share a few tips on how to kick these feelings of despair.
Step One: Don't stop planning.
It's never too early to start planning for next year's event, even if there isn't much info the day after the big event on social media for the next year. You can jot down the pros and cons of your weekend planning and decide how you want to plan your time at next year's event.
Ask yourself, "Did I like taking back to back workshops or would I rather space them out?" Or "I would have liked to pick up one extra pair of pole shorts from YogaBela or Derby Skinz; I will make sure I spend more time in the vendor section next year."
Finances can be a drag when planning trips in general, but if you plan as soon as possible, then you well ahead of the game. Make an excel spread-sheet and total your expenses up from the previous year so you'll have an idea of how much to save. If its your first time attending Pole Con, it's still easy to round off what you think you'll spend.
Step Two: Don't stop talking about it.
Share all your photos and keep in touch with people you met at pole con. I met some amazing polers in 2015 who I've already had the chance to see again since the convention; and they live on the other side of the country from me.
I know it's easy to let time slip through the cracks when it feels so far away, but if you engage your peers from your studio, past fellow attendees, and online forums you're apart of, you'll create camaraderie and more reason to attend the event.
You can also engage with Pole Con on Facebook and Instagram. The social media coordinators and your CEO do a phenomenal job of keeping the community in the loop of next year's event.
Step Three: Take a workshop or a mini polecation to hold you over until the next Pole Con.
I had the pleasure of traveling to Florida to attend Sarah Jade's (one of our 2016 workshop leaders) Bad to the Chrome Camp in November. Florida isn't too far from where I live so the trip was doable financially and didn't cut into my pole con budget. And it was just what I needed to hold me over for Pole Con 2016. Stay tuned for my next blog where I was able to interview Sarah Jade, and she shares her excitement for Pole Con 2016 too.
I even met new polers who are already planning to attend Pole Con 2016! Friends for lyfe.
Step Four: Keep Calm, Pole Con is ONLY 4 months away.
Have you heard, yet? Pole Con 2016 workshop schedule is already LIVE. Snag those workshops while you can and plan your weekend trip to Forth Worth, Texas, and repeat steps 1 and 2 as many times as needed!

Latest posts by Ariel Blanco
(see all)