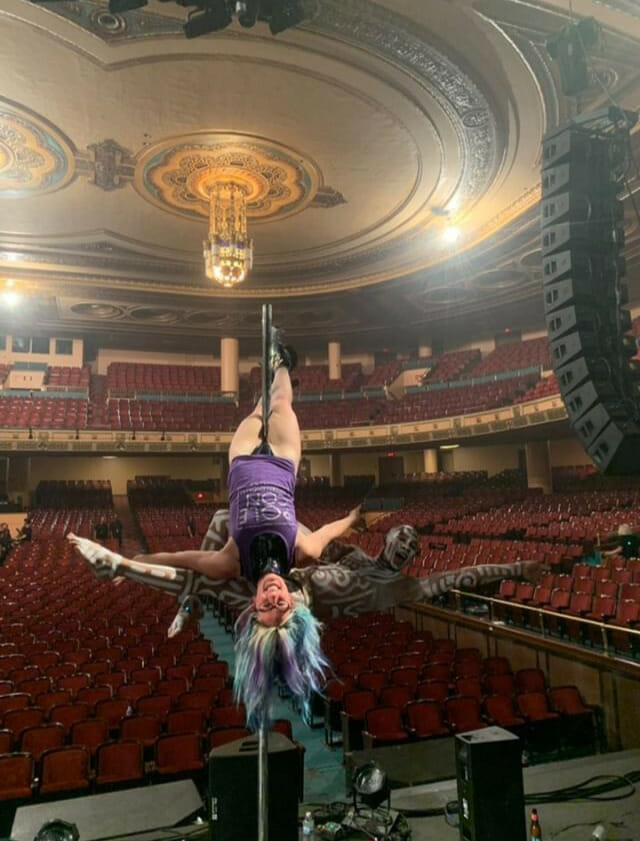 Instagram is Shadow Banning the Pole Community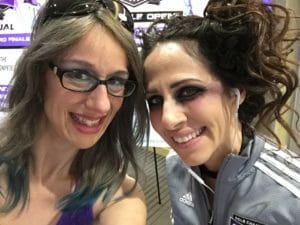 Instagram is making pole dancers worldwide furious because their profiles have been shadow banned in what we consider a generalized blanket of unfair censorship of the pole community.
Shadow-banning is when social media won't recognize your hashtags or limits the amount of visibility on your posts because they have deemed something inappropriate in your content. Algorithms do the dirty work because policing the platform with an appropriate amount of content moderators would be too difficult.
Pole dancing people all over the world are losing visibility of their inspiring posts and empowering pictures because Instagram has established vague "community guidelines" that they cannot explain nor answer for. This is frustrating and stifling for strippers, circus performers, pole fitness enthusiasts, burlesque dancers, sex workers, and other artists who are relying on social media visibility to support their craft. Then there's the business owners who rely on the pole community promoting their work on Instagram. Pole equipment manufacturers, pole wear companies, pole fitness studios, pole photographers and videographers, not to mention pole sport competitions, and clubs are all affected.
#firsttheycameforthesexworkers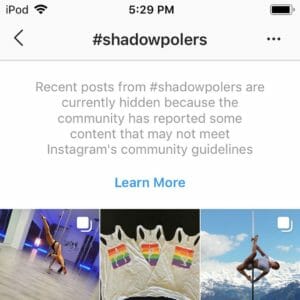 Sex workers have been battling societal stigma for as long as their work's been around. They have and continue to fight for legitimacy, while simultaneously striving for basic labor rights and safety protections.
All this censorship is a result of the recently passed FOSTA/SESTA law that was intended to target human trafficking but instead appears to be aimed at sex workers. This new law created an exception in an existing law (section 230 of the Communications Decency Act) "No provider user of an interactive computer service shall be treated as the publisher or speaker of any information provided by other information content provider " that makes social media companies responsible if users (including consensual sex workers) post full service sex work advertisements on their platforms. The law is flawed for equating sex work with human trafficking.  With the passage of this ill-conceived and ambiguous law in 2018, Instagram took it upon themselves to remove profiles they deem might even have the potential of promoting sex work (further criminalizing sex workers). When sex workers lost access to their on-line community, they lost a safe place to conduct business with boundaries.
#thentheycameforthestrippers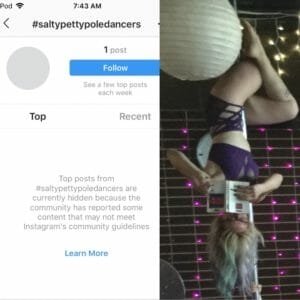 Pole is a rapidly growing industry that owes it's trendiness to the innovations started by strippers. They've made an honest living off that pole long before Rihanna recorded "Pour It Up". Yet, strippers suffer from the stigma placed on them by mainstream society. This same society that populates strip clubs on Saturday nights while demonizing them on Sunday mornings. When stripper's hashtags were confiscated and their accounts deleted, they lost a valuable resource for safe engagement and the ability to network with other people in the industry. This form of "self-censorship" by Instagram makes it very difficult for individual users to seek recourse.
#thentheycameforme
Recently, i left a 13-year career as a Licensed Veterinary Technician to pursue a future in pole fitness instruction. Over the past months Instagram has been reducing the visibility of my pole posts on the platform. This most noticeably happened to me after i performed at high profile pole events such as PSO in December, the Arnold Sports Festival in February, the USPDF championships in New York City in April and at Pole Con International in June. While performing at these events, i do a great deal of networking.  Looking at the insights on my profile, my loss of engagement is obviously coming from the company's confiscation of my hashtag and profile privileges. Previous attempts to reach Instagram in regard to this issue have gone unanswered. Every time my profile gains traction organically, the platform reduces my visibility on the site, yet they seem to have no problem offering me opportunities to boost my profile if i pay them. If Instagram is offering me opportunities to promote my posts, how can they simultaneously penalize me for posting "borderline content"? My Instagram profile was and continues to be a place for inspiration and i strongly disagree that my content is inappropriate.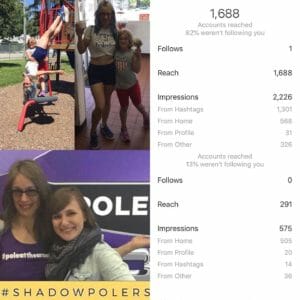 The visibility of my posts are reduced because they "May not meet Instagram's community guidelines". When i look at my Explore tab now there are tons of pictures of clothes, polished nails and stuff i never look up on IG. This is because Instagram took all the pole dancing profiles (that do NOT violate IG's community guidelines) and demoted their visibility from the broader community by labeling it "borderline content". IG is using algorithms that scan for hashtags and skin to police for abuse, but the computer doesn't know the difference between a harmless pole post and human trafficking. Therefore, they're shutting us ALL down.
@suzy_giannakopoulos received a 2nd place medal in the PRO division at the Pole Championship Series where she's won the Pole Combat Series 2 years in a row and recently performed on stage with Snoop Dogg twice. This erotic pole ninja is a dynamic powerhouse of sexy that gets regularly shadow banned. She masterfully teaches pole dance and so she relies on her social media following to connect with potential students.
@xo.tarzan has worked with Ashanti and is currently touring all over the country with the legendary Grace Jones, but his profile is being shadow banned. Having been fortunate enough to watch the concert, i saw this talented young man's elegant movement delight a captivated audience. The crowd was understandingly impressed by his performance, and after the show he collected many enthusiastic compliments. Unfortunately, it's impossible for him to build his following when his profile's visibility is demoted.
The pole dancing community is being targeted by Instagram, and nobody can get a straight answer from them. After growing tired of Instagram failing to respond to my many attempts to "report a problem", i appeared on Fox 2 news story about shadow banning in Detroit. The station reached out to Instagram, but they haven't responded. Lastly, i sent an e-mail to Instagram reaching out for their perspective, but as of publication, they have failed to respond.
Maybe Instagram thinks confident pole dancers behaving boldly is not worth seeing and must be cast into the shadows. Yet even now, our pole community is showing true strength and class in how we choose to respond to this unfair censorship. When bullied by Big Brother, we like ourselves and support one another so we CAN be seen. That silver lining keeps me calling media outlets and passing around the change.org petition.
Just days ago, there was mass banning of pole related hashtags including #poleinstructor  #poleathlete , #exoticpoledancer most tricks that were labeled #pd and even our protest hashtag #shadowpolers. As we discussed the dilemma, we lamented that the hashtag #femalefitness was banned while #malefitness wasn't. The entire pole community got real creative and decided to post all our pole related posts under the hashtag #malefitness. Shortly after we started this "awareness campaign" our hashtags were reinstated! That means our voices DO matter and we can create change when we work with one another.
Stand up for each other and speak out against shadow banning of the pole community together!