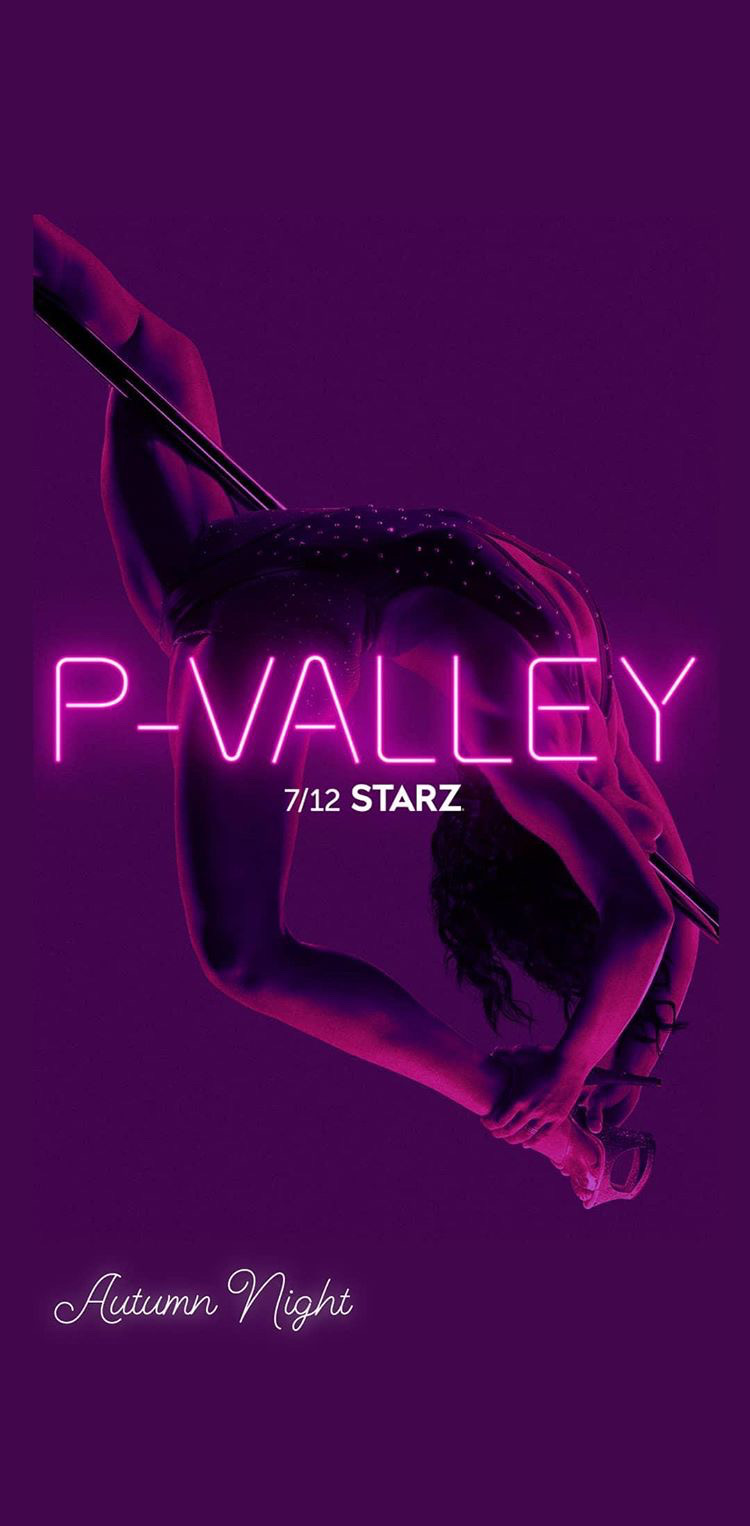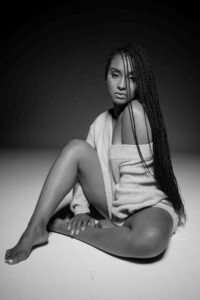 P-Valley is the sensational new series created by Katori Hall that is shattering viewership records on Starz since premiering on July 12th, 2020. It is an adaptation of her play, Pussy Valley and portrays people working at a strip club in the Mississippi Delta. P-Valley is dripping with melanin magic, featuring an almost all black cast! Additionally, the series incorporates a trans lead and we celebrate their representation! After collecting enthusiastic praise from viewers and critics, P-Valley was picked up for a second season two weeks after the show's debut. No spoilers will be discussed here…. Gotta see the show for yourself!
Ezama Taumaoe Lo'i and Maria Jade are two dynamite body doubles who really make The Pynk pop! AUTUMN NIGHT shines on stage through Ezama who's also Resident Poleography Trainer for the series. Mercedes amazes with moves by Maria Jade. We'll peek behind the curtain for an eyeful of insights on their experience on the series.
1.      How long have you been pole dancing and how did you get into it?
Ezama: I have been pole dancing for almost 9 years. I got into pole dancing because I loved the athleticism of it! I witnessed pole dance the first time when rehearsing at a studio that offered Pole dance fitness classes. I was too young to take the class, but every chance I got to sit in on the warmups at the least, I always would… that is before they kicked me out because I was under 18. When I could sneak and watch, I was fascinated with how women would come in one week with no ability to do a push up let alone pick themselves up and then by the end of the 6 week program, they totally transformed weight wise, confidence wise, and overall dance/performance athletics wise. I was a big tomboy as a child and was the 1 girl that had all guy friends so I would play all the sport, ride bikes & skateboard, rock climb, and climb trees in my free time. When I really reflect on my life, I honestly feel it was meant for me to go from climbing mountains & trees to climbing poles & aerial apparatuses. Lol 😊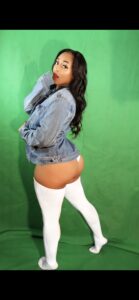 Maria: I've been pole dancing for over 10 years now. I first got into it in 2009 when my mother decided to expand her fitness boot camp by adding pole fitness classes. She already had an instructor when she opened the pole studio and after doing one class with the instructor, I became inspired to learn more. I had a key to my mother's businesses so I would go to the pole studio every day after hours and would get on YouTube while I was there to watch pole videos and mimic what I saw until I got the hang of it. Still in the intermediate stage, I began to teach classes myself which in turn kept me on my A game to not let my students surpass me or else there would have been no point in me instructing. I went on to teach for a few years before ever stepping foot onto a strip club stage.
2.      Do you have any other dance background?
Ezama: I have a very extensive dance background. I started as a Professional Hip Hop Choreography/Freestyle dancer in 2005 and became a MOVEMENT ARTIST in 2012. I have trained all over to further cultivate my gifts & am well versed in many genres of dance and movement, including Hip Hop, Hula, Tahitian, West African, Dancehall, Krumping, ATL Crank, Runway High Fashion & Print modeling, professional wardrobe styling, Film & Television Directing & Acting, Flexibility, Contortion, Trapeze, Lyra, Silks, Spinning Pole, Floating Pole, Static Pole, & overall detailed Artist development no matter the art style.
Maria: Yes! Again, self-taught as well. I have been dancing as far back as I can remember. By my father being a well-known Break Dancer before my time, rhythm seems to run in my blood. As a young person, I would go to birthday parties, block parties and eventually night clubs just to battle other dancers. I actually used to Krump dance once upon a time and I also do some dancehall dancing. I incorporated a lot of regular dance into my pole performances like the break dancer back spin and balancing on my elbow as if I was about to start the breakdancing move called the "Windmill". Like Missy Elliott said "Music Makes Me Lose Control".
3.      Have you ever performed at any events, series or shows before?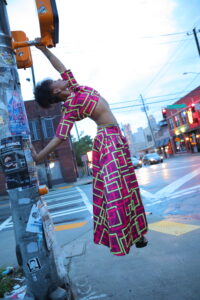 Ezama: I have been performing live and on TV nationally & internationally for about 15 years. My first job was in a circus as a dancer when I was in the 7th grade and the rest was history from there. I have been in more music videos than I can name, and I have been on lots of TV Shows and stages with some of the world's biggest artists and actors. I have been booked for P-VALLEY, STEP UP SERIES, HONEY 4, MY SWEET SIXTEEN, Usher, Snoop Dogg, Ne-Yo,  Lloyd, EMPIRE, STAR,  AMERICAN SOUL, DL HUGLEY UNCUT, THE ELLEN SHOW, AMERICAN IDOL, AMERICA's GOT TALENT, BET HIP HOP AWARDS, BET's SOUL TRAIN AWARDS, Janelle Monae, Davido, Ludacris, B.O.B., Jordin Sparks, Keri Hilson, Heavy D, Miguel, Nicole Sherzinger, Musiq Soulchild, STARZ, FOX, BET, MTV, NETFLIX, Pepsi, Wii, Coca Cola, and more!
Maria: Yes I have. I have had many bookings all across the world both in the states and out of the country at big events. Some were night clubs and some outside on the beach with a large stage set up. I've also done multiple music videos for both local artists and some pretty big artists like Jamaica's own Alkaline. I was the leading girl in Alkaline's Music video titled Fleek and one of the dancers in the Fat Joe video featuring Remy Ma and Ty Dolla Signs called Money Showers. I have done some smaller pole competitions as well.
4.      What was the training and preparation like for this part?
Maria: The training wasn't what I expected. I expected it to be a piece of cake. I thought I had it all figured out until I met celebrity choreographer Jamaica Craft and assistant Choreographer Ezama The Movement artist. Boy, did they work me! LOL. I hadn't conditioned in many years because I was already set in my pole tricks for all of my performances that I usually free styled. They challenged me and for that, I am forever grateful.
5.      What was your favorite pole move that you executed for the series and why?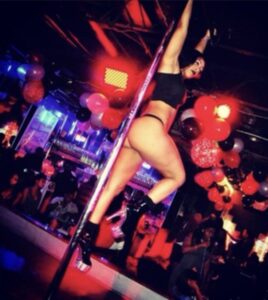 Maria: My favorite pole trick that I executed was in Episode 3 of P-Valley during the Trinity Dance on the front pole where I took a nose dive from the top of the pole into a shoulder mount then a kip-up off of the pole into a split. That is one of the tricks I'm most known for aside from flipping off of the stage from the top of my head and another stunt where I take a running start from one end of the stage and jumping into the crowd at the other end. I have many crazy tricks and stunts that I'm most famous for but that is my ultimate favorite.
6.      Being a body double can be quite demanding. What is the most surprising aspect of this role? Can your friends and family recognize your scenes in the show?
Ezama: The most demanding part of being a double for me is getting all my tattoos covered. I have HUGE traditional Samoan leg tautau's and lots of regular tattoos all over my body. In order to match Elarica Johnson aka AUTUMN NIGHT, I had to get them ALL concealed to be covered by airbrushing for at least 5 HOURS not including wardrobe or hair and make-up! Then I had to get fake tattoos put on to match whatever tattoos the Autumn's character had even if it was small like a star on my pinky finger. Not to mention the tattoos have to be recovered every time I sweat or do any tricks the may wipe the airbrush paint or fake tattoos off. And to top it off, I can't shower the well AT ALL for the work week just so covering my tattoos doesn't take as long and so I won't have to get new fake tattoos put on the next day I come into set. Lol I'm always so grateful for the weekends lol. LONG HOT SHOWER TIME!
7.      What was your most memorable moment from being on set?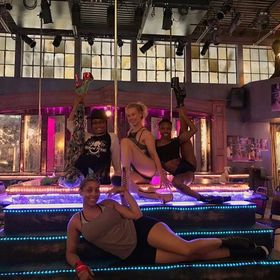 Ezama:
Working on P-Valley as the Resident Poleography Trainer, My most memorable moments came from building such a family and friends energy on set with the entire cast and crew. Crazy part is, if you ask anyone in any department other department of P-VALLEY they will say the same thing. Everyone was so fun, supportive, and loving and even if we butted heads, we always came back with the fun, passion, & support. Most sets are ANAL and yes, I put that in caps. Lol P-Valley is a rare breed of a TV Series because of EVERYONE involved. It was so much Women's, LGTBQ, & Black Culture empowerment going on which was amazing and everyone learned one pole dance move, even the camera guys lol 😊  I was genuinely excited to go to set and to rehearsals every day, even if we were on set for 16 to 22 hour days.
8.      Your eye-popping pole tricks, along with nuanced portrayals of the characters in P-Valley present working at the strip club in a proudly unapologetic way. Do you think this show humanizes the stigmatized profession of stripping?
Maria: I can definitely say it has humanized the profession of stripping. After seeing many blogs and many posts from P-Valley fans or just people making posts about what they've seen on the show, I have yet to see someone say anything bad. I see a lot of people excited about the show and that alone makes me feel like people will have an open mind and heart knowing what dancers actually go through in the real world.
9.      Is the world is finally starting to celebrate stripper culture thanks to P-Valley?
Ezama: I think the world is celebrating being unapologetically yourself no matter your hustle, art form, or lifestyle. Whether you are Non Binary Man that goes by SHE, a stripper that loves her job, a ruthless preacher, a Bisexual male rapper, or an old blind cursing Mother that smokes weed, everyone has a story and all the viewers can relate to one of the characters in some way. So in my opinion, Strip culture is definitely the surface of what is being celebrated thanks to P-VALLEY.
10.  How has this whole experience been for you? Has anyone been particularly supportive of you?
Ezama: The entire experience working on P-Valley was eye opening for me. I had a dream in 2014 that something of this magnitude could happen with pole dance and it came to pass for sure. The show and everything that came with it was definitely a vision come true. My biggest supporters have definitely been my Family and my students more than anything😊
11.  Is there anyone in the world of pole dance that you admire? Are there any new people in the pole community that you're really excited about?
Ezama: My favorite Polers of ALL time are (myself) EZAMA The MOVEMENT ARTIST, Phoenix Kazree, Crystylez, Bendy Kate, Renegade Barbie, Tarzan, and Shelly (owner of Fit2Flaunt & Ms. Mississippi Stunt double on Ep. 8 & P-Valley Advertising pictures). Phoenix inspired me to Pole Model, Crystlez taught me how to breath while pole dancing, Bendy Kate inspires fluidity during combination on static pole, Renegade Barbie inspires me to be powerful, smooth, & swaggy because she is  strong AS F*CK and can deadlift & grip on ANY PART OF HER BODY and still be able to shake her ass or head bang on beat, Tarzan is my Rachet Pole Dance Big Brother so he just gets me when it comes to putting together Pole Dance with Dance choreography as he has a Professional Dance background as well, and Shelly is like the Pole sister I never had who can whoop my ass in training and vice versa and crack me up while doing it. Lol All these women and men care about musicality with beautiful lines and pictures in their routines mixed with lots of effortless PERFORMANCE ability while always stressing safety and technique just like I do no matter what! I'm always excited for anything they do.
Maria: I love, love, love Drugz Di Baddest. She is straight out of Jamaica but is now in Florida. She and I met about 5 years ago and still talk from time to time. She's like the Rihanna of Pole. She can practically wear anything like Rihanna, style her hair any way and just has such a smooth sex appeal and style on the pole similar to the personality of Rihanna, just free spirited! She kind of looks like her also. Her tricks are definitely unique. We have two totally different styles which makes me admire her even more. She's a natural and a humble sweetheart.
12.  What do you have to say to the people who say, "I could never pole dance"?
Maria: Don't let me hear those words ever again! That's what I would say. I have seen so many different people ranging in size, height, and age on the pole. The only reason you wouldn't be able to do it is if you allow your mind to believe you can't! For some, it's easy the first try, others it takes a little bit but that's just with anything else in life. Don't give up, especially if you go to your first pole class with leggings on and oily hands. LOL You need skin, confidence and pole grip and you're on your way!