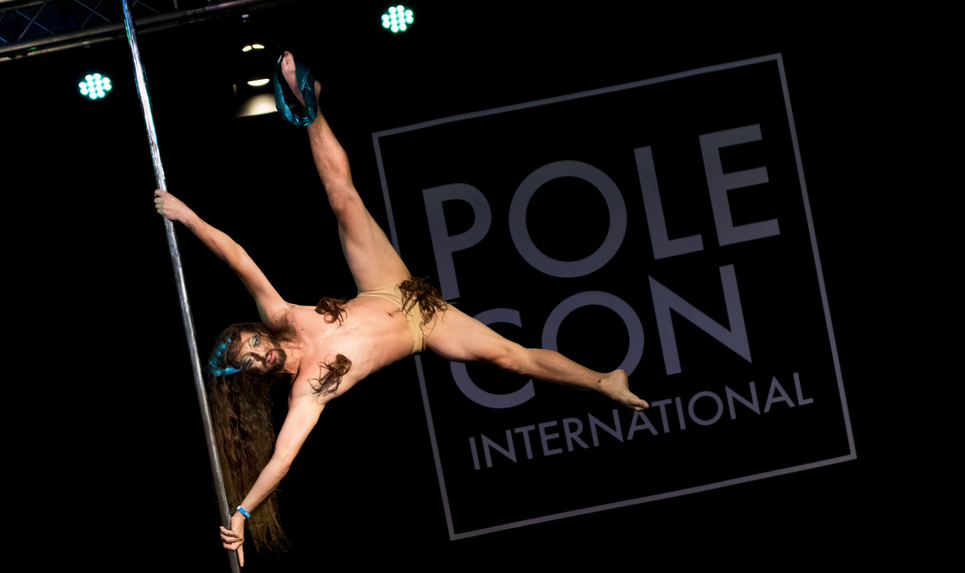 The Men Of Pole Showcase is always a show stopper at Pole Con International. It's an absolute thrill to watch these shooting stars as they blaze the stage! These guys leave the audience in awe with their presence and precision, but they are few in number.
Pole dance has been primarily associated with CIS females, but our shared community is made up of incredible people of every gender identity. We are known for celebrating and accepting ALL pole dancers regardless of how they identify. EveryBODY has a story to tell, and we should all feel free to express ourselves fully on and off the pole. That being said, today we will meet some amazing men to learn about their perspective of pole dance.
Currently, there are not that many men in the pole dance world. Society's ridged view of masculinity and antiquated ideals of what it means to be "manly" have discouraged guys from getting on the pole. Those daring enough to try, discover new abilities they never thought they had. It's crucial to consider the marvelous contributions men and male presenting individuals make to living art of pole movement.
Brian Wolf mesmerizes with dynamic performances that have enraptured Pole Expo, PSO and Mr. Pole Dance America. This Dance Filthy USA 2018 Professional Champion is notorious for getting nasty on the stage! Originally teaching burlesque classes at Luscious Maven in North Hollywood, CA, a student suggested he stay for a pole class where he met his marvelous pole coach Veronica Nichols. Brian has training in fire dance as well as vogue.
Jim Jimenez
knows how to put on a show! This outstanding athlete earned a silver medal in the master category at the 2019 POSA World Championships plus multiple medals from IPSF, while dazzling crowds all over the world. Five years ago, he got introduced to pole from attending a party at a friend's house who had a pole installed. Jim has a martial arts background and dances to salsa & bachata.
Melvin Sanchez
is a 2019 POSA World Champion whose performances always leave us breathless! His extensive ballet background and gymnastics training shines with every outstanding performance. Six years ago, he got into pole dance by pure chance. Mel recalls, "A friend of mine recommended that I take a Class after I was hanging from a light pole". Since then, he has earned scores of awards for his amazing movement.
DEY PHOENIX is a sensational stripper/pole instructor who is slaying NYC while celebrating a three-year poleversary on August 5th!! With a stunning performance that dripped sensuality, Dey made a grand debut at Pole Con last year! Additionally, this superstar produced a pole dance version of the Broadway show Rent titled "Out Tonight". With self-taught pole skills plus a background in hip hop & dancehall/reggae, Dey PHOENIX makes Black Magick on the stage.
What is your favorite pole move to execute?  
Brian: Inside leg hangs are my jam!! I also love to do my backflip handspring, it always scares me, but I get such a sense of accomplishment after I complete it.
Jim:
Favorite pole move is airwalk!
Melvin:
My favorite move to execute is reverse grab into all the things. I also like flips.
DEY PHOENIX: My current favorite move because it was my nemesis move is a twisted grip handspring. Outside of that when it comes to dancing, I love to twerk and clack my heels!
Have you faced any difficulties or adversity as a male pole dancer?
Brian: I have faced some, not a lot, there are still some studios who don't allow men into their facilities and that's kind of heartbreaking. I have also seen some competitions where females have 5 different categories to compete in, but the men only have 1 category they are only allowed to do, which I deem a little unfair. Men's pole dancing can range from so many different styles and to lump them all in one category seems a little backwards.
Jim:
Main challenges is physical. I lack flexibility compared to the younger female polers. Also at age 53, pole strength moves are becoming more and more difficult. I have not experienced any discrimination, but rather admiration. I do get occasionally questioned about my sexual orientation as pole dancing is still predominantly a female sport.
Melvin:
I don't think I faced difficulties. Other than the judgment of some people Because of preconceived notions of my discipline. Or the way I dress to train.
DEY PHOENIX:To be completely honesty, surprisingly no! It took my mom a bit to get used to it, but even then, she's very supportive of me. The pole/stripper community is the first place as a dancer where I genuinely felt celebrated and SEEN!
What do you enjoy most about Pole Con International?
Brian: Honestly, it's the community. Everyone is there to have fun and meet and mingle. Also, I LOVE how it's in different cities each year! Traveling to different states with the community with your pole friends, it's a win-win. Another thing I love is how Colleen runs her event. She is so on top of everything and plans everything so well. It's always the event of the year and Colleen always knows how to turn out this event. Especially next year when it's coming to my beautiful home of New Orleans!!
Jim:
Best experience ever! So much diversity, creativity, and support. I especially loved the group performances. Sometimes 5, 10 or 15 or more performing on the stage? Love it!
Melvin:
The thing I enjoy the most about Pole Con Is the openness and inclusivity of all the styles. And also the sense of a community coming together in one event.
DEY PHOENIX:When it comes to Pole Con, I enjoy the diversity! There's so many expressions of pole dance, so many people represented in terms of race, sexual orientation, etc., and I love that Colleen has fostered an environment where everyone can be seen and heard. Pole Con really shook the table for me as a newbie last year!
Heels, sneakers, or bare feet?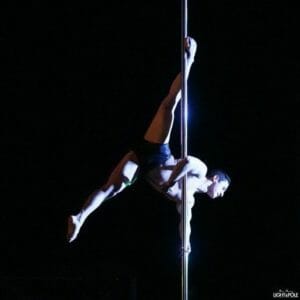 Brian: I prefer heels when I am going into my flows, but if it's hard stuff I will take my shoes off just to be safe. The only time I will use sneakers if it's a move that deals with foot holds. I am so terrible with them, I always slip! To this day I still cannot do my cupid.
Jim:
Bare feet. I have performed in heels in the past and hope to do one more performance in sneakers.
Melvin: Bare feet.
DEY PHOENIX: Heels for sure! I do like to kick them off and go barefoot every now and then, but heels make me feel powerful lol.
What is the most rewarding aspect of pole dancing to you?
Brian:For me it's creating a routine. I love it when an idea pops into my head and I get to put that idea on stage. One of my favorites was a guest performance I did for Dance Filthy USA and I was Mr. Slave from South Park. It was so fun just to be funny and be as dirty as I want. At the end I pulled a fake rat out of my butt.
Jim:
Most fun work out. Combination of gym (strength training) and cardio working on a 4-minute pole performance routine.
Melvin:
I admire and get inspiration from many people in the pole community.
DEY PHOENIX: The most rewarding aspect of pole dancing for me is the confidence I feel within my sensuality/sexuality. I admittedly wasn't as bold or out with showing my body in this way, and as soon as I became comfortable with my body expression and fulfilling my own fantasies, it has changed me both inside a studio/strip club and in the outside world. While most may not see the juxtaposition, to me that doesn't exactly matter.
Is there anything you wish people who train or perform with male pole dancers could keep in mind?
Brian: I think the main thing people should keep in mind is that everyone is on their own journey. Everyone is kind of built differently. I have heard the excuse he can do it because he is a guy and honestly that sometimes hurts my feelings. I work hard for the moves I train and perform and when I show it to other dancers all my hard work is discredited based on my sex.
Jim:
We can do strength moves but need to adapt certain flex moves based on our body composition.
Melvin:
I don't think there is a lot of difference in training or performing with male pole vs. female pole dancers.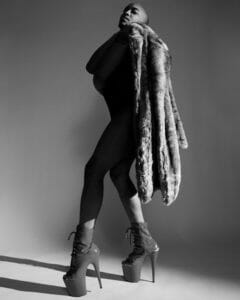 DEY PHOENIX: Funny enough, anatomy does come into play. Often times, I forget that as a someone in a male body, I have extra parts or even lack thereof in other areas that would need adjustment. I would love to teach more male/male presenting individuals how to navigate our bodies for pole when it comes to that!
Any advice for aspiring male pole dancers looking for guidance?
Brian: Be patient! As pole dancers we sometimes get so caught up with instant gratification we forget that some moves takes years of practice. Look at dynamic moves like a fonji or even handsprings. The first-time students do those moves it can be scary and even painful. Some training days may suck and other times we can make huge progressions, sometimes we need to be patient with ourselves. The best training advice I always give is try those hard moves, then go home and rest, come back the next day with a new mindset and sometimes that can work wonders!
Jim:
Be open minded to all pole styles from lyrical, exotic to sport and be you and express yourself to your favorite music or dance style.
Melvin:
My advice to any aspiring male pole dancer is to not limit themselves. Explore all the styles!
DEY PHOENIX: My main advice is do it for YOURSELF! Whether you want to be the next top stripper, or you find inspiration in other dance styles such as contemporary that you throw into the mix, pole and dance overall is a personal journey. There will be many on the outside who will not get it, who will try to push stigma and heteronormative views on what men should and shouldn't do. Blatantly, f**k that. Gender norms are for the weak, and the way you express yourself is for you and you alone!
Is there anyone in the world of pole dance that you admire?
Are there any new people in the pole community that you are really excited about?
Brian:My list of inspiration pole dancers will run on and on. The biggest place I will get inspiration is actually the strip club, especially Hustlers Club here in New Orleans. The way these dancers move is like butter. The coolest part is the pole goes through the second story of the building! The dancers can do super cool combos and I always go ape shit and throw all the dollars!! I have 2 girls who come to mind that I am super excited about. @riskay_rene from Chicago. She did a performance for Exotic Generations based around the movie Us, and it was KILLER!! The way she moves, and she adds dynamic moves with exotic oh I was in HEAVEN!!
Next is one of my pole babies from New Orleans and that is @glitbot on Instagram. She makes me so proud. Her movement is so fluid, and she even started doing silks and is killing it. It is so humbling seeing her come to her own style of dance! She is even on the road to becoming an instructor at our studio Awakenings. I cannot wait to see her more on stage and I am always beyond proud of her.
Jim:
I admire Alberto Del Campo who is from Las Vegas and a Cirque Du Soleil acrobat. Lots of creativity, patient with me and very supportive.
Melvin:
Two of my favorites are always Rafaela Montanaro and Heidi Coker. I am also excited about the junior athletes that are doing amazing things at such young ages and I can't wait to see how they develop their craft as they grow.
DEY PHOENIX:  Since we are focusing on male pole dancers, I have to always shout out Bentley Rebel! He was the very first Black male pole dancer I ever saw when I started out, and it was then I knew I was doing the right thing. His musicality, his energy, everything has been inspiring!
What do you have to say to the people who say, "I could never pole dance"?
Brian: As cliché as it is, I just say try it. The hardest thing to do is to walk into a new studio. The most beautiful thing is this community is so accepting and it can be easy to make new friends. Those friends will help push you and will turn out to be your biggest cheerleaders.
Jim:
Pole dance, pole sport, pole fit really is for everyone. Strength and flexibility training, cardio and poling with your favorite music is so much more fun than just going to the gym.
Melvin:
Anybody that says that they could never pole dance has to remember that everything has a starting point. What seems overwhelming at first can be conquered if you take it step-by-step and one day at a time.
DEY PHOENIX: I honestly say stop making excuses and stop listening to negative talk. I run into so many people who say what they couldn't do, and I realize it's because they've been told what they can and can't do when it comes to their abilities and talents. You can do anything you put
 your mind to; the proof is in the entire pole community. Regardless of your weight, your gender, your race, or even your disabilities, there is a place for you in pole. You just have to be willing to take that step and drown out the noise from naysayers.