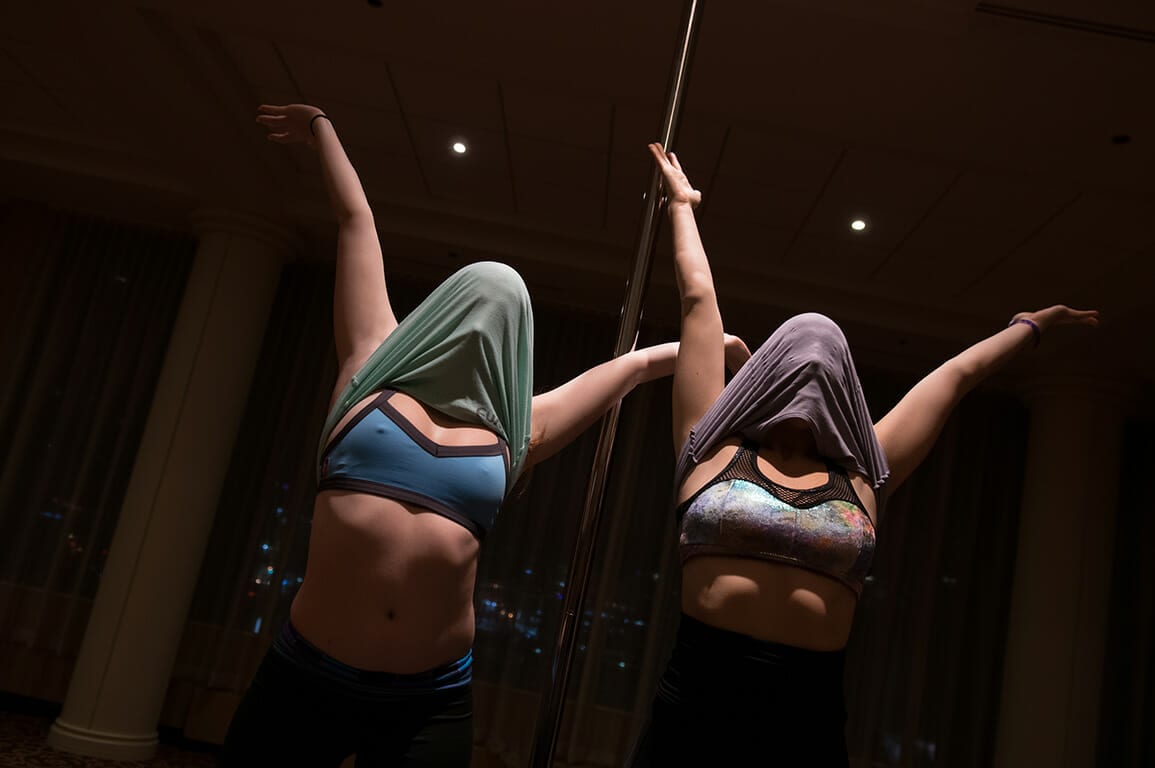 WYD? Wanna Netflix and stretch?
Something I have realized is that all of my pole friends are AF: that is to say, married as fuq or single as fuq. I do see my part in this; when I am not at the studio, I'm at work, when I'm not at either of those places, I'm commuting and when I'm not commuting, I'm sleeping. I am always eating and that must be terrifying to mere mortals the way I unhinge my lower jaw to inhale sustenance.
It all reminds me of that line Dita von Tease coined, "You can be the ripest, juiciest peach in the world, and there's still going to be somebody who hates peaches." Competitive pole dancer and librarian HAS GOT TO BE tasty to someone, am I right? No? Well, f*ck you too then! Okay, let's not do this to ourselves. That's just the hormone monster typing. Is your hormone monsteress reading?
Clearly, I love a twisted comedy. Yet, somehow I never expected my love life would be the joke. In fairness, it's more so my dating life that's the laugh out loud. Generally speaking, I am surrounded by love and beauty. Nevertheless, love and beauty doesn't fill a Tennessee Williams play. You see, I know exactly what I want and it shows in my dancing. I navigate around that pole with the passion and desire of a Tasmanian devil but I cannot recall the last time I moved… around a pole with passion and desire of a Tasmanian devil. My mother will be so proud when she sees this.
It doesn't help how "supportive" we all are. Don't get me wrong. Love the love, baby. Fierce. Yass, Queen, Werk. I want to die in it. Magic. Eat it well. But, sexual freedom and independence, breaking news, Gets So Lonely. I hear it from my peers too. In fact, I have bonded with my fellow go-go dancers over our isolation. We work in bars and clubs and are told how stunning we are by strangers only to wake up alone. We cannot confide in our friends or families because we'd look like humble braggers if we did. Our homes are absolute messes: Pill bottles decorate dressers like beer cans once did in undergrad and sequined costume start being used as comforters. We resent owning real pants and none of our socks match. It is no wonder why everyone has a pet that I'm honestly a bit shocked they can keep alive with their busy schedules.
So I will go ahead and take the first true step and invite myself to a Netflix and bodyroll. Other dancers and librarians are invited too but we aren't allowed to talk about shop. Just break it up and slow it down for a minute. We deserve a stretch break.  Being too healthy is killing us. You good for one, bae? I got an account and am willing to share.

Latest posts by Jhani Miller
(see all)