Keep Calm and Pole On—How to handle an injury before your pole dance performance
With 6 weeks to go before my first trip to PoleCon, i was prepped, planned and positively ready to rock the BIG stage with my PFRPT friends in the Groups and troupes showcase. Then the unthinkable happened…. i broke my toe (and it wasn't even pole related)!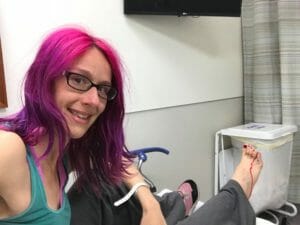 An 8lb hand weight that my daughter left on the kitchen counter rolled off the surface and (as the urgent care doctor so colorfully worded it) "pulverized" my pinky toe on my right foot. Hearing the news was as crushing as the break itself. For months i had been drilling choreography and training for this performance, to get benched by a falling hand weight.
The next day was a team video shoot that had been scheduled months prior. Knowing a great deal about body awareness, i decided that it would be easy enough to pole dance as long as i kept my feet off the ground. Strutting into the studio with a cane and a smile, i plotted out my exact movements in my mind. When it was my turn, i ambled up the pole, set my cane down on the floor and lifted myself into the safety of the sky. Once my dance was completed, i landed softly, took hold of my cane, and made my way to a nearby couch for a victory rest. The deed was done and the video was recorded, but i worried about my prospects at Pole Con.
Seeing the surgeon
Never got a goal by giving up, so i made an appointment with an orthopedic surgeon who was considered "The best foot guy in the business". My gynecologist spoke highly of him and that was good enough for me. He gave me a prescription of 2 weeks of strict immobilization. Followed by four weeks on crutches with my right foot in an orthopedic boot. Then by his estimation, i might have a chance of being well enough to dance on stage.
Like a good patient, i plopped on the couch and stayed there for two weeks. Used it as an opportunity to improve my hand dexterity with isolations and exercises that i could do from the couch. Additionally, i took this time to consider all the possible outcomes for my healing. If i was going to succeed, i needed a positive attitude that was grounded in rational thinking and reasonable expectations. After that respite, i was ready to do as much moving as i could safely. My coach Ziva Lynn had faith that i could carry on with the choreography, and i re-joined my teammates for Pole Con practice. It was a time of great focus and significant movement modification, but it was worth it to me. Every stretch and exercise i did was considered and purposeful to avoid further injury.
When the time came for my recheck with the orthopedic surgeon, he told me how pleased he was with the progress of my healing fracture. As we reviewed my recent radiographs, i asked him if he was pleased enough for me to wear my 6 inch heels for my Vertical Joe's and Ghetto Stiletto workshops. He told me he didn't see any problem with it as long as I was comfortable in those heels.
Off to PoleCon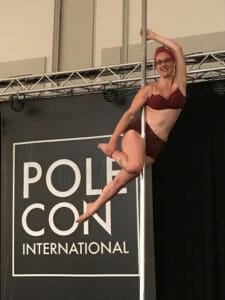 The entire weekend of Pole Con 2018 was one amazing experience after another. Got to rub elbows with the superstars of pole dance while learning brand new techniques and skills. Bought some very cool costumes and a flashy pair of Aura Heels for a future project. Even got to enjoy the aerial playground with my fun friends from X-Pole. When it was time to take the BIG stage, i was healthy, healing, and happy to dance with my team. It was humbling to share a stage with all the exceptional pole and aerial performers last year, and i am absolutely delighted to see who's performing this year in Denver!
If you are faced with a last-minute injury prior to Pole Con or any other performance, please consider safety prior to pole dancing. A friend of mine recently dislocated her toe the day before a pole competition, and unfortunately… she was unable to participate. If an injury is serious enough to sideline your pole dancing, it's OK to feel disappointed but do not fall into despair. Be good to your body, while you plan your way past this setback. There will always be future opportunities to pole dance, if you do what is necessary to heal appropriately.
Keep Calm and Pole On!
Lori-Lu's former profession was as a Licensed Veterinary Technician for 13 years, so she relied on over a decade of experience in wound care and anatomical awareness to help her make good life choices about what she could and could not do while healing from her fracture. Remember pole dancing friends: Safety Is Sexy!