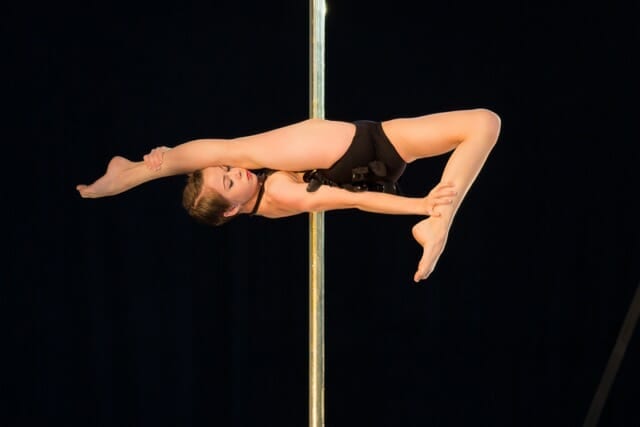 Kids and Pole: An Interview with Paige Olsen
We sat down with the pint-sized, pole phenom Paige Olsen and her mom Jennifer to learn how the younger generation is changing the face of pole.
---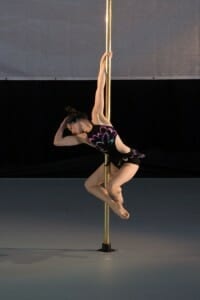 Colleen (C): Terminology can be a funny thing in our industry — do you prefer pole dance, pole fitness, pole sport, just pole or another term to reference what you do and why? (
Paige (P): I prefer pole or pole sports because I consider myself an athlete.
C: What attracted you do this industry? And how did you first start?
P: My dance studio put in poles and my mom signed me up for pole classes for strength training to help improve my dancing.  After I took a few classes I loved it and wanted to keep going and learn more complex moves.
C: Why do you compete?
P: Before pole I was a competitive dancer.  I've always loved dance competitions to challenge myself.  When I started pole my teacher told my mom that I would do well in the US Pole Sports Championships (2015) that were only a few months away so we signed up and I started working on my routine.  It was a good experience and I met so many amazing people I wanted to continue competing.
C: You've received attention and publicity on the local, national and international scale—how have you deal with that? Personally/emotionally, at school and within your family? Has it been difficult or awesome or a little bit of everything?
P: At first it was really scary to be interviewed but it's getting easier and I'm feeling a lot more comfortable with it and with being in front of a camera.  This has not been difficult but if I had to describe a feeling it would be that I felt very nervous but I'm getting used to it now and I'm starting to really feel really comfortable and enjoy interviews.  My family and friends have really supported me and my life outside of pole is still exactly the same as it was before.
C: What trends to you currently see in our industry? Do these make you happy and excited or worried?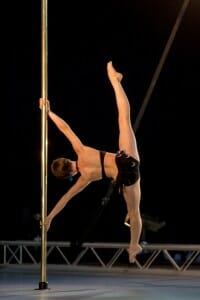 P: I'm not really following any trends.  Right now I'm watching YouTube, Instagram, and reading the code of points so I can learn new moves and keep improving.
C: How do you envision the industry evolving in the next 5 years, 10 years, etc? And what do you see your role being? Are you a workshop leader, studio owner, pole-prenuer, etc. or is this not a career path?
P: I do believe that at some point in the future pole will be in the Olympics.  I'm not sure when that will be but my goal is to continue to train as a pole athlete so I have a chance to participate in the Olympics if this happens in my lifetime.  I know the Olympics would be a once in a lifetime opportunity so my plans before and after that are that I want to travel around the world and teach workshops.  I'd also love to own my own pole studio.
C:  Kids in pole is a sensitive subject for some and you are one of the handful of under 18 public faces in the US competing. Using social media as a reference, there appears to be more kids in Europe and Australia than the US trying pole; why do you think that is?
P:  I think the other countries started pole before we did in the US.
C: And one just for you Jennifer — social media and promotion is a huge part of the pole industry. Paige has an active presence on instagram, do you have any concerns about sharing her videos and photos? Grown women (inside and outside of our industry) regularly receive inappropriate and unwanted photos, comments and propositions on social media. Perhaps I've seen one too many "Law and Order: SUV" episodes, but are there any special concerns or steps you have/you take to protect your daughter from unwanted or possibly dangerous attention?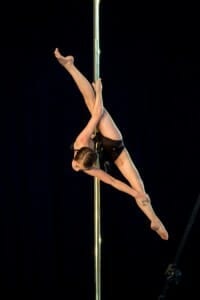 (Jennifer) In the beginning Paige's profile on Instagram was private simply because she is a child but I decided to let her change it to a public profile so she could become more of a part of the pole world.  I felt that was very important.  I've had many conversations with Paige about inappropriate behavior and comments.  For an 11 year old she knows much more than she should about the adult world but I felt it was important for her to understand a few things so if she did see negative comments she would understand why.  On an almost daily basis I scan through her Instagram account to look for inappropriate things and I do remove them when I find them. Luckily, for the most part we have had very little negative or inappropriate comments, 99.9% of the comments we see are very supportive and positive.   Paige loves pole and her dad and I support her 110%.  We will do everything we can to help her continue to achieve her goals.
Photos: IPSF WPSC16 by WPSC Photography