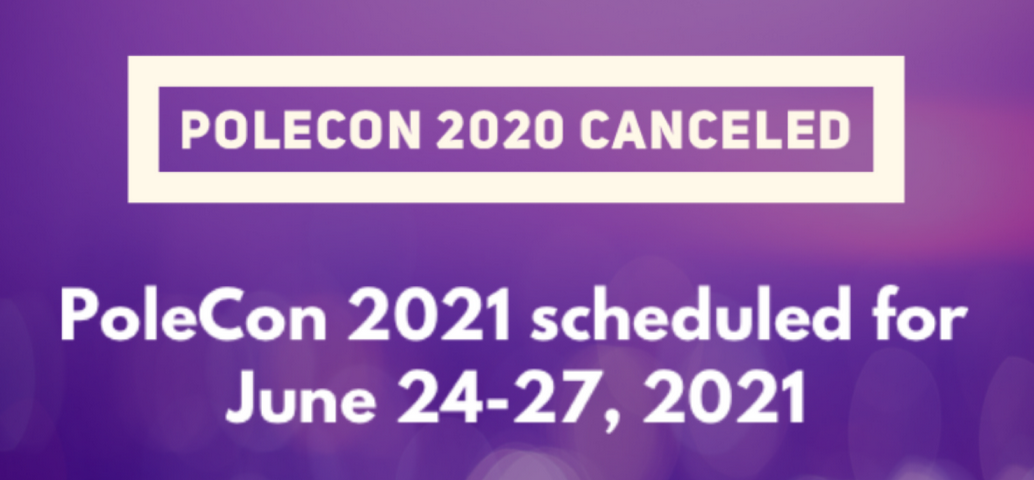 PoleCon 2020 Canceled, PoleCon 2021 June 24-27, 2021
It is with heavy heart that I announce PoleCon 2020 in August 2020 is canceled. It is not safe to hold the event at this time.
>>>PoleCon 2021 will be held June 24-27, 2021 at the Sheraton New Orleans (same hotel)<<<
There will be no early bird pricing for 2021 tickets this year to be mindful of those that have paid full price and have transferred or will transfer to 2021.
You have two options for money already spent with PoleCon directly:
1. ask for a refund
2. push your pass and/or your workshop or private credits to the 2021 event.
**To do either of those options, you MUST email me directly. You may also do a combination of these options — for instance, move your pass to 2021 but receive a refund on your workshops and privates.**
Performers, exhibitors, volunteers and sponsors should have already received an email with additional information.
Hotel Rooms: Please note that if you have booked a guestroom within the official PoleCon room block at the Sheraton New Orleans, the hotel will be cancelling your reservation and you should receive an official cancellation email directly from the hotel. If you do not receive a cancellation email, please contact the hotel directly to cancel your reservation. If you did not book within the official room block, you are responsible for cancelling your room reservations.
More information about being a part of PoleCon 2021 will come in a few months. An updated workshop schedule will be available in January 2021.
A virtual event will be held in the fall. More information on that will come next month.
Thank you to everyone who tried so hard to manage transfers! I hoped that we could hold PoleCon to celebrate and support our community during this difficult time but our safety is more important.
Please stay safe.