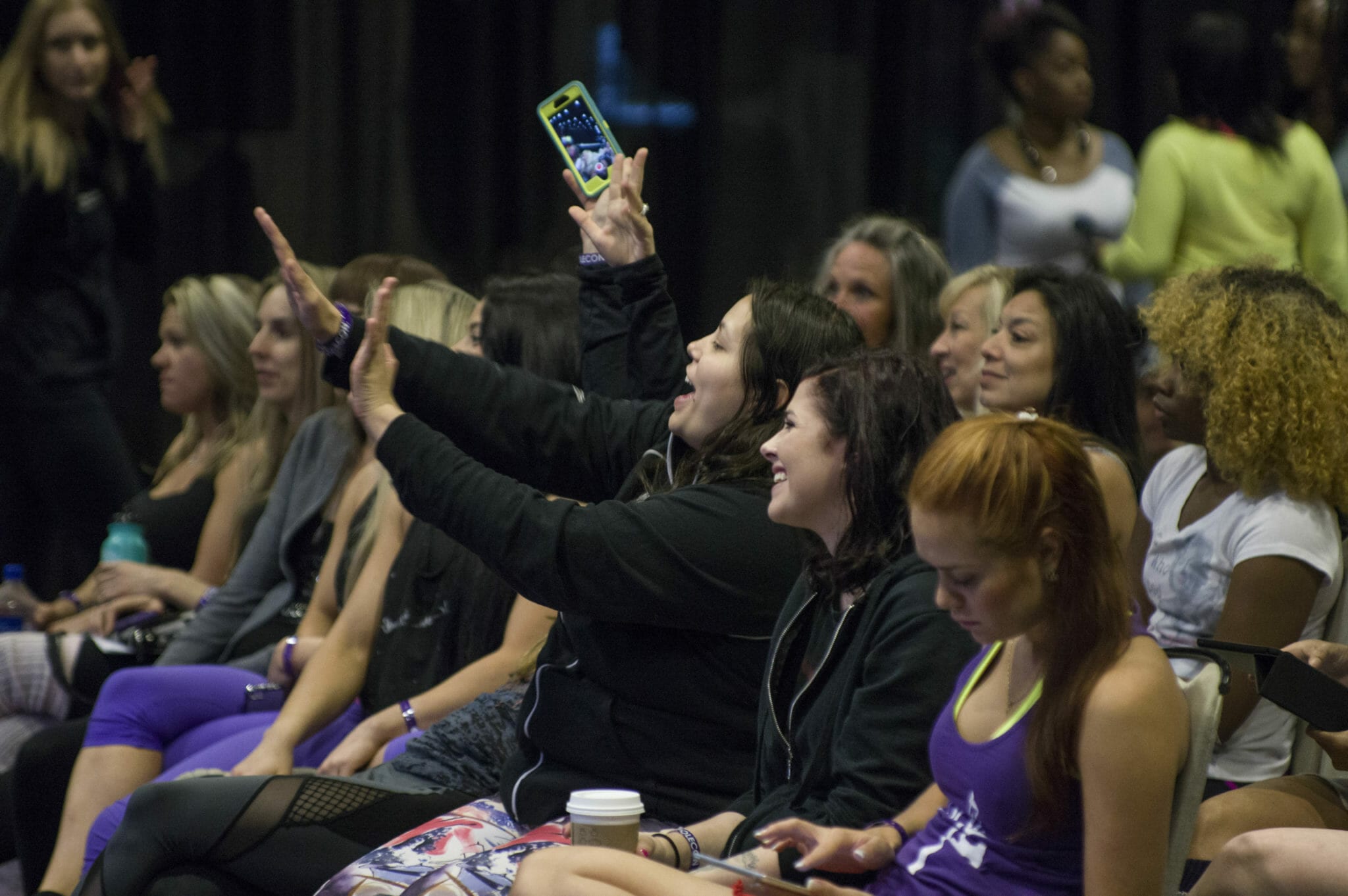 What is the True Cost of PoleCon
For some pole dancers, PoleCon is a critical business expense. For other pole dancers, it's a carefully budgeted luxury trip. However you view attending PoleCon — let's talk real costs.
Ticket to PoleCon
The weekend pass at early bird (purchased by December 31) is your best price and includes two lunches and one breakfast. The breakfast isn't as protein rich as the lunches, so you may need to budget for an additional breakfast. $175.50
NEW: We now offer payment plans for the weekend pass! 
Flights/Travel to Venue
Sometimes you get lucky and can drive to PoleCon and sometimes you have to fly. Pay attention to sales and try to buy flights a month or more in advance for the best prices. Pay attention to baggage costs too. Sometimes the best price really isn't the best once you factor in luggage or other fees. $200-1,000 (if flying international)
Parking
Generally, you don't need to rent a car once you get to PoleCon — attractions and restaurants are within walking distance or you can ride share/taxi to places further afield. If you do drive to PoleCon, you may have to pay for parking which historically has ranged from $10-20+ per day! 2019 has no parking fee for guests. Hurray!
Hotel
We work with the hotel to provide a discounted rate for rooms for PoleCon attendees. Sometimes though, you can find a lower price at the same hotel on the same dates which isn't supposed to happen. In these cases (which happened at the 2017 event) we reported the discrepancy to the hotel and they lowered our rate. While you may find better priced Air BnBs or other options, we appreciate you staying at the host hotel since the number of rooms booked is part of our contract. Get a group of 2-4 together to make the convenience of staying at the host hotel more cost effective.  Make sure to budget parking and transportation costs (ride share/rental/gas) if not staying at the host hotel. ($185/night x 3 nights + taxes/fees).
Food
Two days of lunches are included in the weekend pass. Budget for a travel meal to and from PoleCon and dinner for 3-4 nights depending on when you leave. Food could cost $10-20 (or more) per meal. Generally, hotel food is more expensive than food outside the hotel. Check the surrounding area for walkable food options or grocery stores. ($60-$120+).
NEW: if you're in a workshop during lunch, grab a boxed lunch. EVERYONE is guaranteed lunch at PoleCon!
Workshops
While there are tons of things to do at PoleCon that are already included in your Weekend Pass, if you want to buy workshops they are $90 for 90 min pole workshops and $65 for 90 min non-pole workshops. Taking a private is $120/60 min. If you want to take a workshop, budget appropriately! Schedule for workshops goes live the January before the June event along with the schedule for free workshops and showcases so you can plan your PoleCon way in advance.
Merch
Shopping is often cited as one of the highlights of attending PoleCon in our event survey. We even have some attendees travel with an empty or near empty suitcase just so they can fill it up with cute things for the return trip! Expect to buy something and know your limit of what you want to spend in advance. Vendors often release new or special items during PoleCon. Beware of FOMO if you don't budget enough!
Other
There are so many unique things to do at PoleCon that you might want to spend money on including (but not limited to) buying photos/video of your performance, doing a photoshoot, having a painting of you done, taking pre-conference certifications, and more! We announce offers as soon as we can, so you have time to budget for these extras.
Tips for Saving
Open a separate "PoleCon savings" account and put $5 a week into it. By the end of a year, you'd have $260 saved!
We also offer gift certificates at any amount to defray the cost of workshops and/or your pass that your loved ones can gift you.
If you are a paid pole dancer (stripper, teacher, studio owner, other pole-fessional) then you can write off your entire trip including the pass (education), workshop fees (education), travel and food costs AND some clothing (classified under "uniform" if not worn outside the studio like a costume for a competition or special pole-only shoes — I've been audited and shoes and costumes made it past the auditor NOT sports bras and leggings) on your taxes. Save receipts and work with your tax professional to maximize your eligible deductions. Check out my tips here!
Other Ways to Save
Performers, groups, free workshop/seminar leaders and volunteers receive discounts which can be combined with the early bird discount.
Groups, email for your discount code (5% for 5-9; 10% for 10+).
Performers apply here: https://goo.gl/forms/wh6KkCXQUoh4ezlA3
Volunteers apply here (read all the fine print!): https://goo.gl/forms/BdN2l1QQreXhPExP2
Free workshop/seminar leaders apply here: https://goo.gl/forms/zr2jPGFSg0QWwYGm2
Weekend at PoleCon presuming $300 flight, staying at the host hotel splitting with one person and no workshops: ~$1000 (depending on exact food costs and shuttle to/from hotel from airport)
PoleCon moves every year and having PoleCon in your home town makes attending much more affordable! Want us to visit you? Email me! I listen to all requests and PoleCon planning starts very early! I've already started looking at venues for PoleCon 2020!
We hope this helps!