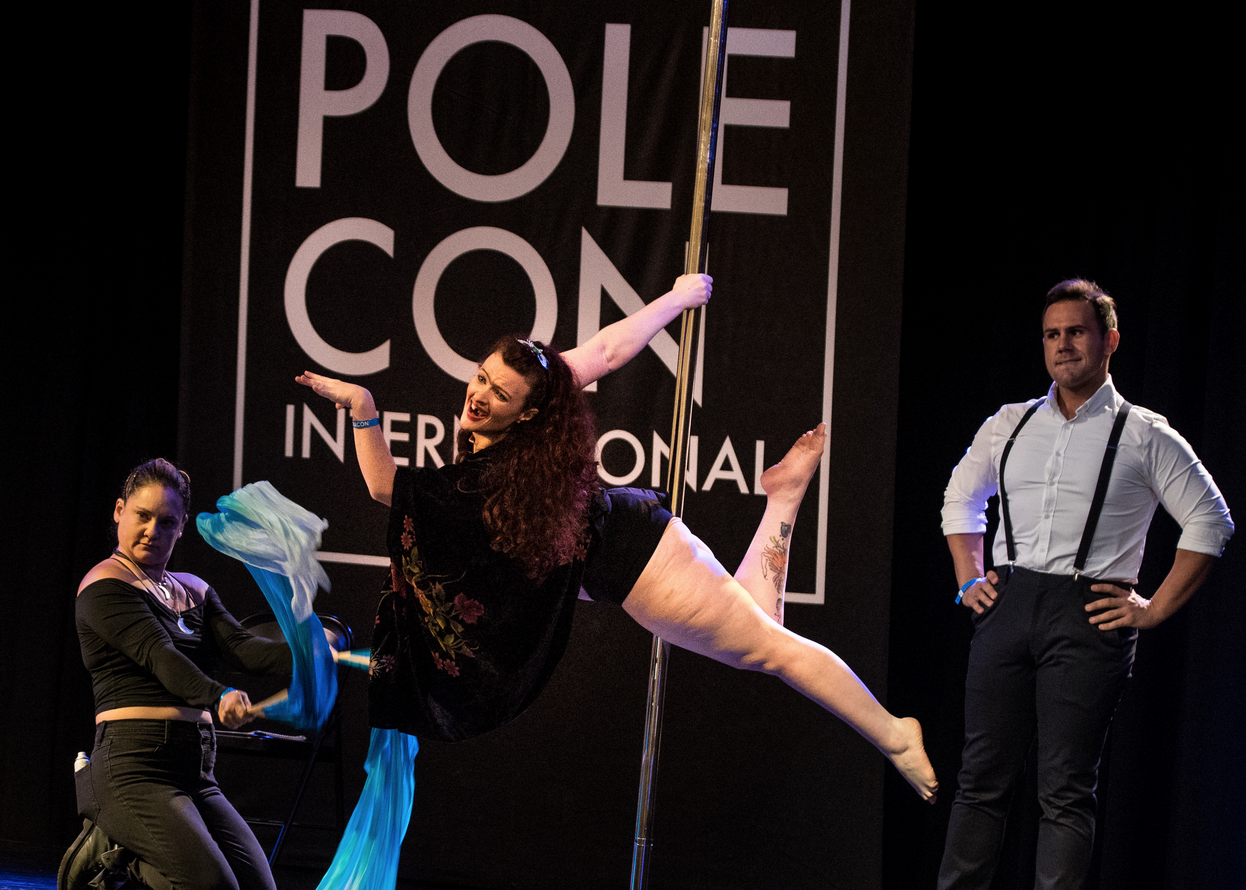 How to Put on a Dope Performance on a Budget
Putting on a performance, especially one for a large crowd like PoleCon, is no easy feat. It takes months of planning, preparation and practice. Performers can often times put a lot of undo stress on themselves trying to figure out how to put on a great show on a limited budget. Fear not, though, fellow artists, because I've devised several tips and tricks for how to put on a great performance without breaking the bank!
COSTUMES
Often times a lot of money and time is spent on finding just the right costume. There are many places that sell inexpensive dance costumes for relatively inexpensive like discountdance.com and dancewearsolutions.com as well as yandy.com. Sometimes even sites like Amazon can have some good finds. For those who prefer a more handmade approach, places like Wal-Mart, Joann's, Hancock Fabrics, and Michaels have lots of great supplies at relatively low prices. If you're in the market for pieces to mix-and-match, thrift stores and Goodwill are usually solid options as well. You can also seek out a good alterations person to help you put things together if you're unsure how to do it yourself. Often times dry-cleaning places will offer basic alterations as well as attaching zippers, velcro and buttons for reasonable rates. For things like head pieces, hats, and accessories, places like Dollar Tree, Family Dollar and Party City usually have a decent selection and cheap prices. Sometimes it doesn't hurt to check out your local beauty supply store as well. I personally found a white body suit at Party City one year in the kids section that was like an XL size and it fit perfectly and was only $10. I've used it for multiple costumes since.
PROPS
Finding the perfect prop for a costume is not always easy and can sometimes be a daunting task. Any place that has cheap and decent props, toys and accessories in your area are certainly worth checking out. Places like Wal-Mart, Target (especially the dollar section), Dollar Tree, Dollar General, Family Dollar, Goodwill and beauty supply stores will usually have some good options. If you want something a little more custom-made visiting a hardware store is never a bad idea. Additionally, for those needing props that are little more 'exciting' your local sex shop may have somethings available and sometimes may have sales or deals for signing up for their mailing lists.
BACKDROPS/SCENERY
This sections is definitely where things can get a little bit dicey on price. Custom-made backdrops and decorations often come with a hefty price tag unless you know someone with carpentry skills or someone who at least knows how to use tools and can piece something together for you. Otherwise, buying pre-made backdrops and decorations may not be a bad idea. Wholesale stores and online retailers usually have great options for items that are new or gently used. https://www.dhgate.com/wholesale/stage+backdrops.html is a site worth checking out. They offer a variety of different curtains in a variety of shapes and colors as well as character backdrops. Party supply stores like Party City as well as decorative stores like Michaels may be good options as well if you're looking to make something yourself on a budget.
PRACTICE SPACE
Finding the perfect place to practice a routine can often be challenging. Even for those who have a pole at home, you may not have adequate space (probably not two poles as the PoleCon stage will have) or privacy. For those who currently attend or belong to a studio, you may want to inquire if they will let you rent space to practice. Perhaps you can even barter services to get a cheaper rate. If this is not an option, and/or you work at a club, see if you can come in before business hours and practice there. Or, if a friend has a home studio setup, see if you can use theirs for a fee or barter services.
While all of this may seem a tad overwhelming, your performance can be as grand or as small as you want it to be. Don't feel like you have to go all out and spend hundreds of dollars for a three minute performance. Set a realistic budget for yourself based on what you know you can afford and then go from there. If what you can afford and what you'd like to do are different, ask friends and family to chip in. Setup a GoFundMe. See if you can find some part-time work to help cover additional costs you may incur. But don't overextend yourself either. Sometimes a really good performance doesn't need anything beyond a really good performer.