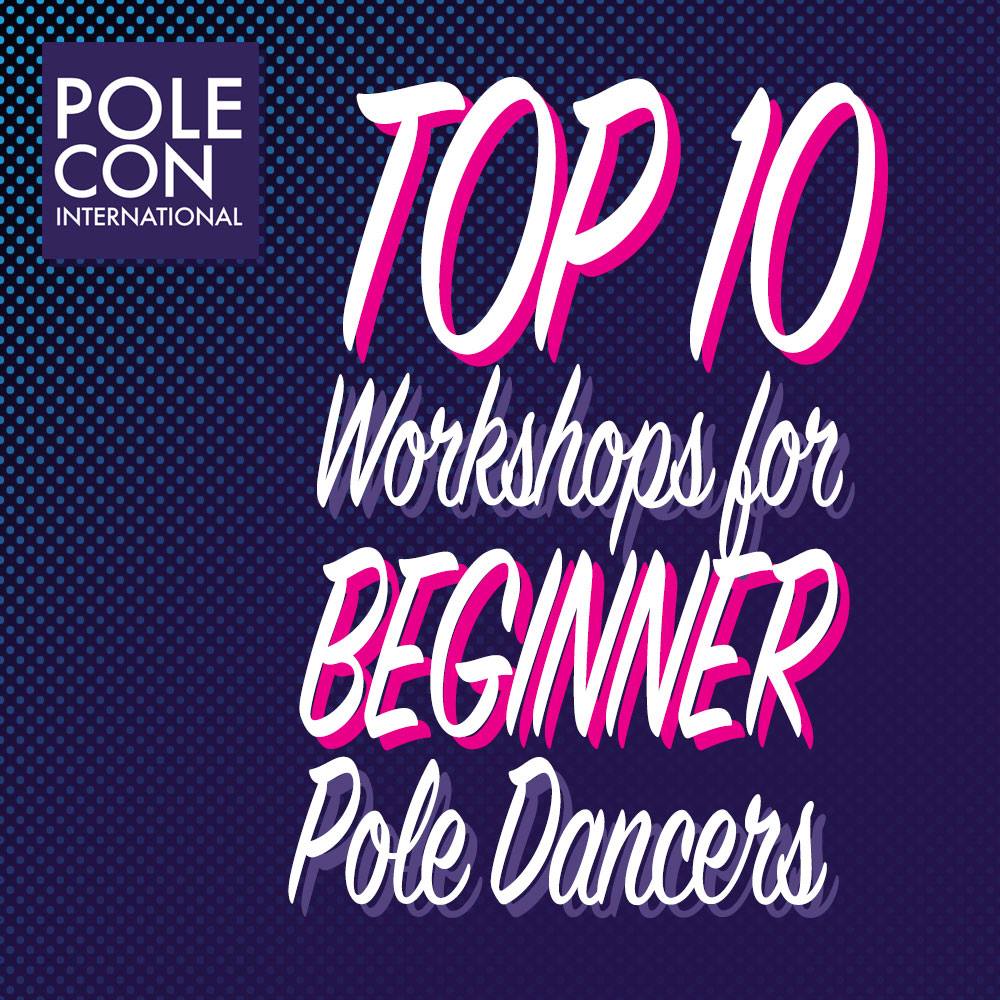 TOP 10 WORKSHOPS FOR THE BEGINNER POLE DANCER
PoleCon 2017 is almost here, and that means it's time to grab your spots in workshops now! But… how to choose what's the best fit for you, especially if you're new to pole?
I had a conversation with one of my students today about how she's worried that, as a newer pole dancer, the workshops will all be too advanced. And I completely get it. Few things are worse than ending up in a class and realizing that it is seriously not meant for you. The dread and panic starts to rise as one thing after another just doesn't work on your body, while you watch almost everyone else around you nail it. And after a few more failed attempts, you start to stand back and watch for longer periods of time… Eventually trying to hide in the back and blend in with the wallpaper in shame for an hour. Amirite? Oh yes, my friends, I know what this feels like. I spent years as that student.
But here's how to *not* have that happen to you – follow this guide. Putting my Pole Nerd hat on, I went through the PoleCon schedule and compiled my top 10 recommendations for students who are not yet inverting and don't want to go near crazy acrobatic tricks. These are the workshops for you. So don't be scared, don't be shy – jump in and sign up! A truly great teacher knows how to teach to *all* levels, without making you feel excluded. Trust me, everyone below is that great. So go for it and enjoy the chance to learn from the best of the best!
1. Friday, 9:00am: Nia Burks, FILTH
This workshop is so hot that it already completely filled up… But you're in luck because a second class was just added. So get in here before it fills up too. "FILTH aims to put you in control of a purposeful and sexy routine that says to hell with ladylike innocence. This workshop is perfect for pole dancers of all levels, shapes, sizes, genders, and especially those who are not easily offended." She also mentions to come wearing whatever "makes [you] feel like a bad bitch," and therefore has won my heart.
2. Friday, 12:00pm: Michelle Abruzzese, Pole Burlesque
Michelle is an incredible performer who has been combining pole and burlesque for years. I had the chance to watch this routine live, and her smile and charisma completely lit up the room. It's important to remember that pole is not all about the tricks – it's about the flair that you bring to however you choose to dance. And she is your lady for learning those details. "Michelle A will show you how to add sensual, cheeky, crowd-pleasing movements to spice up your pole performance."
3. Friday, 1:30pm: Shaina Cruea, Spinny ContemPOLEary
Speaking of the details and flair that make a dancer great… Shaina is the master of perfect lines and graceful flow. Check out this and this to see what I'm talking about. Don't miss the chance to come learn from her in person! This workshop will teach you how to control your spin, wind yourself into beautiful shapes, and make it all look effortless.
4. Friday, 3:00pm: Vertical Joe's, 99 Ways to Twerk
You know what doesn't require grip strength, massive shoulders, flat splits, or a contortionist spine, and is always a fantastic addition to anything on the pole? TWERKING. And if you're going to come all the way to Atlanta, you better learn it from the best. "Vertical Joe's was the first to bring ATL Bootyclap/ Twerk to the pole dance community. Let us show you what 10 plus years of teaching Twerk can do as we bring you our latest techniques. Forget Miley! Let us show you how it's really done. Wiggle, wobble, wine, drop, pop it."
5. Friday, 4:30pm: Karol Helms, Karol's Unique Dance Transitions
This workshop specifically uses the word "newbies" in the description, so it's definitely a safe space for you, my beginner polers! Come learn creative transitions from the pole to the floor and back, an essential skill for all dancers. "Karol will teach you simple, yet beautiful dance transitions around the pole to use in your routines and free dances."
6. Saturday, 12:00pm: 123 Poling.com, Free workshop
If you don't know about 123poling.com, go check it out. It's one of the best resources for all of you who pole at home and practice on your own. This workshop gives you the opportunity to go learn about their techniques at person, so that when you go home and watch the videos, you'll be even better prepared to follow along. It's even free. These are the kinds of gems you get when you come to a convention – do not miss it!
7. Saturday, 1:30pm: Josiah Grant, Exotic Flowography
Sexy is an attitude, and Josiah is the king. "This sexy movement class provides a tantalizing slow, rhythmic & provocative choreography… You'll gain an arsenal of new floor and transitional moves." Leave your inhibitions at the door and get ready to get down and dirty.
8. Saturday, 6:00pm: Marlo Fisken, Pole Flow
Flowing seamlessly between your movements is what makes a dancer hypnotizing, no matter what your style, no matter what your tricks. Want proof that you don't need to climb or invert to create something incredible? Check out Marlo dancing here and here. "This all levels pole workshop will focus on connecting combinations of spins to seamless, always-moving floorwork."
9. Sunday, 9:00am: Sergia Louise Anderson, Pole as Partner Latin Routine
Spice up your pole life with a little Latin flavor in this workshop with Sergia. One of the best ways to make your movement new and exciting is to pull creative ideas from other disciplines. "Sergia will use her partner-dancing background to set a Latin ballroom-inspired choreography using the pole."
10. Saturday, 1:30pm: Elizabeth Carmine Black, Sensual Swag (Floorwork Series)
Every pole dancer needs a good arsenal of floorwork techniques. And if you want to make it extra dirty, grab your heels and get in here with Carmine. "This workshop will explore different ways to release your inner ratchet. Incorporate techniques like: leg play, isolations, hair whips, heel clacks, ass juggling, showcasing "the goods", and how to twerk in heels."
Feeling excited yet?? I know I sure am, and can't wait to see you all in the ATL. Come find me and say hi at the Bendy Beast booth. And to learn how to keep your pole dancer body happy and healthy for a long time, drop in to my seminar on "Save Your Shoulders," Friday at 2:30 in the Free Workshop room.
Remember, every single one of us started pole as a beginner. We're here for you. Get in class, get inspired, and keep making your magic!

Latest posts by Liz Kinnmark
(see all)