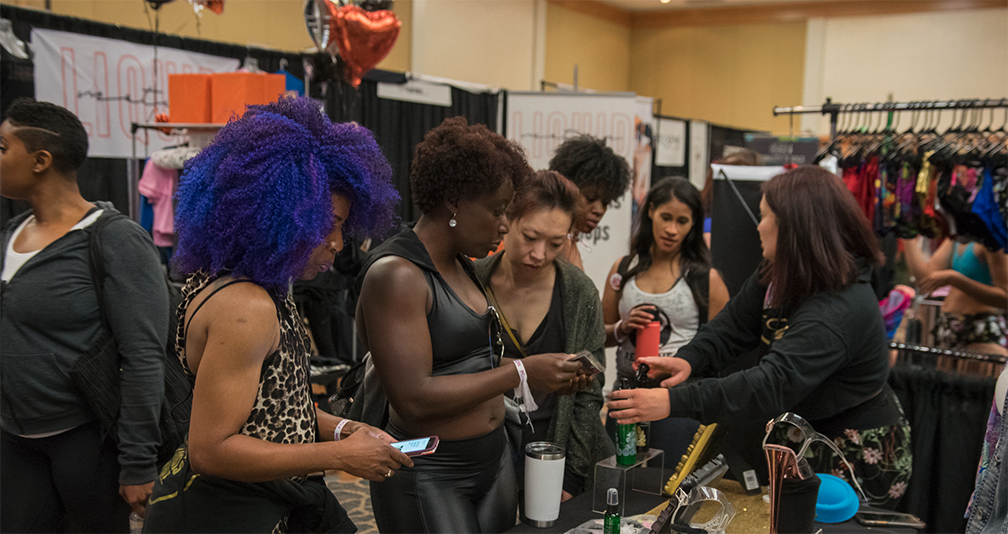 What to expect as a first time PoleCon attendee
*Please note, since PoleCon changes location every year, some information may not be relevant on the year you are intending to go.*
The one thing we always hear about PoleCon is that there is always "too much" to do!
At any time, a showcase, a free workshop or seminar, and up to five paid workshops are all going on at the same time. You could also book a private, book a photoshoot, or be visiting the vendors too.
So yup! That' a lot all at once! This blog will break down how to prepare for your best PoleCon ever.
How to prepare for your trip to PoleCon—start in advance!
Check to see where PoleCon is this year (usually announced a year in advance) and start looking up flights or other travel options from your location. Some years PoleCon will be easier (and cheaper) for you to get to than others. All PoleCon activities (except for After Parties) are in one place so if you fly, you usually don't need to rent a car. Sometimes PoleCon is even accessible by local public transit!
If you are driving instead of flying, check to see if there is a parking fee at the host hotel. Some years parking has been free and in other years, when PoleCon is right in the middle of a downtown/city area, parking has been VERY expensive. (Parking for PoleCon 2023 is FREE.)
Check out the host hotel room block. PoleCon negotiates a discounted rate at the host hotel every year for attendees. This doesn't mean it's the cheapest option in the local area but it can be the easiest option so you can take a nap in between workshops! Make sure you understand the cost of either the host hotel or another local option. Sometimes the room block at PoleCon sells out so book in advance. Most hotels do not charge your credit card to book but they may place a hold on it.
Create a realistic budget for what you're prepared to spend. There will be LOTS of vendors at PoleCon and it's very (VERY) easy to overspend. Make a realistic budget and consider creating a PoleCon "fund" for merchandise and workshops.
PoleCon does provide lunch Friday and Saturday and breakfast on Sunday (included in the Weekend and Day passes) but make sure you have money also budget for your other meals and snacks. PoleCon does NOT provide any meals outside of these. The hotel may have a restaurant or there may be other local walk-to or delivery food options. Do your research in advance! Especially if you have specific dietary needs.
Check out the online schedule (poleconvention.com/#schedule ) and plan out what of all the activities you must do. Anything marked "free" is included in your Weekend or Day pass to PoleCon including all free seminars or workshops and all showcases.
While paid workshops are sold throughout the convention, some workshops will sell out BEFORE the convention starts. If there is a workshop you don't want to miss, book it early.
Privates are very limited so if you want to book a private with a pole star, do that as a priority. Please note, not all pole stars will have private availability.
What to pack for PoleCon—pack what you need to be successful!
While you can get lots of stuff from our awesome vendors, they might not have your size, your favorite grip aid, or other things that you need to be successful during your time at PoleCon so here is a list of things you should bring with you, especially if you take the paid pole workshops:
Yoga mat
Any grip aides
Pole shoes
Pole outfits
Pen/notebook/digital way to take notes
Battery bank for electronic devices
Reusable water bottle (water stations are found throughout PoleCon)
Any recovery aides: such as foamroller, Epsom salt, etc.
Your medication—bring extra in case of travel disruption
Cash and credit—while most vendors will take credit cards, it's good to have some cash on hand especially if there's a power or internet disruption
There is no wifi available for attendees in the PoleCon spaces, only for vendors. Depending on the location, sometimes cellular and data services is better than others. Wifi is typically available in the host hotel rooms for hotel guests.
What to expect when you arrive at PoleCon—check in first!
When you arrive at PoleCon you'll be asked for the name in your WellnessLiving account – sometimes this is not your "real" name but your pole name or vice versa (if your home studio also uses WellnessLiving then it'll be whatever name you use there).
You'll be asked to wear a vinyl wrist band for the entire weekend (if you have a Weekend pass) or for the entire day (if you have a Day pass). If you are allergic to latex, please let us know. If you are performing, please perform with it on. If you lose your wrist band or cut it off, you may be charged $50 to replace it.
Also, at PoleCon registration you'll see a QR code to scan that will take you do the digital event booklet. This includes helpful information you'll need for the event such as the map of the various rooms, the location of the PoleCon medics (by the stage), and the schedule.
Check in with PoleCon registration first, BEFORE going to any paid workshops. If you don't arrive at your paid workshop without a wrist band, you'll be asked to go to PoleCon registration before checking in for your workshop.
*If you have a pre-convention certification, PoleCon registration will not be open yet and you can go right the room the certification folks told you to go to.
PoleCon registration is at the entry to the vendor area and main stage. Every time you enter, you'll be asked to show your wrist band.
If you are taking paid workshops, you'll check in by name with the room monitors who will check you in using a tablet. It is very important to check in workshop leaders are paid based on who attends their workshops AND there may be a wait list. If you don't show up, you spot may be given to someone else.
What to expect for food during PoleCon—understand your options!
Your PoleCon Weekend pass includes lunch Friday and Saturday + breakfast on Sunday. If you have a day pass, you only get the one meal that day. If you have a pass to a showcase, no food is included.
All meals are grab and go which means you can take them with you if you have a workshop during that time.
There are vegan and gluten free options available. The full menu for all meals will be published in our newsletter and social media before the event so you know what to expect. Unfortunately, we cannot accommodate specific allergy requests due to the amount of people at the event.
During the evening showcases on Thursday and Friday night, a pay-for bar is available for people 21+. No food is provided.
Depending on the location, there is at least one restaurant in the hotel available. Some years there are a lot of food options in walking distance and easy delivery options. In 2023, there are A LOT of walkable food options and SVERAL restaurants in the host hotel.
Final thoughts to prepare you for your first PoleCon—have fun and be kind!
PoleCon should be a fun time to connect with other polers. For that reason, we instituted a code of conduct that is found in your digital event booklet and here for reference:
"Attendees must respect commonsense rules for public behavior, personal interaction, common courtesy, and respect for private property during PoleCon.  Attendees must receive explicit verbal or non-verbal consent before any interaction that involves physical contact. Attendees must respect current and applicable rules and regulations for safety regarding COVID-19.
PoleCon reserves the right to revoke, without refund, the convention pass and/or workshop passes of any attendee not in compliance with this policy at PoleCon.
Persons finding themselves in a situation where they feel their physical safety is at risk during PoleCon or who become aware of an attendee not in compliance with this policy should immediately notify the PoleCon registration desk so that the matter can be handled in an expeditious manner which may include involving local law enforcement."
Got more questions about your first time at the event? Email us!