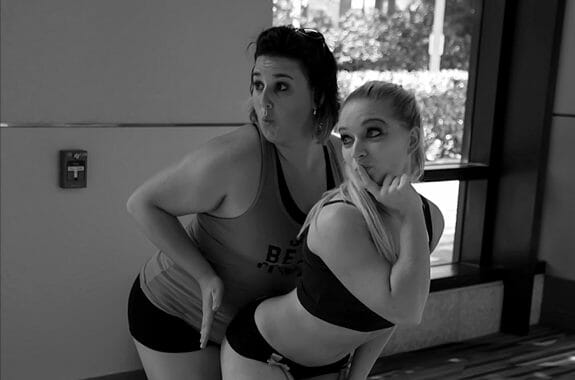 Why Come to PoleCon as a Student
I took my first pole class in the summer of 2011 and by 2012, I was absolutely hooked. Google-ing around one day I found the International Pole Convention, held that year in LA. I saw hordes and hordes of people enjoying this new found and sometimes hard to explain hobby. Flipping around stage poles in hotel ballrooms, with loud spandex pants and huge smiles—clearly I had stumbled across Nirvana!
PoleCon is a great place for businesses but it is also a great place for people who just love pole. I got to go in person to the 2013 PoleCon in West Palm Beach and it was indeed Pole-Vana. I got to try on the pole clothes I only saw my favorite pole stars wear on their Facebook pages, I got to meet my favorite pole stars (so tiny in real life! Except when wearing heels of course) and see them perform, giving me chills as they executed moves I'd studied on YouTube. Much like seeing your favorite band perform, singing along with all the best parts, I fell in love with their routines again and again.
Even cooler than being star struck (which fan-girling is pretty darn cool!), I found others who shared my passion for pole and for the first time, I really felt a sense of community. I reconnected with others from my own studio and made my impromptu roommate—a last minute decision to save costs—into now, one of my closest friends.
What should you expect from PoleCon?
First, the practical stuff — check out Alex's blog on What's in your Carry On
And make sure to bring all your essentials like a water bottle, journal and perhaps some Epsom salts for those long workshop days.
You don't need to bring a yoga mat – we'll have those for you in the free and non-pole workshop rooms.
Map out your schedule before hand – there are so many workshops, seminars and showcases that you'll want to pick your favorite things to do early so you're not overwhelmed with choice or potentially miss something the day of.
Pole Love – it's hard to describe, but you know that feeling at your studio when you've had a really bad day? Maybe the weather is bad or your day job sucks or you've just had a fight with your partner and you drag yourself to the studio grudgingly. By the time class is over, you're so happy and filed with joy and all that stress has melted away. PoleCon is like that but on steroids.
Finding people just like you – pole is a tiny sport/hobby/passion/dance whatever you want to call it, but it is still pretty fractured and sometimes in our home studio (if we're lucky enough to have one!) we can be frustrated when our favorite teacher does moves that don't "work" for us. Or maybe everyone dances very sexy and we want to be a goof ball! Perhaps contemporary dance is the style du jour and our bodies want to twerk it out. Coming to PoleCon you'll meet polers, dancers, acrobats, athletes and other students that represent every body type, every style and every level. If you're a newbie you'll still have fun. If you're an advanced poler looking to be the next hot thing on the competition circuit, you'll definitely get the new moves you're gonna need.  Me? I'm still looking for my goofy-flexy mentor and suspect he or she might just be around the next corner waiting for their next new student.
So come to PoleCon for the workshops, the showcases, the vendors that will turn you into your own action figure (seriously – check out Twindom) and stay to find the pole love and the community.
See y'all in NOLA!