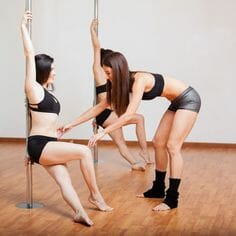 Urban Dictionary defines "Pole Slut" as someone who plays Dance Dance Revolution in the arcade while putting all of their body weight on the pole located on the player platform. But that is not what we're talking about here.
We're talking about the neon green giraffe in the room (read: studio) — students who attend classes at more than one studio, a.k.a the Studio Hopper. Most polers have one studio that they consider their "home base," so to speak. Perhaps it's where they first began taking classes, or it's where their close-knit posse of pole sisters/bros take classes. And, there are others who will venture to other studios only to take a hosted workshop from a visiting pole star. There are several reasons that students opt to visit more than one pole studio on a regular or semi-regular basis:
Variety is the spice of life: It's not terribly different from shopping at both the organic farmer's market and at the grocery store. Some studios offer certain classes that others don't. Also, there is no shortage of amazing and wonderful pole instructors out there, so depending on where you are in your pole journey, you may feel that you can thrive by learning from several different teachers that don't happen to be housed in one single studio. And if you're looking to improve upon certain elements (i.e. advanced tricks, floorwork, twerk, spin pole vs static) or perhaps you just want a bigger, better handstand or a flatter split, there may be a studio that offers a specialty class that's exactly what you need in your training!
Schedules: There are studios that offer both daytime and evening classes and those that offer only evening. Some are light on weekend classes, others heavy. Certain studios offer classes seven days a week, and others only five. Some will even include a Sunday class or two on their schedule. Face it, there are times when work/adulting gets in the way of our pole practice and we REALLY need to get in our minimum number of classes for the week so we don't experience withdrawal symptoms! Plus, studios often make revisions to class times and offerings based on attendance trends.
Sharing is caring: Supporting your local pole industry by taking classes and/or workshops at different studios also benefits those who make teaching pole their livelihood. If you have a wonderful experience at a studio, then posting a glowing review could bring them additional business as well. Besides, pole dance classes have gained SO much popularity that one or two studios per city couldn't handle the demand!
Merch: Most studios have at least a small selection of fabulous merchandise (including shoes!!) for sale. Many times the prices are better than ordering online, especially when they want to clear out items that have been there for a while and make room for new goodies!
The itch to perform: Many studios have regular student showcases and to be eligible to perform, you must be a current student. If you are one of those brave souls who want to get some experience in performing in front of a smaller audience in an intimate setting before doing a full-on competition-level performance, and yet your "home" studio does not put on these showcases, you can still get the benefit of being able to show your stuff to an uber-supportive crowd who will no doubt be screaming your name and cheering you on!
Okay, I know what you're thinking. What about the loyalists? There are those who stay true to one studio and would never dream of stepping foot into another local studio (Note: visiting a new studio while away on vacation or traveling for work is the exception). Are they missing out on new discoveries or the benefits of learning from a teacher who recently earned her USPDF Pro Card? Not necessarily. Each studio has their own predominant "style" and curriculum. Those students that attend a more sporty/gymnastic-y studio may feel out of place in a studio that focuses more on the sexier, exotic side of pole. Many pole dancers are perfectly happy and content to only take classes at the studio that may be located 5 or 10 minutes from their house rather than sitting in heavy traffic for 45 minutes to visit a studio across town.
For those that enter pole competitions, they typically represent their "main" home studio, but I have seen some competitors list two studios. If a competitor opts to train for the comp at one studio by taking private lessons, but takes group classes at another, then this makes sense.
Dipping your toe into another nearby studio doesn't mean you love your "home" studio any less. It is a way for polers to meet new people (or see a few familiar faces), experience an even wider variety of class material, and support more local business owners. There is an abundance of "pole love" out there and whether you pour all of yours into one studio or spread it across two or three, just be sure and keep the love affair going for as long as possible…