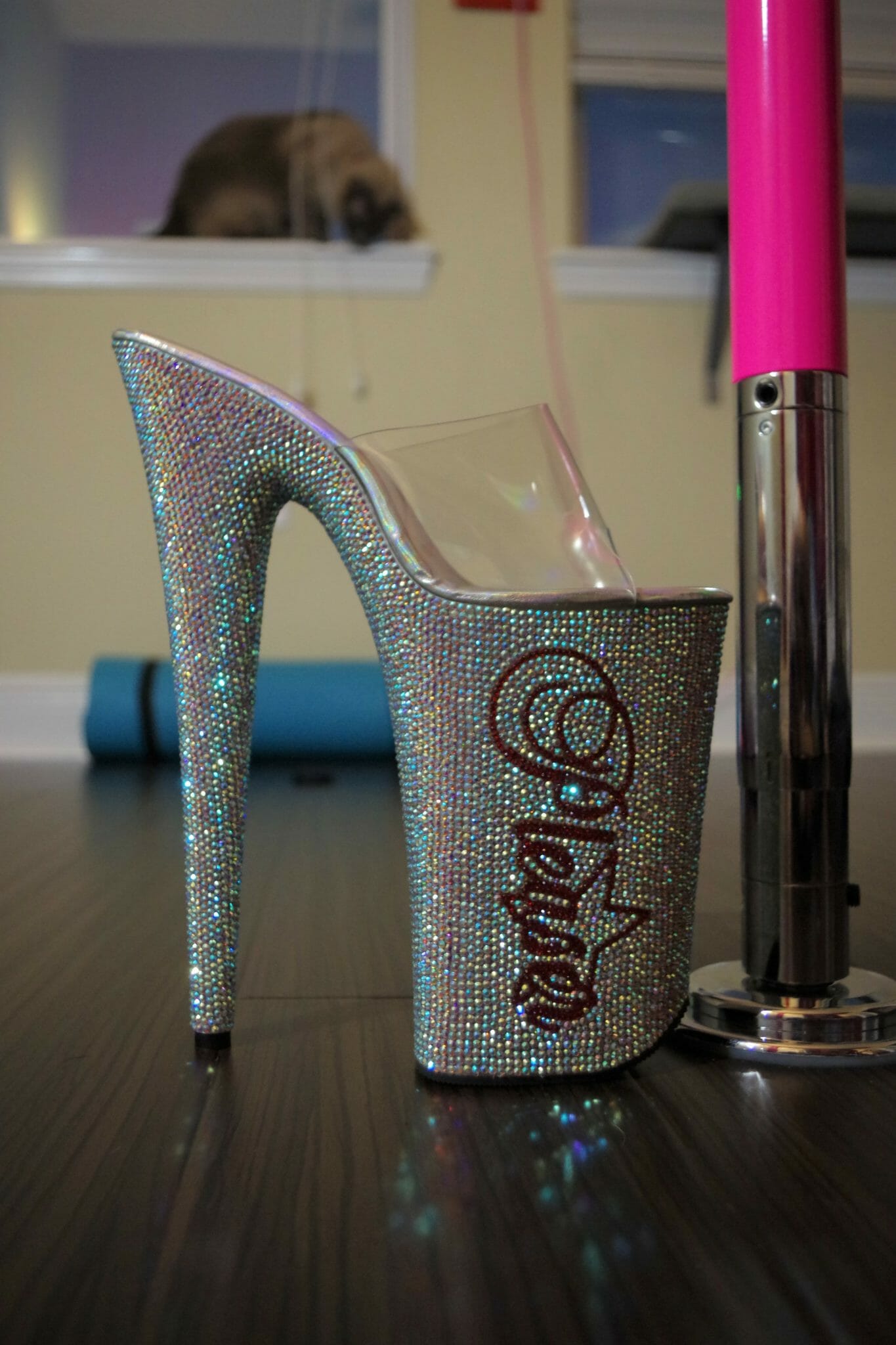 What's your "go-to" shoe?
When I first began poling, I had probably never worn a high-heel more than four inches tall …Needless to say, when I was shown what a "pole shoe" looked like, I was both intimidated and fascinated. My very first pair of shoes was, like many of you, the traditional Pleasers 6", color: clear.  Seeing as how I'd never owned a pair of "clear heels" before, this was a radical and exciting purchase! Learning to walk in them was actually not as daunting of a task as I had made it out to be in my mind.  The decision was made, then and there, that I would never wear another pair of non-platformed heels, E-VAAA!
Unfortunately, one of my feet is slightly bigger than the other and likes to swell up (for no apparent reason) when I wear any kind of heel.  So, I decided to embark on a bit of a "shoe experiment" and was on a quest for the perfect one to dance in AND execute tricks in.  Folks, this was no walk in the park (pun intended).
First, I went with the largely-popular Pleasers "sandal style" with clear plastic ankle strap. I even learned the trick about heating up the front foot strap with a hair dryer to stretch it out a bit on my larger foot. It worked for the most part, but toward the end of a dance class, the plastic would be cutting into my "sausage" foot and would take some time to look relatively normal again.
I then tried the more "strappy" variety shoe in the hopes that distributing the tightness across the whole foot would be the solution. This was somewhat better than the thick front strap, but I didn't get the ankle support I need (weak ankles are hereditary, right??) Although I loved the way the strappy shoes looked, I think I'll reserve those for floorwork routines and photo shoots.
I'm happy to report that I finally (finally!!) found my happy shoe place: ankle booties (peep toe, of course)!!!  The booties give me the ankle support I require; and many styles are highly adjustable, with laces AND a zipper! The zippered pairs are EA (easy access) which is perfect for those mid-class kneepad situations… There seems to be a greater variety of ankle booties out now than there were just a few years ago. Although, I am partial to the "sticky" boots that make climbing the pole an absolute dream, the sequined and fringed booties are so fun to wear!
Those that are new to pole and have not yet fully developed or explored the shoe addiction that comes with being a pole dancer, GET READY!!!  There are several factors to consider:
 Heel height:  Most new pole students go with 6" heels so they can get used to how it feels to walk in platforms. It doesn't take long to move up to 7-inchers. The new trend is 8-inchers, but since I have a fear of heights, I'm sticking at 7…
Strap style: Ankle-strap sandal style (clear plastic) is very common and offers decent support when dancing and heel-clacking.  Criss-cross strap style is flattering on many people and is most often black or red and gives a very sexy look to the shoe. Slide or "mule" style has just one wide strap across the top of the foot and "double band" has one additional wide strap about an inch or so behind the one covering the toes.  The slide and double band styles do not provide ankle support and can potentially fly across the room if they don't fit properly!  I'd save these for floorwork, chair dance, and maybe some basic twerking…
Platform style:  Clear Lucite was my very first pole shoe and I'd describe them as "multipurpose"; they match any outfit!  Chrome platforms come in many beautiful, shiny colors as well as the classic silver that nicely matches most poles. Glittered platforms are in high demand now and can even be customized with any design you can dream up….but be prepared to invest some money in those beauties…!
Boots:  The thigh-high vinyl or "sticky" boots will make climbing the pole way easier, but once you're up there, you will STICK and squeak perhaps more than you realize. Ankle booties come in a wide variety of colors and degrees of "stickiness". (I can attest that sequined booties are beautiful but difficult to climb in). Booties with fringe are just super fun and are like wearing little skirts on your ankles!
My suggestion is to try on as many different styles as you can find in either your local pole studio or adult store.  Who knows? You may discover a new style that makes your legs look 8 ft. long (and makes your credit card beg for mercy!)
Lately, my IG feed is abundant with photos of beautiful pole shoes that look more like works of art than dance footwear. Glitter has practically become a standard feature of many styles of Pleasers and 8-inchers are the "new black".  But, like many an OG poler, I have my trusty "beater" pair of Pleasers that took the better part of a year to break in and seems to miraculously fit each of my lopsided feet perfectly. I call them my Cinderella shoes. And though one of them is held together by Gorilla Glue, I can't bear to part with them.