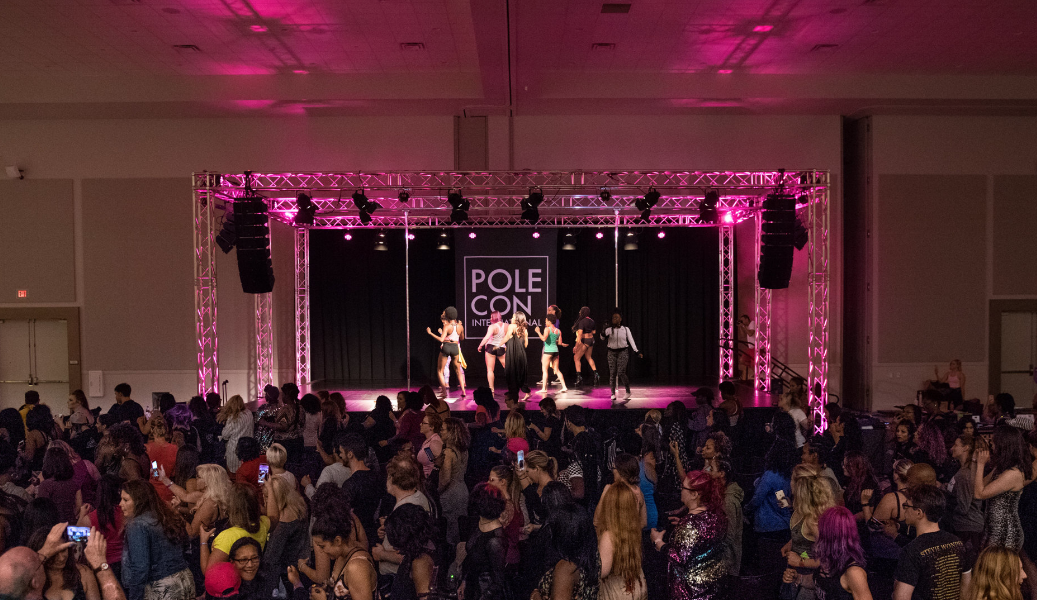 How to Have a Successful Workshop
Teaching any workshop can be daunting. A new environment and new students can bring new pressures. Here are tips to have a successful workshop with additional PoleCon-specific tips based on feedback from our attendee surveys.
Be prepared
Make sure you are prepared for your workshop. Know the name and description of your workshop and plan your class in advance. If you name specific moves in your description, make sure you actually teach those moves. Have variations for different levels including different entrances and exits if possible to anticipate the needs of as many students as possible. Listing prerequisites in your description (such as "must have aerial shoulder mount") can help — but not guarantee—that all students attending your workshop are level-appropriate. Balance the needs of all your students and beware spending too much time with one student and risk losing control of the entire class.
Be positive
Things may not always run smoothly. Maybe you're having a tough personal time or your flight was delayed. Remember that for a short time though, your students are paying you to bring them an experience — make it special! Your tone will set the tone of the class. It can be helpful to set some ground rules before the class starts. Set expectations about how the class will run and what they will learn (hint, this should be an expanded version of your workshop description). If you have a defined brand or online personality, weave that in to your expectations, rules and content.
Stay ontime
In general and especially at PoleCon, be mindful of the time. Set yourself a timer or ask someone to help be your designated time keeper. Staying on time shows you respect your students time and your own. If someone has a specific question, they can find you after class.
PoleCon-specific tips, Before your workshop
Return all paperwork promptly
PoleCon requires a few specific paperwork items:
1. Signed contract
2. Insurance COI
3. Privates schedule availability
4. W9 (US-only)
Please read all detailed requests — especially your contract!!!— and respond via email. Not DM, Messenger, SMS, etc.
Apply to perform
If you'd like to perform, please apply using this form.
Work the Stage Pole into content
All PoleCon workshops are taught on XPole, 45 mm chrome XStages NOT lites. The platform of the stage is about a foot tall. This can be challenging for floor to pole transitions and dynamic movement. Since you know this in advance, work the stage into the content. Test your content beforehand if you're concerned about the challenges of working with a stage pole.
Bring an aux adapter
PoleCon provides stereos that have an Aux connector only, no Bluetooth. If your mobile device or whatever you intend to play music on does not have an Aux port, please buy one and bring it with you to PoleCon.
PoleCon-specific tips, During your workshop
Take a photo of your class
Per your contract, you are paid based on who shows up to your workshop. If there is any discrepancy between who is checked in versus who paid for class, a photo clarifies any questions. You may send the photo to me immediately after your workshop to speed up the payment process. Many people book workshops back to back so end a few minutes early to allow for time to take the photo. There is no time between workshops.
Understand how to put the poles on spin
Hex keys (Allen wrench) to put the poles in spin have a tendency to "wander off." The volunteers checking people into your workshop have the hex keys. When you check in to your workshop, if you need to put the poles in spin, please notify them. They will help you put the poles on spin.
There are only TWO screws, marked with an X, that turns the poles on spin. Do NOT unscrew ANY other screws!!!! You will make the pole unsafe. You may also bring your own hex key if you prefer.
Please watch this brief video from XPole that demonstrates how to turn the poles on spin.
When something goes wrong
Maybe you run out of alcohol to clean the poles during your workshop. Maybe someone cuts themselves. Immediately notify the volunteers checking people into the workshop. They have radios to the front desk (of PoleCon, not the hotel) and can radio for help from our EMTs (stationed by the stage) or for our runners to bring more supplies.
Have fun!
Any workshop should be fun for teachers and for students. Workshops at PoleCon are even more fun!
Did we miss any tips? Share them in the comments!