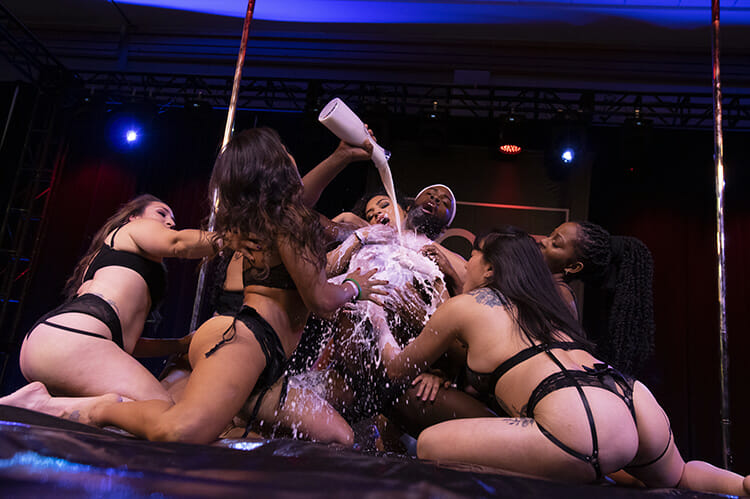 Hi folks!
Thank you so much for coming to PoleCon 2019 in Denver, Colorado!
This is my fifth PoleCon as CEO/owner, the ninth overall event since its founding, and it was AGAIN touted as the best one yet! Everyone was super mellow the entire time (I wonder why…) and nothing but love was felt throughout the sprawling convention space.
I'm continuing the tradition of providing you personally with my recap, including increased levels of transparency on our numbers.
PoleCon 2019 officially had more than 1,000 people attend. (1,010 is the official count including attendees, exhibitors and workshop leaders over the course of the weekend; not everyone is at the convention all at one time). We fed more than 750 people per lunch (not because we ran out – because that's who showed up to eat) and just under 600 people for breakfast on Sunday (with some people eating 3x times their allotted avocado toast!).
This was the first year of the Para Pole (for polers who are differently abled), Low Flow and Creepy Showcases—which will all be back next year! We also had a surprise Freestyle showcase organized by Butter and Filth. We continued expanding our photography options with light photography by Kirk Edwards and both a boudoir and neon noir session by Candra Cain.
We held our first ever panel on Queer issues following the popular Queer showcase last year (reprised again this year) to help us understand how to talk about the issues as a family. We again held our popular panel on sex workers AND the panel on race and cultural appropriation with BGP. The panels are a great way to learn from each other and ask sometimes awkward questions in a safe and supporting environment. All three panels will be back in 2020.
We did not livestream any showcases this year. While I know many of you who cannot attend in person appreciate the livestream, we will post all videos on our YouTube Channel. Any video that does not appear is because of music copyright issues on that platform NOT because we censored it.
We made some procedural changes including allowing payment plans for the weekend pass, having everyone sign liability waivers in advance to speed up in-person registration and using Google Forms to do an official submission to perform. This year we had almost twice the applicants for performance slots!
We had a troupe from Japan perform, a cow performed, some flight attendants performed, a precious little girl who had a traumatic brain injury perform and lots of really scary things performed too! People from all walks of life, all gender expressions, all colors, all shapes and all sizes performed on our massive stage and had a great time! PoleCon really is a family affair and several generations of pole dancers and pole dance enthusiasts came to take part in some aspect of the Convention.
We added an acro "stuff" playground including canes and stall bars courtesy of Beyond Balance next to our Floorplay playground thanks to Home Pole Studios and XPole brought a GIANT  Aerial playground with poles, lyra, hammock and lollipops!
We also saw several returning sponsors including Silver Sponsors Twisted Polerina and Vertical Wise joined this year by Pole Active. Body and Pole also joined this year as a sponsor to bring us the fun, new ThunderPole tricks style competition and to sponsor the Sexy Showcase.
Per last year, after I review survey responses (going on now!) I may make some adjustments to aspects of the event. I will write another blog to explain the changes so y'all are prepared. I will not be raising prices on passes or workshops but will be raising prices (slightly) on booths and advertising/sponsorship options.
In the meantime, keep hashtagging #polecon2019 in your memories and we'll keep sharing them!
Thank you for believing in PoleCon and in the community we all love and support. See you in NOLA for our 10th anniversary event!
<3
HBIC, Colleen "Muthafukin" Jolly
PS If we ran out of your size in the PoleCon merch — we're reopening the online store! Stay tuned!