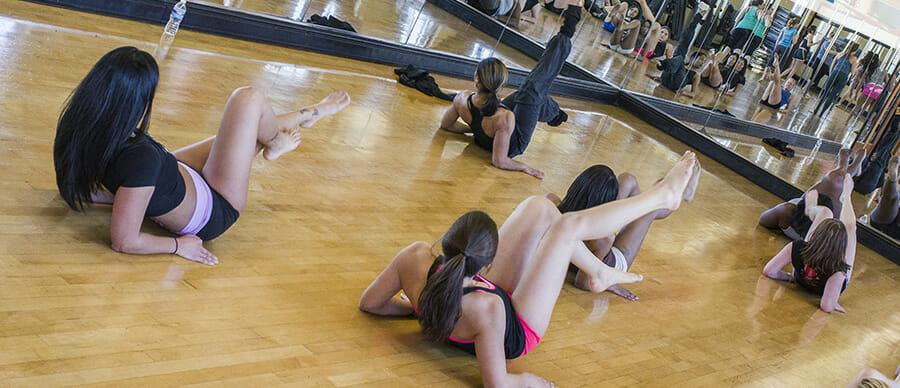 How students motivate their teachers
While every studio is structured differently, pole instructors must (at a minimum) be an expert at "their moves" (and regularly learn new moves); be an engaging coach always motivating, entertaining and challenging; be a proponent of effective safety strategies—aware of all proper spotting techniques and be able watch a room full of men and women all doing incredibly difficult things AT THE SAME TIME; oh and be a skilled DJ, always mixing the top tunes. Being a teacher is tough! While pay scales differ as dramatically as styles do from studio to studio, it is safe to say that pole teachers spend A LOT of uncompensated time outside the studio learning new ways to be better, safer teachers and new things to constantly interest you, their students.
And sure, you pay to be taught, but do you really appreciate the time and effort that goes into making every class truly awesome and unique?
How many times have you walked into the studio after having a rough day at work or home and just flat out refused to do anything the teacher demonstrated in class? How many times have you criticized the music selection ("really, ABBA again?!")? And how many times have you thought, "I could do that better?"
Probably a lot.
What you may not realize is all the hours, blood, sweat and tears that go into putting a class together so that you get maximum enjoyment. And even if you do appreciate the time your teacher or your studio takes to cater to your needs and help you grow as a dancer, do you show it?
I am super guilty of plastering my emotions all over my face and if I'm having a bad day or we're doing something that I totally hate (basically anything that involves jumping or swinging rather than lifting) I not only shut down but I screw up my face like I've eaten the sourest lemon ever. One of my teachers has started calling me out on it and told me that she thought I hated her class! I was so embarrassed but she had a point. Later that night, I wrote her a long email saying how much I appreciated what she was doing and that most of the moves she teaches were really challenging for me (how do you know you're in the right class – you don't get everything every day that's how) and I was really, really sorry if I gave her the wrong impression.
This incident made me think, wow it must be really tough to work so hard to put a class together and teach new choreography just to have some chick in the corner make faces the whole time. It would make me wonder—"Why does she even come to class if she hates it?!"
Another one of my teachers regularly asks her students questions during class, easy ones like "would you like to see that again?" and "does anyone have any questions?" and the responses she gets are blank stares. So she had started directly telling us she needs "verbal confirmation" which provokes a sort of assenting grunt to most questions.
I can't imagine how frustrating that must be for her! All she wants is for us to have fun and progress but if we can't communicate with her then how are we going to do that?
All our teachers are grown women and men, some with extensive backgrounds teaching grumpy dancers of all ages, but this doesn't mean we can't help motivate them by being better and more appreciative students. If we want a positive experience in class and to explore the joy that pole brings us—they probably want the same thing!
Here are the top four things you can do to help your teachers the next time you head into the studio.
Leave your issues at the door. We've all had those bad days when nothing makes us feel better. Most times pole can improve our mood with all those happy exercise-driven endorphins bouncing around inside us but some days we should really just stay at home in our PJs. If you are heading to class, leave all your issues at the studio door. Nothing can be fixed in the 60 or 90 min that you'll be dancing your heart out so why not forget it all and just enjoy the moment? You're likely to feel way better afterwards too!
Participate actively. There will always be some days that you nail every single move that no one else can figure out and other days when your fellow students are flipping around happily 10 feet in the air and you're stuck disappointed on the ground. Find some part of what you're learning to work on and participate as fully as possible. On days when we swing into brass monkeys, I practice my dead lift. I might not get it but I can keep trying and still be involved in class.
Respond to your teachers. When they ask a question, they are doing so for your benefit. They really want to know if what they are saying is translating effectively and that you are getting the maximum benefit out of their class so speak up! Respond to questions! Ask questions! Give your teachers the respect they deserve and be an attentive student. If you can't, then maybe try another teacher whose style fits you better or maybe today is a great day for some couch time with your pets and save the poling for tomorrow.
There is always room for feedback. If you want to help your studio get better, your teachers improve and your other students reach their goals too you should absolutely provide feedback! Just apply the same rules you would at your day job—consider not just what you are saying but how you are saying it. Try "sandwiching" a critique between two pieces of awesome like, "I love that you're always challenging us with new moves but it would be great if your play list was from this century. I love a little 90s—it's so retro! But mixing it up would be cool too."
As the old saying goes "you catch more flies with honey" and as a student, you will have a happier and more motivated teacher that will help you achieve your goals if you give them a little more pole love. So leave those issues at home, participate physically and respond verbally to your teachers during class and when you've got to give some feedback—give it kindly in the full spirit of improvement recognizing all the work your studio and your teachers put into making your studio the place you call home.
Learn how to be a great pole dance teacher at PoleCon!
Originally published on the Bad Kitty blog. Reposted with permission.