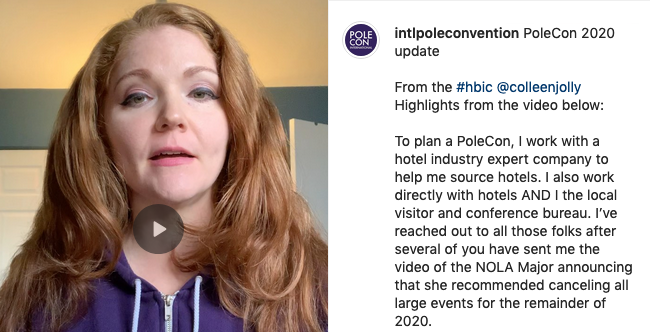 #polecon2020 Update on "large events" in NOLA through 2020
Click here to see the video on Instagram.
To plan a PoleCon, I work with a hotel industry expert company to help me source hotels. I also work directly with hotels AND I the local visitor and conference bureau. I've reached out to all those folks after several of you have sent me the video of the NOLA Major announcing that she recommended canceling all large events for the remainder of 2020.
Here is what the visitors bureau had to say:
"Thanks so much for reaching out as the information presented in the press is extremely misleading.  I am happy to inform you that that is not accurate.  The mayor made some very off the cuff comments during the Q&A portion at the end of a press conference.  When she stated that her opinion would be to postpone major events, she was referencing three events we currently have scheduled for the fall – Jazz Fest, Essence Fest, and French Quarter Fest – all annual festivals which draw anywhere from 60,000-100,000 a day.  In no way was she addressing any conventions at the convention center or any in-house hotel meetings.  Keep in mind, this was an off the cuff comment and at this time, there is no lawful ban on large events past May 16th which is the current end date of our stay at home mandate.
We get new information every day and we promise to keep you up to date with factual information so that your group can make an informed decision. "
To give you some perspective — #polecon2019 was 1,000 people. Before everything changed this year, we were on track for between 1,200 and 1,500 people for #polecon2020 based off of strong early bird sales.
More updates, as I have them and for now — see you August 13-16 in NOLA!