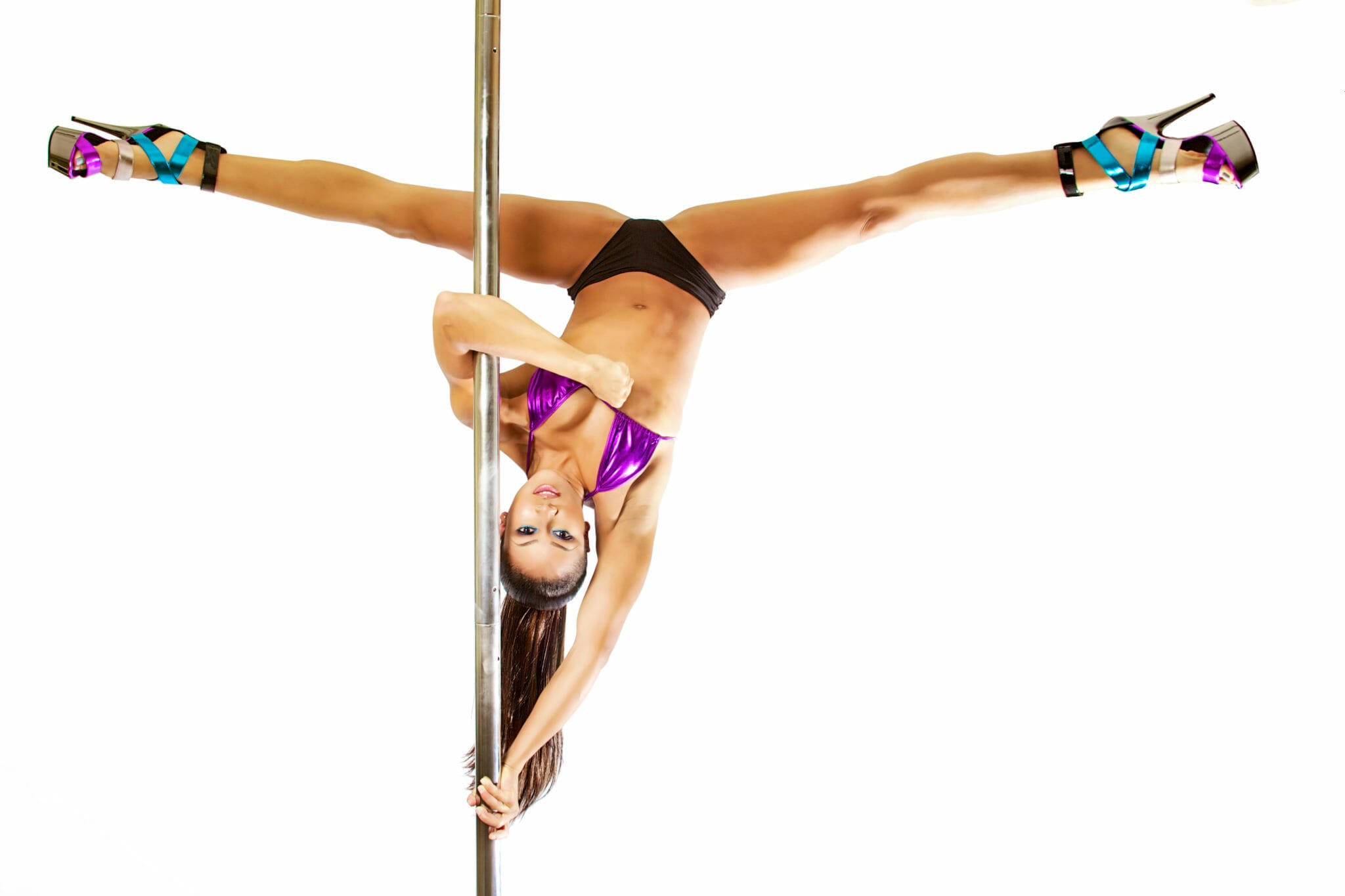 From Tomboy to Sexy Pole Star: Nicole the Pole
Iron X.
Titanic.
Jack Knife.
Shoulder Mount.
All performed with sexiness, grace, and style. With over 144 million views on YouTube (and that's just from a single video), Nicole the Pole Williams is most famously known as the performer in the Rihanna video for the song "Pour It Up" released in October 2013. When the acrobatics of pole dance crosses over to mainstream media, naysayers who've doubted the total body strength of pole dancers are surprised and impressed.
As the bass booms to Rihanna's sultry vocals, Nicole elbow grips the pole and glides her feet while she's lifted off the ground. It's like she's walking on air… and the world is in awe! Though her super sexy moves in Rihanna's video make it look like Nicole was a natural born femme fatale, Nicole did not always have a super sexy persona. This is how her story began:
In the 90s, Nicole Williams could be seen in walking down the street of downtown Los Angeles, CA, wearing a pair of baggy jeans and a t-shirt, ready to play a game of basketball with her cousins. Nicole loved sports and fitness so she became a personal trainer at the early age of 20. She continued to work as a personal trainer for the next decade while acquiring several celebrity clientele and eventually co-owning a gym in downtown LA.
Nicole was first introduced to pole dancing in 2007 when she was attending a house party in LA. She saw two party attendees doing gymnastics moves on a pole that she had never seen before…..and they were fully clothed! Even with over 10 years of experience as a personal trainer, Nicole knew that these moves required an immense amount of total body strength that she did not possess at the time. Nicole was drawn to the athleticism of the pole dance moves….and not necessarily to the sexiness of it.
From there, Nicole began to practice pole fitness consistently using a pole that was set up at a friend's home. She learned how to pole dance by watching videos on YouTube online and teaching herself. Nicole then worked on her sexy pole technique by taking videos of herself dancing, showing it to her friends and asking them for feedback. After much practice, Nicole finally got the hang of it!
A few months later, Nicole opened up her own studio, Allure Dance and Fitness Studio in her living room. She shortly after opened her own standalone studio in Los Angeles, CA, making her the first African American woman to open a pole dance studio in LA. Nicole found out about the Rihanna video opportunity when her studio was booked for auditions looking for a pole dancer. During the audition, Nicole nailed her freestyle routine with her advanced pole tricks and blew everyone else out of the competition! Here's a clip of the audition below:
After Nicole's success with the Rihanna video, she's been featured on several national TV shows like "Access Hollywood", "The Ellen DeGeneres Show", "Ricki Lake", and "The Insider" just to name a few. This year at Pole Convention, Nicole will be teaching three workshops: Intro to Pole & Beginner (for new pole dancers), No Basic Zone/Pour it Up (a workshop that teaches the intermediate and advanced moves done in Rihanna's Pour It Up video), All About Handsprings (a workshop that goes over the fundamentals of how to get into your handspring).
Be sure to sign up for her workshops at Pole Convention 2015. These workshops are sure to fill up fast. You don't want to miss out on Nicole's tricks and expertise….see you there!

Latest posts by Alex Asuzu
(see all)