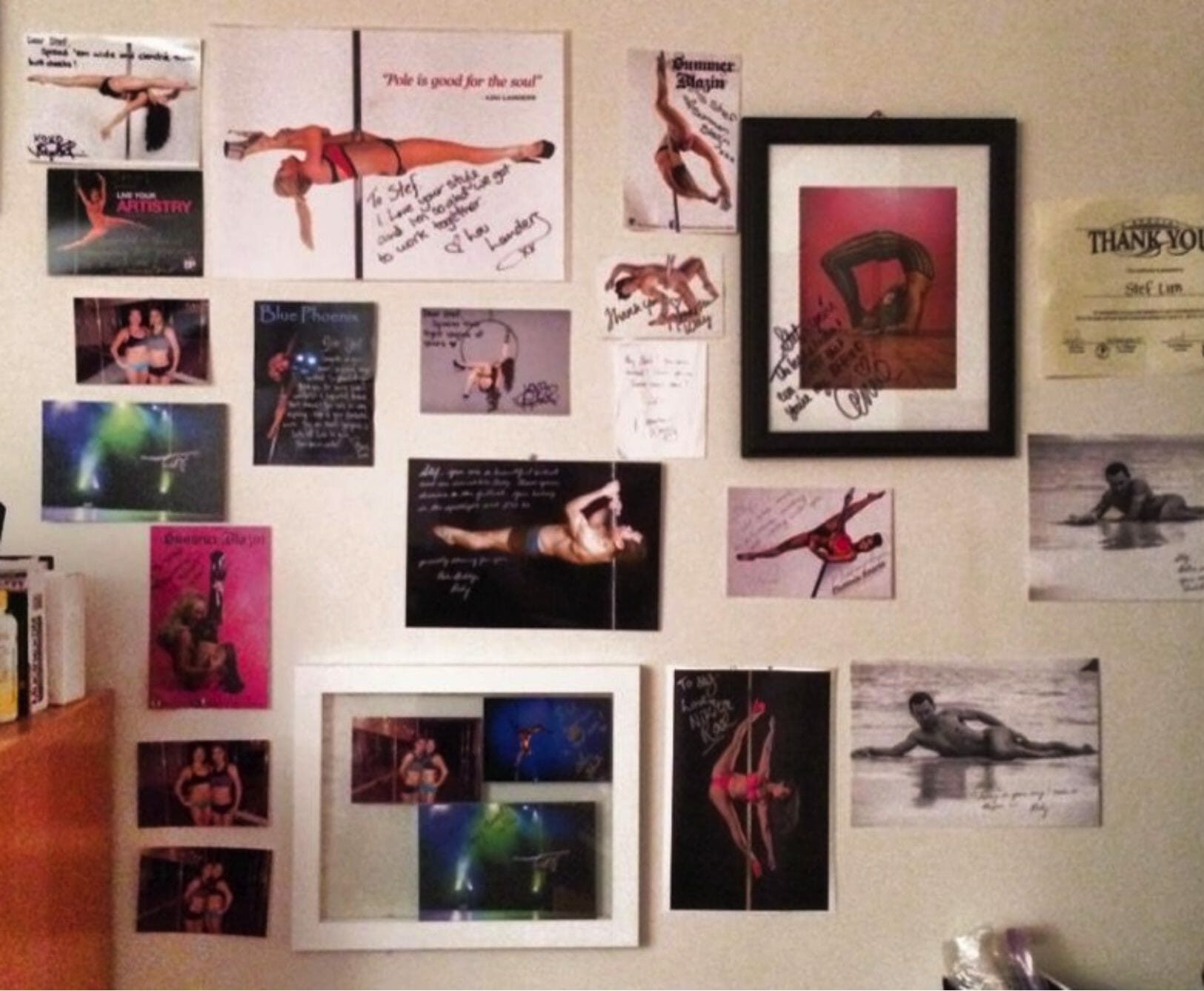 Why It's Important to Have a Pole Inspiration Wall
Photo Credit: Stef Lim
A Pole Inspiration Wall is a collage of different photographs and inspirational messages to help you hone in your pole dance potential and focus on your dance goals. These images can be torn from your favorite pole magazine, cut out from your most moving pole dance competition/ showcase brochure, or taken from photographs that you have at a great pole dance workshop. Your inspirational messages such as "1st PLACE", "GRACEFUL", "FINALIST", " BEAST", "STRONG", or "FLEXIBLE" can be written down by hand by yourself or by your favorite pole dancer OR it can be cut and paste using a sequence of words from a magazine and then placed on your wall.
We, as humans, can be very forgetful sometimes. This is why To Do Lists are so important. By having a Pole Inspiration Wall, you are essentially creating one big to do list with lots of color and pictures and photographs with messages and memories to encourage you to keep training for pole dance…..even when training gets really difficult (spiritually, mentally, and physically).
It reminds you to train to become a better pole dancer (for a showcase performance or competition).
It helps you narrow down your dance style specialty.
It helps you remember to take workshops of any of your favorite pole instructors are coming to town.
It's a historical account of your pole dancing Wonder Years…..you will look back and say: This is where I started from.
Your Pole Inspiration Wall helps you to visualize what type of pole dancer you want to be like or what type of performance you would like to choreograph for your next showcase or competition. Are you a contemporary pole dancer? A trickster? A sensual dancer? A fusion of all three? Maybe you like to incorporate more acrobatic/ gymnastics based movements. Or possibly like to incorporate other dance styles like African dance, salsa, hip hop, belly dancing, break dancing. Pick Your Poison. 😉 With all these ideas in mind, you can take images and photographs to help you envision what type of pole performer you would like to develop into.
Here are some other ideas on how to make a Pole Inspiration Wall Collage:
Order posters from your favorite pole competitors on their official websites or at Pole Convention 2015
Attend workshops and classes of your favorite pole instructors — have your instructors sign those photos with inspirational messages
Take photos of your dream pole poses (for example, Russian Split, Ayesha, Iron X)
Make hard copies of you posing or standing next to your favorite pole star
So as you are preparing for Pole Convention 2015, keep your Pole Inspiration Wall in mind. If you haven't started one yet, now is a great time! Start collecting magazines and ordering pole photos online to help create your collage of the ideal pole dancer you would like to become.
If you already have a Pole Inspiration Wall, start thinking of ways to build more to it. Pole Convention 2015 has a lot of great workshops to offer by fantastic pole instructors like Cleo the Hurricane, Natasha Wang, and Jamilla Deville who can help you become a better pole performer! See you at Pole Convention 2015…..until then, Happy Poling! 😀

Latest posts by Alex Asuzu
(see all)