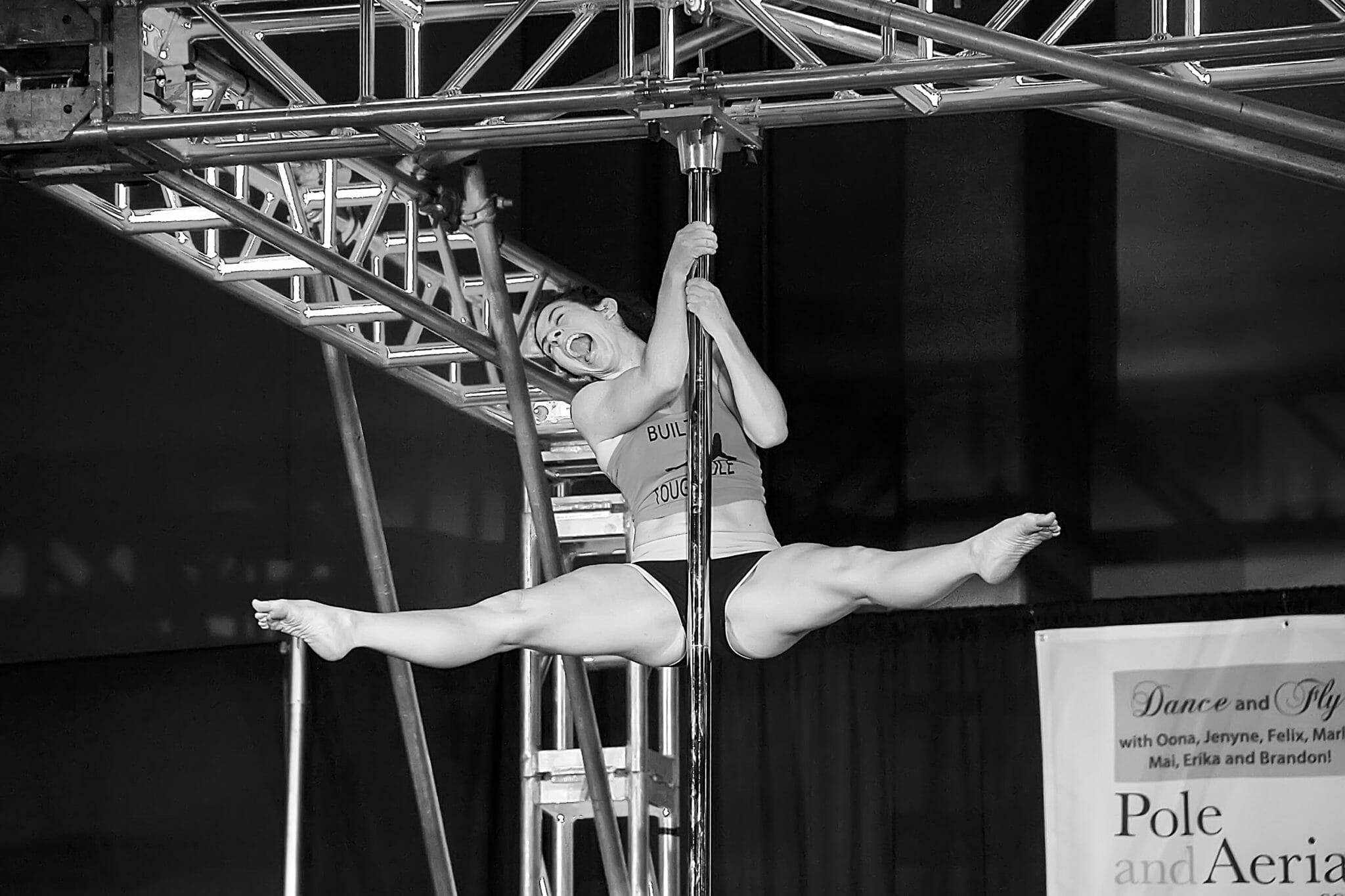 Should Pole Newbies come to #PoleCon2015?
"All those workshops are for super advanced polers"
"I don't want to waste my money if I can't even invert"
"There's no one that looks like me anyway"
Do these lines sound familiar? Have you been telling yourself why you shouldn't go to PoleCon instead of thinking how much fun it'll be?
PoleCon, and other big pole events, have reputations of being only for the more advanced polers. What can a "regular" person whose new or not on the competition circuit get out of an event with all these pole stars and uber athletes? A ton.
Fresh Perspectives
If you're working by yourself or you have one local studio, you probably haven't experienced a lot of different styles – of dance or of teaching styles. Your favorite pole instructor is awesome but he/she is likely to only teach you what they are comfortable with. You might luck out and have very similar body abilities and interests or you could be spending class after class "just" not getting whatever is super easy for your teacher and the rest of class. Maybe they're flexy and you're still working on it. Or they love close-pole moves like hip holds and you just want to put your sticky feet everywhere and flip all day long. You're a beastmoder and they're super sexy.
PoleCon gives you an opportunity to train with new people. See someone you admire on instagram? Maybe their moves just click for you? Spending an hour working with them and you might just get that one trick you've been stuck on for months. Most pole stars teach workshops all around the world which means they've developed teaching styles that are extremely adaptable. Many also have backgrounds in dance, movement or fitness so they can break things down perhaps in a different way then your regular studio.
There's something for everyone – Ability
Of course there are some crazy workshops that you do have to be advanced for, but PoleCon is all about diversity and seriously clear communication. Check out our cheatsheet which shows that about a third of all workshops are specifically designed for the newbie and don't involve any inversions or climbing (green). Intermediate students who can do a basic invert and climb, will find about a third of the workshops geared to them as well (orange). And finally, the last third is for those folks who prefer hanging by a toenail and contorting themselves into an impossible flip (purple). There's even one workshop by Natasha Wang labeled "Super Advanced."
There's something for everyone – Style
Want to find your sexy side? Try a chair-based lap dance workshop with Michula!
Love chair, but not ready to be sexy in front of strangers? Check out Contemporary Chair'ography with Tracee Kafer.
Do handstands scare you? Face your fear with Philip Deal or Rafaela Montanero in the non-pole room!
Have questions on choreography? Kristy Sellars and Kelly Yvonne have got you covered.
Ready to make a splash on the big stage? You'll have to take the Divas in Training workshop with the Diva herself, Roz Mays.
Come to PoleCon to learn, to mingle with other like minded people (seriously, who else can respect and join in your legging obsession!) and perhaps learn a thing or do, regardless of your ability.
See you in NOLA!