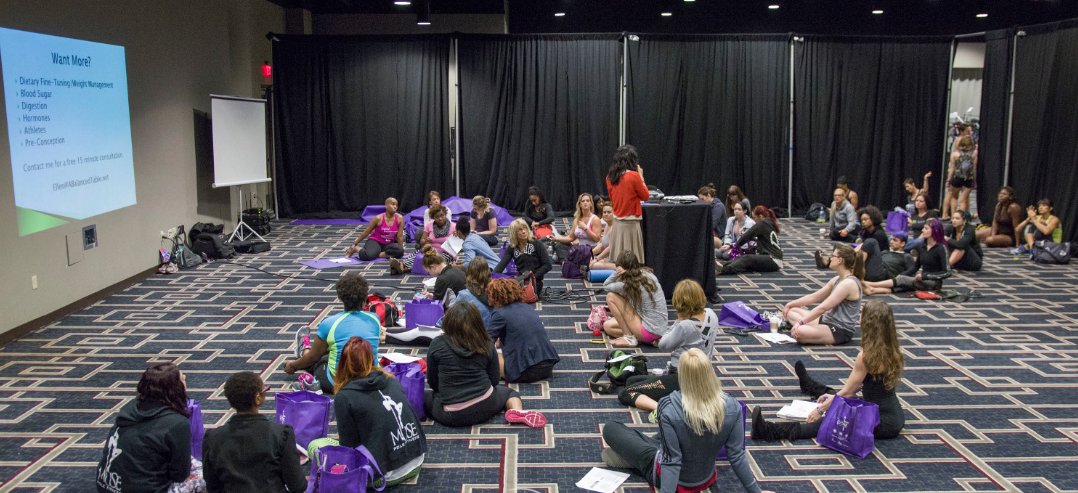 How to teach a free workshop or seminar at PoleCon
Thank you for wanting to share your experience at PoleCon 2020!
Ethos
At PoleCon, we always look for people that represent the diverse styles and bodies in our community. We also look for what is popular right now in our community which changes regularly and to represent the many facets of the community including students, teachers, competitors, studio owners, sex workers, etc. so that everyone gets something they need from the PoleCon free workshops/seminars.
We are seeking experts in the pole, fitness, nutrition and general business to lead free non-pole workshop classes and seminars on topics of interest to our attendees. Topics may include (but are not limited to): acro yoga, chair choreography, how to build highly functioning teams, how to correctly spot athletes of all sizes and abilities, injury prevention, social media for studio owners.
What are the specifics?
All free workshops/seminars are held in a "room." It's not really a room – it's a section of the main area (with a fake wall on two sides and the hotel on the other two sides but open at the top) where the exhibitors/vendors and the main stage is. This means that there can be a lot of noise if the music is loud or the crowd is particularly hype. We're aware of the problem and still find it better to keep everyone in one room than have the free room somewhere else.
Free workshops/seminars are "free" because they are included in the price of admission to PoleCon. The paid workshops are an additional fee. PoleCon attendees do not sign up for free workshops, they just show up and line up outside the door ~15 min beforehand. A volunteer will be present for crowd control to help people get in and out promptly. People can NOT just hang out all day in the free room.
Expect as many as 75 people in the room. The volunteers will make sure the room looks full and cut off people coming in if it looks too full/unsafe.
Seminars are 30 min long and should not be movement-focused (although you can move!)
Movement workshops are 60 min and should be movement-focused.
Seminars have access to chairs, projector and screen. Please bring your own laptop and any connectors needed for an HDMI cable to connect to the projector.
Movement workshops have access to chairs, yoga mats and a stereo to play music. Please bring your own phone/music device to connect to an AUX cable. Additionally, movement workshop leaders are required to provide proof of insurance. Seminar leaders do not have this requirement.
Teaching a successful free workshop can be a way to teach a paid workshop in the future. This is not a guarantee nor a requirement. You can just teach to enjoy teaching!
Preference is given to speakers/workshop leaders who have participated in a PoleCon event before. While this doesn't seem fair, the reason we do this is many (MANY) people cancel or don't show up to take or even host free workshops. Every year at least one person just don't show up to teach. It's disappointing to the attendees and it's hard to scramble and find someone to fill a slot last minute. This is not a hard and fast rule and exceptions absolutely happen. It is a general guideline that if you are already a part of the PoleCon community and have shown up before, you're likely to continue to show up!
Ready to apply?
Use this link to apply to be a free workshop/seminar leader.
Please submit your application by December 1st. All applicants will be notified by December 15. Free workshop leaders receive a 10% discount off their Weekend Pass. This discount can be combined with the early bird discount to make 20% off if used by December 31, 2019.
I didn't get accepted, what happens now?
If you are not accepted to teach at this year's PoleCon, you can absolutely ask for feedback for how to improve your application for next year. Sometimes, the offering isn't unique – if literally everyone who applies wants to teach "social media" then I will only take so one person teaching that skill. Similarly, I try not to take too many instructors from one studio, one competition, one region or one affiliation (if possible). "No" doesn't mean forever – it just means, "not right now." You can always apply again next year!