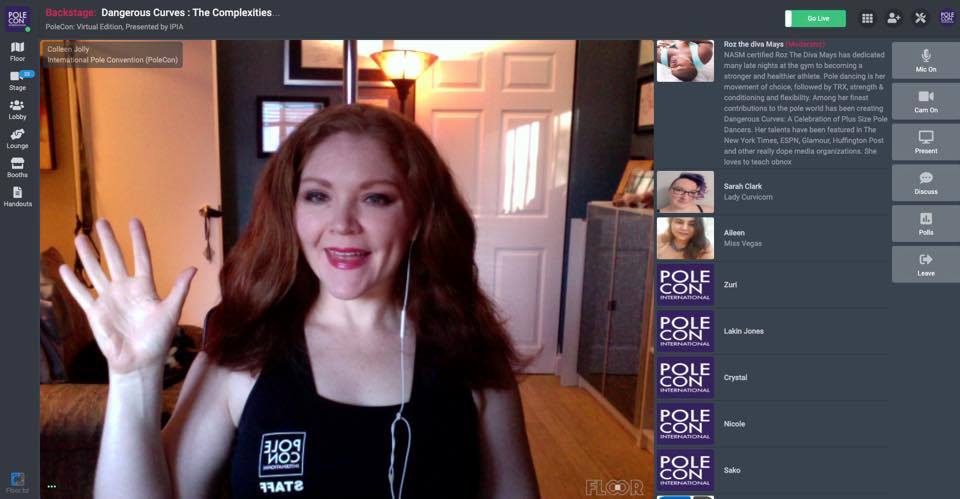 Virtual PoleCon 2020 Recap and Survey Results
Hi folks!
Thank you so much for coming to #VirtualPoleCon!
This was my sixth PoleCon event and our first ever purely virtual event.
I'm continuing the tradition of providing you personally with my recap and combining it with our survey results.
The goal of this Virtual PoleCon was had three parts:
First, to have us all get together in some way, even during the pandemic.
Second, to introduce our community to the IPIA, our industry's first trade association, and support the people who are running the businesses that allow us to have a community.
Third, to make it easier for people who usually can't travel (cost, time, distance, whatever the reason!) to join a PoleCon event.
I debated long and hard about whether to have a virtual event at all. I even wrote an unpublished blog on why we would NOT be going virtual: "The primary reason that PoleCon will not become virtual is that the biggest benefit we provide is that we are a 'big family reunion.' That feeling is significantly diminished online."
I was partially right. It is harder online and the numbers confirm that: We had about a tenth of our usual attendees come at a quarter of our usual price for an event that was two thirds shorter than usual.
The people that did attend, by and large, did enjoy themselves though!
"I'm so happy I signed up to attend Virtual PoleCon today. I have literally been in the foulest mood this week and cannot stand the entire world. But then seeing my pole friends, learning new things, and meeting new people has given me so, so much life today. I love this community!"
We looked at many (many) tools and finally decided on one called Floor based on a video + screenshare + chat baseline that has become the hallmark of the digital meeting which also included a vendor area, allowed for several workshops to run at once and for people to easily move between those workshops.
Pricing a virtual event is a challenge. It has been hard to find a price point that paid the expenses of the tool, was robust enough for potentially hundreds of people to attend but cost an affordable price for a population with very different financial situations right now.
Most people said the tool was "intuitive" or "user-friendly."  The people that did have technical issues, unfortunately had major technical issues as attendees and even as workshop leaders and performers. Despite running tests with everyone involved in the event, day-of internet and technical issues plagued the showcase particularly.
With so many pre-recorded showcases, we really wanted to do a live event, knowing it would be a challenge. About half of the performances went off without a hitch and the other half, well, there were many hitches. The MCs managed well and the audience day of was very patient but the results in the survey show people's frustration and preference for a recorded and smoother showcase rather than a live one that could have issues.
Most attendees loved the workshops and panels and thought that the content was important, not just to them but also to the industry: "It's important to see pole con lead the way when it comes to discussing these things and working to make pole dance more inclusive."
Most attendees appreciated the vendor area but admitted they didn't buy anything although some said they might buy in the future. Vendors themselves found the platform challenging.
In terms of content, we brought back many popular PoleCon teachers and workshops like Liquid Motion and Amorous Dance and also added some new things our Pole Business Panel.
If we do run another virtual conference event in the future, we likely will still use the Floor tool. We will move any showcases to pre-recorded and look at a different way to engage vendors.
It was a learning experience for everyone and like most learning experiences, way more work than anticipated. I am glad that people appreciated the content of the event and look forward to that content continuing to live and be useful to even more people through the IPIA website (under Start or Improve Your Business links depending on type of content).
Future IPIA webinar (not conference) events will be run using Zoom. Our first webinar series using that platform is November 17 on Biomechanics and Injury in the Pole Athlete. That webinar is free for IPIA members and $5 for non-members. Grab your ticket today!
Thank you for believing in PoleCon and in the community we all love and support. See you in NOLA (hopefully) for our 10th live PoleCon anniversary event in 2021!
<3
HBIC, Colleen "Muthafukin" Jolly