How to Stay/Get Involved in the Pole Community Without a Local Studio
So originally when I planned to write this article it was going to be about how to get involved in the pole community even when you don't have a local studio, namely what it might be like if you live in a city that hasn't been reached by the pole industry yet. But as we are seeing the effects of covid-19, it is now equally important to discuss what we can do to stay involved in our community even when we do have a local pole studio that is unable to be open. 
We should take a minute to appreciate the struggle that our beloved studios and teachers are going through right now. I am so amazed at how many have adapted so quickly to the ever evolving situation that is covid-19. Without missing a beat, many studios quickly switched to online platforms and apps (ZOOM seems to be a very popular one) so that their students stay connected and can continue to learn and study their passion. Not only is this smart just from a business standpoint, but it also shows their devotion to their students. If you are a teacher or studio owner, thank you! You are a pillar in our community more than ever before! If you are a student, give your studio some love and take an online class. Even if you don't have a local studio, you have all the more reason to check out the online/app classes; you could finally take classes from the studios you've been dying to go and visit but haven't had the chance yet.
And don't forget about your pole peers too, try face timing one another. Show your progress on a move, give them feedback on theirs. Many of our peers and favorite pole idols are getting creative as well. Between competition reviews, pole challenges, live interviews with one another, it is obvious that this community is a family. And I have no doubt that we will make it out stronger than we were even before.
So with that in mind, let's also talk about ways to stay connected to the pole community when things go back to normal, but you still don't have a local studio. Though pole is definitely growing, it's still struggling to make its way into smaller cities. And when one does pop up, it can struggle to stay open and may end up closing. Many of us are also concerned that even studios in larger cities will struggle to reopen after quarantine. And without a local setting it can be difficult to connect with other pole dancers and advance in your training. Or maybe you do have a studio but it's a small one that you've outgrown or they don't have the style of pole you're interested in. So let's talk about some ideas on how you can be involved in the pole community and continue to improve your skills without having a local studio. 
Make Your Own Pole Community
No studio? No problem! Really, all you need to start your own pole community is a pole and some people. Poles are not difficult to set up in your home, and if you're willing to try an off brand pole, they are not that expensive (just make sure it's still good quality and safe). But don't feel like you have to wait to get a pole to actually get/stay in the pole community. Floorwork is a huge part of pole dancing; so no pole means no worries. Clear some space on the floor and you're good to go! Next: the people (post covid-19, of course). The people are what make our community so great. And the great thing about pole is that it can be for anybody. Get your pole and invite some friends over for weekly practice. Even if your friends are not as experienced with pole as you, this provides you the an opportunity to invite them into it. Though not all of my friends are "polers", I have yet to have any friends decline the chance to play and learn on the pole. All you need to do now is find some YouTube tutorials, which there are plenty of! And in the unfortunate event that your local studio closes down, this is a great way to stay connected to your pole peers afterwards.
Get on Social Media
Unless you're living under a rock, you probably know that pole is huge on YouTube and Instagram. All of your pole idols are sure to be on at least one platform. Don't be afraid to reach out to your fellow pole peers and idols, even if you've never met them! See someone try a cute move or great combo? Let them know how much you enjoyed it. People love getting attention on social media, and more often than not they'll give a little love back. This can be a great way to start a conversation with fellow polers everywhere. There are even a couple of strictly pole platforms in place, with more in the works. Many of our pole leaders also post fun pole challenges to learn. Don't be afraid to try them yourself! This is an especially great way to connect with other polers. You and many others are all working on the same thing; so share how your progress on it is going and ask other's how their own is coming. 
Compete/Showcase
Competing and performing may seem a little scary but it can be a great way to connect to other polers. I have yet to compete but I definitely feel this is true for performing. Much of what I've heard on competing is that it is a very uplifting experience and a bonding moment with other polers as you take turns cheering for and congratulating one another. Think about it: you are probably not the only one nervous as heck and to share that with others who are feeling the same thing can be very powerful. So when you compete be sure to tell your fellow polers a job well done and give an encouraging high five or hug, win or lose! A competition can also be a great way to see new skills and concepts you haven't yet been exposed to. Maybe someone's performance will move you emotionally or give you ideas for your next piece. And with competitions you get feedback from the best polers so you can walk away knowing exactly what you need to work on to improve.
Feedback from Pole Idols
A huge drawback from not having a local studio is that you can't get feedback or tips from instructors on your progress. But there is a solution to this problem. For a fee, some instructors will actually review submission videos and provide feedback online. On Patreon you can also find pole instructors that offer monthly feedback via skype to their loyal subscribers. Some instructors may even have their own pole communities for their members which is an added bonus.
Travel to Out of Town Studios
Another option for finding a pole community is traveling out of town to other studios. Though this may not be feasible on a weekly basis, even visiting a studio once a month can make a difference. I'll be doing this myself, for a studio 2.5 hours from my home once this virus is out of the way.  Similar to the discussion above, if you want live feedback from an instructor you could also book a private session while there to make the most of your visit. 
Conventions/Events
One of my favorite ways to stay connected to our pole community is to go to conventions and events. PoleCon was the first event that made me realize just how big and how amazing our community is! Not only can you meet fellow pole peers, you can take workshops, see amazing performances, and do all of your pole shopping in one place! Even if you already have a home studio and community, Pole Con and similar events are great ways to expand your connections.
So there you have it! Pick whatever solution works best for you, or maybe try all of them! Just remember, you have to put yourself out there if you want to connect with others. It can be a little scary but I have found our community to be a warm and welcoming place. The current situation of the world is really scary right now with a lot of uncertainties ahead of us. But if we stick together, I know we'll get through this. Keep safe and keep poling!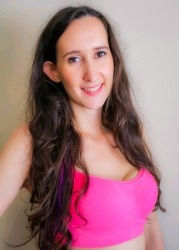 Latest posts by Savannah Smith
(see all)