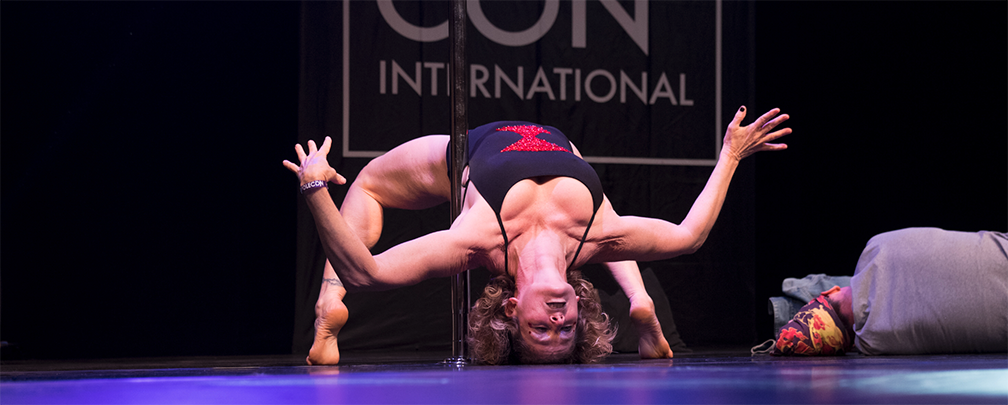 The Sinister Six: The Top 6 Creepy Pole Performers to Check Out
One of the best things about pole dancing is its open-door policy on free expression.  Whether you're dynamic and sporty,  or a graceful "polerina", there is a place for you in this community.  The classically trained dancer, the curious artist, the fitness lover, the couch potato, and of course all the lovely baes, gays, and theys.  As spooky season lays upon us, opportunities for Halloween and fall-themed showcases will start popping up in studios and stages alike.  For years spectacular creep show performances have blessed our senses but some performers invoke that spirit all year around and deserve to be highlighted for the unique flavor they bring to pole arts.  In no particular order or rank, I give you the Class of 2023, Sinister Six.
Kushina The Ninja
She collects winnings like she collects souls.  Dominating the stages of PSO, Dance Filthy USA, USPDF, as well the 2019 PoleCon Creepy Showcase, she will tempt you in like a butterfly and then bite off your head like a praying mantis.  After all of that, you'll be left begging for more.  With a balance of flow and strength, respect this creepy seductress or pay the price.   Don't forget to catch a class at her studio, Ninja Fitness, in Fort Myers, Florida.
Catch Her Performance: https://youtu.be/Xi92HmU3vg8?si=VR-mwEhCZhc0FE5l
Hogweed McNasty
She is the faceless succubus of your dreams and the monster under your bed. Bringing her exotic heel style into the dark arts, Hogweed is sure to hypnotize you with her liquid flow and possess your soul.  This 2023 PoleCon she slithered her way onto the stage for Creepy Showcase and left us all a bit spellbound…  She is a shapeshifter and a curse-gifter and welcomes all to learn her ways if you dare catch one of her workshops
Catch Her Performance: https://youtu.be/9mvCejNUV28?si=YHyCXLkRQTAYyQ5W
Jade The Serpent
All hail the highly favored and never duplicated Queen of Strange.  From her 2019 performance at PSO Liberty to her Creepy Showcase performance that same year at the 2019 PoleCon.  She had been blessed with all things unholy and feeding off our darkest intrusive thoughts and deepest nightmares.  This past 2023 she brought it again in the Black Girls Pole Showcase with an unworldly performance of interstellar oddity… and a little bit of twerking.
Catch Her Performance: https://youtu.be/IknLnt83Tlk?si=4l7KpVuo4fv2MD3V
Holly Lugosi
Beware for whom the bell tolls, Madam Lugosi is your worst nightmare.  Labeled as the pole vampire, she lives up to her name.  Whether crawling out a trash can flanked by her demonic squad on the 2023 Creepy Showcase stage or luring you into a bad omen with a wicked heels piece.  She's sure to possess your soul.  Her range of being creepy and uncomfortable to bewitching and sexy earns her a solid spot on the count.  Though dead inside, she'll spark life into an audience.
Catch Her Performance: https://youtu.be/GzU7ysBXNH8?si=1UymtyXRD6CPbnRf
Eileen Hisarli
Having never graced the PoleCon stage, she may not be a name you've heard.  However, if you've been in the competition circuit you'll know her for her unforgettable (and slightly unnerving) performances in the pro division.  Her depictions of Pennywise from IT, Samara from The Ring, and a deranged White Rabbit from Alice in Wonderland have landed her a plethora of medals and placements but that is just the sweet glaze on a tempting poison apple.
Catch Her Performance: https://youtu.be/g21UD0thLeE?si=UF8_orEyVCLYWiSK
Jax Spencer
The master of ceremonies of this year's 2023 PoleCon Creepy showcase as well as it's alumni. Pole momma and instructor at Pole Academy in South Carolina as well as regular competition judge, you know her face.  She's the goth girl in high school you had a crush on but were too terrified to speak to.  (Probably because she keeps human hearts in her lunch box.)  She wields heels as well as she can wield an axe, it's a gamble what you may get. Dare to try?
Catch Her Performance: https://youtu.be/pUdoriqwYrw?si=K08Ym9w-VjEmdxkk
That is not to say there are not plenty of honorable mentions and amazing performers who have served us in darkness.  This is just performers that keep it creep all year around while also expressing a diverse range of other styles.  May they remind you to also stay true to yourself and what makes you unique and spectacular.  Not all judges are going to get it.  Not all audiences are going to get it.  It's not for them. It's for you to shine and for those to appreciate your unique sparkle.  Shine on all you crazy diamonds.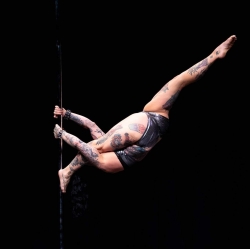 Latest posts by Casey Danzig
(see all)