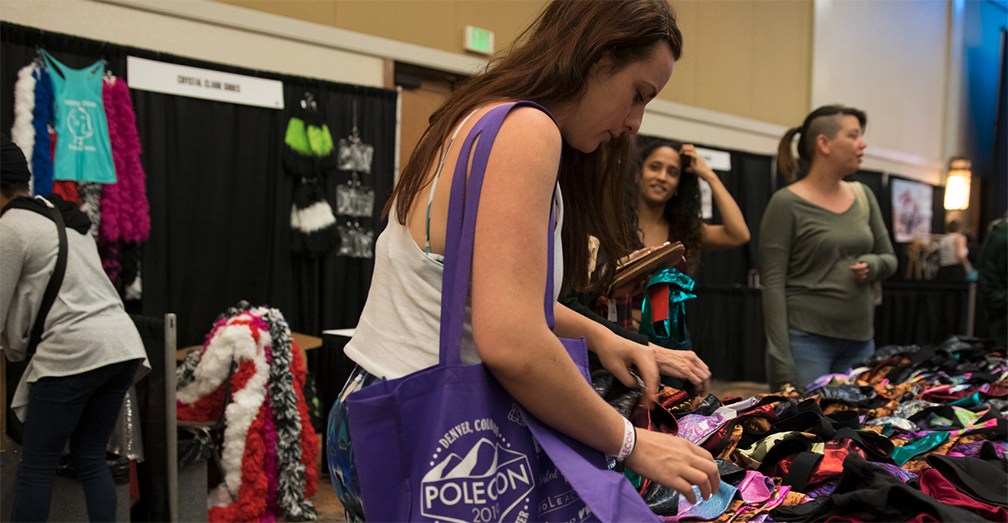 What to expect as a PoleCon exhibitor?
PoleCon can be a great place to sell your product or service and to network with other pole industry professionals.
Read below for what to expect as an exhibitor.
Please note, since PoleCon moves every year, some information may change based on venue requirements or restrictions in the local municipality. Email if you have any specific questions about a specific event.
Who comes to PoleCon ?
PoleCon attendees tend to be majority female and tend to be more hobbyists than pole industry professionals such as teachers, studio owners, performers, or sex workers. That doesn't mean those folks don't come, they just aren't the primary demographic for the event.
PoleCon exhibitors vary in terms of offerings but the most common type of pole business that comes are apparel companies.
Many exhibitors return year after year!
What does it cost to exhibit at PoleCon?
Exhibiting at PoleCon isn't cheap.
PoleCon uses an online tool where you can see the exact location of your booth before you purchase. Sometimes the exhibitor map has changed last minute due to safety issues with the venue. If the unlikely event that happens, PoleCon will communicate the changes to the exhibitors via email and attempt to remap the booths in a similar way to preserve expected sight lines.
The price of one booth includes:
Typically either a 8X10 or 10×10 space defined by a very light pipe (support structure) and black drape/curtain. You will likely be able to hang a banner on the pipe but not much else. A small sign with your booth name is included.
Wifi access during the event in the main room, at your booth.
Two Weekend passes to PoleCon.
The ability to buy additional Weekend passes for 50% off.
The ability to be listed in our online exhibitor directory. 
Social media promotion once before the event on the PoleCon Instagram and Facebook profiles.
In addition to the cost of the booth, additional costs include:
Insurance. All exhibitors must have commercial liability insurance. If you do this this, PoleCon offers a weekend policy through the same insurance company that insures the overall event. This is important in case someone gets injured at your booth.
Travel costs. This cost may range widely depending on where PoleCon is in relation to you/your business. It could include flights, hotel stays, and other in incidentals like food and sometimes parking fees.
Shipping your product or booth materials. While many exhibitors pack an extra suitcase with their materials, some may need to ship materials. Shipping can be expensive and there may be delays so plan ahead!
Electric. The venue will charge to run electric to your booth. This cost varies and is typically annoyingly expensive. If you don't need electric, don't order it. There are lights on in the room where the booths are held. Don't plan on being able to access a wall electric socket as most booths are away from the walls.
Other exhibitor services and rental items. PoleCon works with an exhibitor services company who sets up the pipe and drape for your booth. Through that company you may also rent things like carpet for your booth, furniture, TVs, clothing racks and more.
PoleCon does not offer refunds on booths but does allow for transfers. You would do a private sale to transfer your booth and then notify PoleCon of the update.
What to expect during PoleCon?
There is a constant flow of traffic in the main room where the majority of exhibitors are set up because it is the same room as the main stage where all performances take to place. Typically there are also some hallway booths available outside of the main room but that is depending on the venue.
The first night (Thursday night) is often the busiest as attendees scope out exhibitors. Traffic to the booths may steady or decrease Friday and Saturday with Sunday again being very busy. Many attendees expect discounts on the last day of the event.
Get more attention to your booth by sponsoring a showcase. In addition to paying a sponsorship fee, Showcase sponsors provide something for the pole cleaners to wear and are announced on the main stage.
Some exhibitors have poles or other interactive elements at their booths that encourage people to stop by.
Generally, due to venue requirements (which may change from venue to venue) you cannot have anything that generates smoke, fire or glitter. There may be nudity restrictions as well. Make sure to confirm with PoleCon before buying your booth if there are any specific restrictions that year ir that venue.
How to make your experience at PoleCon even better!
To make the exhibitor experience smooth, PoleCon sends several emails reminding exhibitors of critical deadlines.
Make sure you provide the correct email when you purchase your booth!!
Try to have patience!
PoleCon is a large, complicated event and it's also a small business just like you! There are lots of factors that impact things during the event including (but not limited to): weather, venue changes, travel disruptions, and more that can impact your experience.
At PoleCon we try to make things run as smoothly as possible but with so many factors, inevitably something slips. We appreciate you communicating with us in a constructive way! We truly want you to succeed.
Got more questions about being an exhibitor at PoleCon? Let us know!