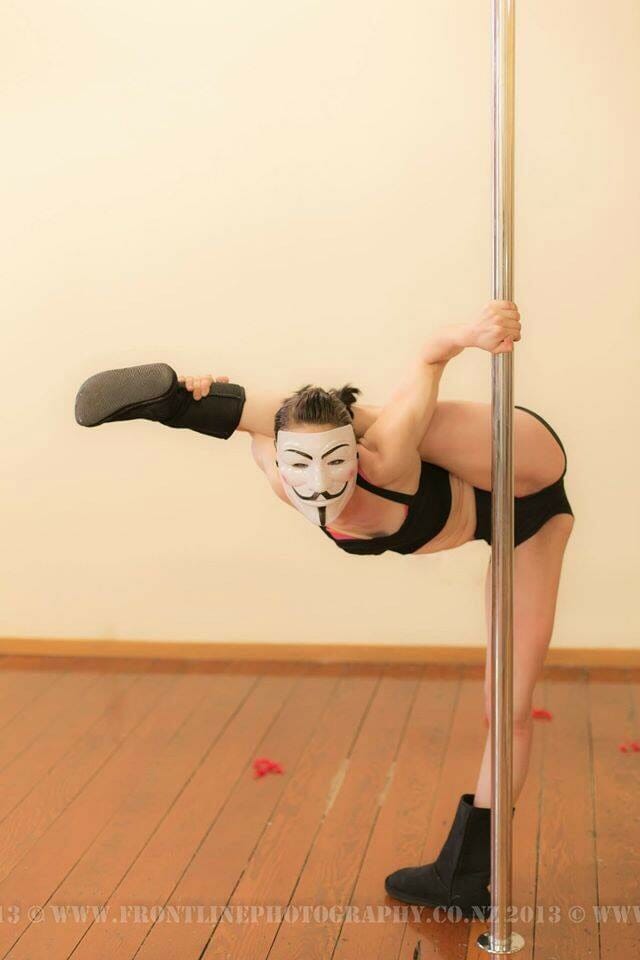 An Interview with Kapi Huria
PoleCon workshop leader and performer and Pole-in-Pants sensation—we sat down to talk with Kapi Huria, our first New Zealander to come to PoleCon!
---
Mica (M): How did your pole journey start?
Kapi (K): My pole journey started in 2011 when I found out my mother had been attending pole classes and having fun without me.
M: How old were you?
K: I was about 20yrs old.
M: How many times a week do you exercise?
K: I used to exercise about 6-8hrs a day when I was performing & competing, but now I exercise once a week.
M: When did you start taking pole more seriously?
K: I tried a handspring and it seemed impossible, so I worked hard at it till I got it. Then I went to a pole workshop, Pantera Blacksmith's workshop and she made all the moves look so easy whilst wearing her pants. After that workshop I took pole more seriously.
M: When was your first performance?
K: My first performance was at a pole show in Wellington New Zealand called "The Pole Room" in The Fringe Bar, I performed alongside my mother "Spinning Jewel" we performed a duo to Pink Floyd songs "We don't need no education" and "Shine in your crazy diamond"
M: What is the most common mistake among pole artists?
K: The common mistake amongst pole artists is that we need to visit our chiropractors, message therapists, acupuncturists & doctors more than we think. We need to look after our bodies before thrashing them around a steel rod pointed toes… Gracefully… Half naked… With a smile..
M: What is your favorite pole move?
K: My favourite pole move is the one handed handstand whilst holding the pole because its an easy pose to learn to do on everything. Handstand and hold statue, handstand and hold signs, handstand and hold a chair. Its such a portable move.
M:  Where/who do you get your inspiration from?
K: I get my inspiration from so many people. I can give a huge list of people.
Vladmir Karuchanov
Oona Kivela
Nadia Shariff
Yvonne Smink
Felix Cane
Jenyne Butterfly
Pantera Blacksmith
Polina Volchek
Annemarie Davies
Andre Corey
Isis Diamond
Marlo Fisken
Natasha Wang
Nadia Rogue
Olga Koda
Slan Silverbullet
The list goes on!
M: What training regimens/Diets do you have?
K: I don't have a strict diet at the moment. I love McDonalds way too much because we moves houses and now I live closer to McDonalds so its hard.. To keep fit I just keep poling and practise handstands everyday.
M: What competition are you currently training for?
K: I am not training for any competitions at the moment.
When it comes to competitions I like to choreograph dances for people so I can help people get dances sorted. I love thinking of ideas but the pressure is too much for me. To be straight up its SCARY!!
M: Are you performing at PoleCon?

K: Yes! In the Pole Comedy Showcase.
M: Are you teaching any workshops at PoleCon?

K: I am teaching 3 workshops at pole con.
Signature tricks, pole in pants & floor it (floor work)
M: What is your favorite workshop to teach?
K: My favourite workshop to teach is pole in pants because I love showing people winter warm ups. No more cold poles!
M: What is your favorite genre of music to while poling?
K: My favourite genre to pole to is chilled out New Zealand music.
M: Why is it important to brand yourself?
K: I think it is important to brand yourself if you want to be professional because it shows how serious you are about yourself.
M: How would you explain your style of pole dancing?
K: My style of pole dancing is casual, fun, and I like to look as floaty as possible. I love to joke around and pole. I have serious moments but I mostly like to show off but with a smile.
Thanks Kapi! Check out her upcoming workshops at #polecon2017!

Latest posts by Mica Saunders
(see all)