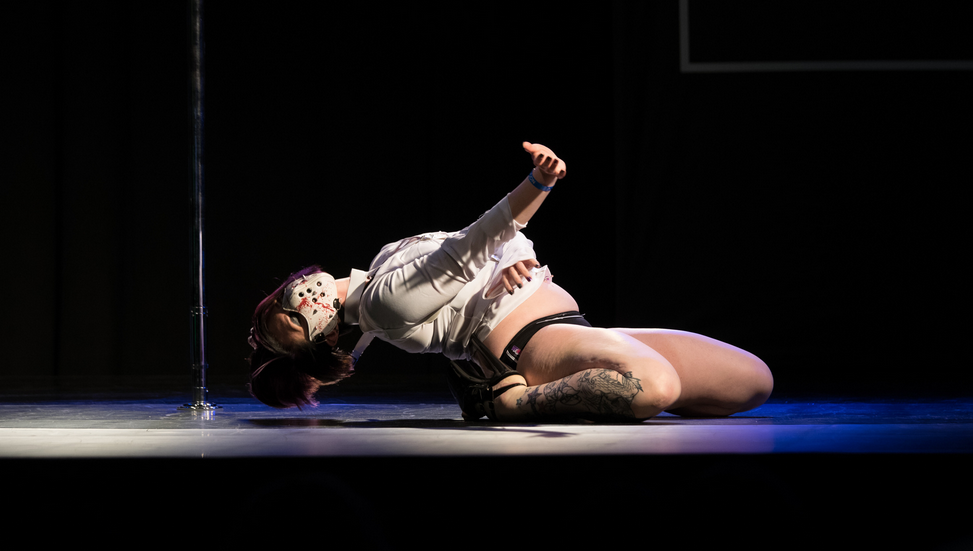 Interview with Jax Spencer
We sat down to talk with Jax Spencer! She'll be teaching a paid workshop for the first time at #polecon2021 !
What do you love about being a pole instructor?
The students. The community. The love. Oh, and the heels. Everything. I love teaching from newbies who have never touched a pole to doing happy dances with students who nailed a super hard trick. I love working with and watching people in their journey. I love the variety of teaching styles from floorwork, to pole, heel work and all the things in between. I hate troubleshooting except when it comes to the pole world.  I enjoy the challenges each students gives me as a teacher and keeps me on my pointed toes! The energy gives me life and purpose.
How long have you had your pole studio?
The current location opened in June 2014 (on my Mom's birthday!) I had been teaching out of my apartments before then but TPA 3.0 has been going strong and on its 6th year!
What classes will you be teaching at Pole Con?
I am teaching Back 2 Basics – a Beginner/All Levels class bringing back core moves in new and fun combos. No inversions but so many interesting combos and movements from some oldies we might have forgotten. I'm also available for Private Lessons all weekend!
What is your favorite class to teach?
I love anything upside-down and splits so those are my go-to's. However, each class has a special place in my heart. I'll get on a kick where I love teaching Intro and Parties to newbies and then vibe off of base and low flow life. I'll jump to wanting hardcore tricks and combos and later just want to slink all over the floor or twerk my booty off. They all have different personalities so it really depends on the day and how much coffee I've had.
Any recommendations on how polers can stay safe poling at home during COVID-19?
It's crazy how we so easily transitioned to online life! There are so many opportunities to train with people all over the world and it's hard to say no when they are at your fingertips. Even so – listen to your body! Know when a trick/combo/stretch is too much for your body. Take the baby steps to reach it. Take rest days – I know we're bored and want to fill time but give your body time to rest and breathe between online classes. Use crash mats or quarantine buddy spotters when you can. And definitely take notes! Esp when your body is done but you can still learn – write it down!
What should you every pole dancer pack in their bag for Pole Con?
That can be a very long list! From grip aid, heels, booty shorts, phone charger and snacks! I'm trying to think of my first ever Pole Con (2013 – West Palm!) and what I wish people had told me! You're basically going to pole class everyday so besides what is in your normal pole bag (heels, shorts, grip, hair tie, knee pads, leg warmers, sweat rag, deodorant) you'll definitely want your phone to stay charged for note taking and selfies. A memento though is having something all your friends and pole stars that you meet can sign. Be a notebook, a tote bag (like one of my students have), poster, or something special to you – have those signatures somewhere safe. Pole Con is basically Warped Tour for all the cool kids.

Latest posts by Mica Saunders
(see all)