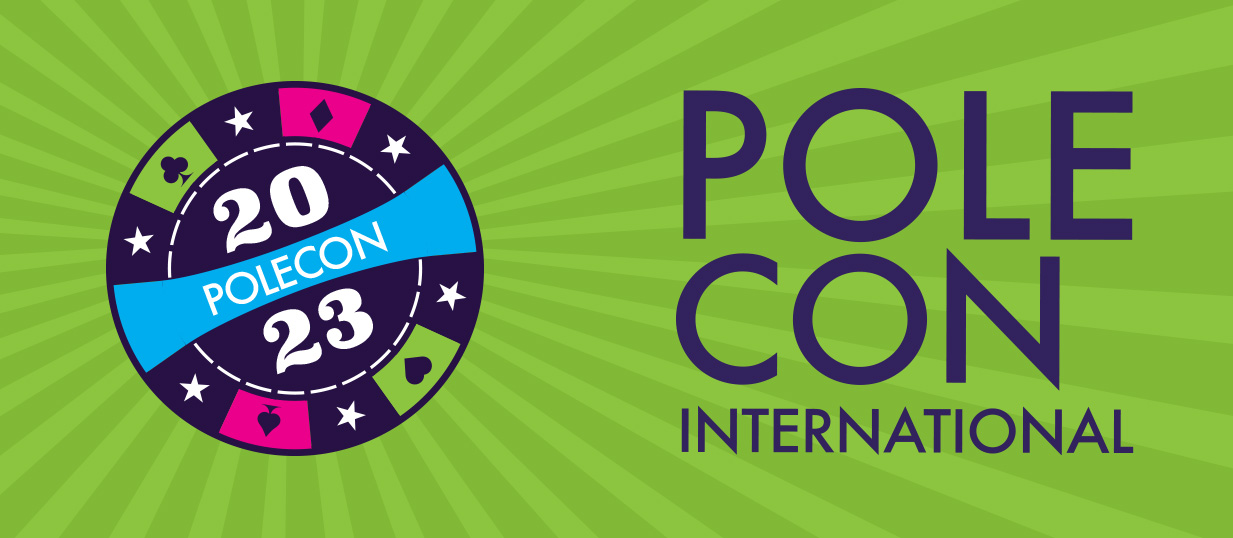 Thank you so much for coming to PoleCon 2023 in the DMV!
This is my eighth, live PoleCon as CEO/owner, the twelfth overall live event since its founding, and it is by far the largest event ever with several people talking about how nice the entire "vibe" was throughout the weekend.
From one attendee: " I had the ABSOLUTE BEST TIME!! This was an incredible experience I learned so much! The showcases were amazing I have new pole wear that I can't wait to wear. Honestly this was really an incredible experience and reminded why I live this community so much the culture that was produced was love and supportive and it was so exciting to meet new people and learn from people I've been stalking and they all were spectacular!""
PoleCon 2023 officially had ~1,325 people attend, including attendees, exhibitors, and workshop leaders over the course of the weekend; not everyone is at the convention all at one time and not all of us are in one place all the time.
We were in a very unique space that allowed us to have individual showcase tickets for all showcases not just BGP and Sexy.
AND we had a record number of workshops sell out!
Showcases
This was the first year for our new Latin Heritage Showcase and we reprised the other 18 showcases for a total of 20 unique showcases highlighting the diversity of pole throughout the weekend. BGP remained the largest showcase with the most live attendance of I don't even know how many people. We had folks on the floor, and in the balconies, it was a bit insane (in a good way!)
This year we also continued our livestream, featuring all showcases free/pay-what-you-can on our YouTube channel. Thank you to everyone that tuned in and donated! There was an error where we livestreamed past YouTube's 12-hour streaming/recording limit. The BGP showcase was streamed live but didn't save. We are working to get that entire showcase uploaded soon.
We will also be posting individual HD videos on our YouTube channel per usual once we receive them from our amazing videographer. Any video that does not appear is because of music copyright issues on that platform NOT because we censored it OR because a performer has requested their video not be posted.
While every performance was memorable, we had a troupe of "grannies and one grandpa" who performed. The oldest poler was 94! They definitely showed us that everyone can pole.
People from all walks of life, all gender expressions, all colors, all shapes, and all sizes performed on our stage and had a great time! PoleCon really is a family affair, and several generations of pole dancers and pole dance enthusiasts came to take part in some aspect of the Convention.
Survey and Next Year
Per last year, after I review survey responses (going on now!) I may make some adjustments to aspects of the event moving forward. I will write another blog to explain the changes so y'all are prepared. Typically, we announce next year's location in our event booklet. We instead made this announcement:
Where are we going for 2024?
PoleCon was going to return to Orlando, Florida for 2024. However the state's "drag ban" and threat of losing their liquor license was too much of a risk for the hotel to work with us. Read more at this link.
The search for a 2024 location continues, however, until legislation changes, this event cannot be held in any state with a "drag ban" or similar law. If you don't think anti-trans legislation impacts you because you aren't queer, then you aren't paying attention.
Refunds for the Waitlist
If you never made it off the waitlist, you *should* receive an refund. Sometimes the system does not process those automatically. If you have not received one yet, please email [email protected].
Keep tagging #polecon2023 in your memories and we'll keep sharing them!
Thank you for believing in PoleCon and in the community we all love and support.