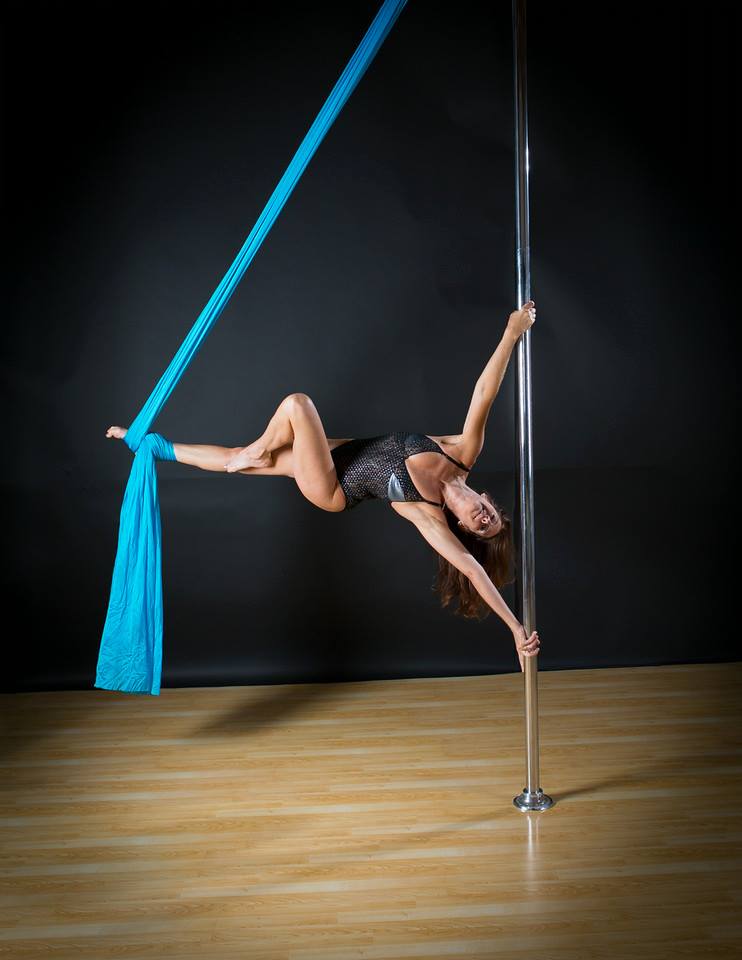 An Interview with Leesi L'Ru of FabPole
PoleCon workshop leader, studio owner and creator of FabPole—we sat down to talk with the aerial innovator, Leesi L'Ru from Colorado.
---
Mica: How did your pole journey start?
Leesi: I have worked throughout the US as a professional entertainer in the exotic dance industry for more than 17 years. I have also trained and performed in trapeze, aerial silks, lyra, web, cloud swing, hammock, hula hoop and other circus arts since 1990. I started sharing my love for dance and circus arts in 2004 by becoming an instructor.
Mica: How old were you?
Leesi: I have been dancing in one way or another for as long as I can remember!  If I ever stop dancing, check my pulse.
Mica: How many times a week do you exercise?
Leesi: I am always in motion!  Because of the demands of training dancers for competitions and showcases, I train nearly every day of the week, with a rest day or two mixed in.  Staying fit is a way of life!
Mica: When did you start taking pole more seriously?
Leesi: When I decided to share my love of dance with others, I definitely began to take my pole, aerial, and circus arts to a new level, seeking out expert trainers and spending time with serious artists to perfect my technique, endurance, and safety.  I find if you want to learn something well, begin to teach it! 
Mica: When was your first performance?
Leesi: As an entertainer, every day at work was a performance.  My first pole performance as an instructor was a Flashdance Studios showcase in 2005. My first FabPole performance was in 2011 at Pole Dance Universe in Denver Colorado.
Mica: What is the most common mistake among pole artist?
Leesi: Speaking for myself, my biggest mistake is not allowing my body to rest and not eating enough when I am training, teaching and playing.
Mica: What is your current pole nemesis?
Leesi: Currently, I'm tackling the "Fonji".  I don't feel right if there's not some killer trick I'm mastering (and having my students work on as well—they love that)!  When I go away to workshops and pole camps I inevitably become obsessed with amazing things, and bring them home with me.  It's one of my favorite things about my profession!
Mica: What is your favorite pole move?
Leesi: The beauty and lines of the "Titanic" are my current favorite. 
Mica: Where/who do you get your inspiration from?
Leesi: All over!!! My students are my biggest inspiration. I learn so much from them and appreciate all of their cries, squeaks, frustrations and accomplishments. I'm inspired by dancers of all ages, women, men, from all backgrounds who allow themselves to "self express".  It's a privilege to be a part of this journey with some amazing individuals. 
Mica: What training regimes/Diets do you have?
Leesi: Eat what makes you happy in moderation. Listen to your body!  I visit Krispy Kreme and Culver's Custard many evenings after I am finished teaching.  Those treats make training fun!
Mica: What competition are you currently training for?
Leesi: I usually take breaks after a competition. So, I am now on a break after placing first runner up at the Arnold Classic World Pole Cup 2014, Masters Division.
Mica: How long have you had you pole studio?
Leesi: I have had a dance studio since 2007.  It has been an adventure!
Mica: What made you want to own your own studio?
Leesi: It wasn't a want/desire but the only way for me to continue instructing pole, dance and circus.  When I began, there were not many independently owned alternative studios in the area, and I have had some of the same students since I first began to teach! 
Mica: Are you excited about Pole Con?
Leesi: I am so excited to be a part of Pole Convention 2015!! Getting together with dancers and Pole aficionados from all over really renews my love for the art and those who practice it.
Mica: Why do you want to go to PoleCon?
Leesi: I want to share my love for Pole, FabPole and aerial fabric. Pole Con is providing me this wonderful opportunity to able to do what I truly love doing… Sharing.
Mica: What should people expect from your workshop at PoleCon?
Leesi: Dancers of all skill and fitness levels can look forward to learning a very accessible new form of dance utilizing the pole and aerial fabric, to add a unique dimension to their expression and take their dance to a new level.
Take her FabPole Workshop Saturday at 3pm in Pole Room 2.

Latest posts by Mica Saunders
(see all)