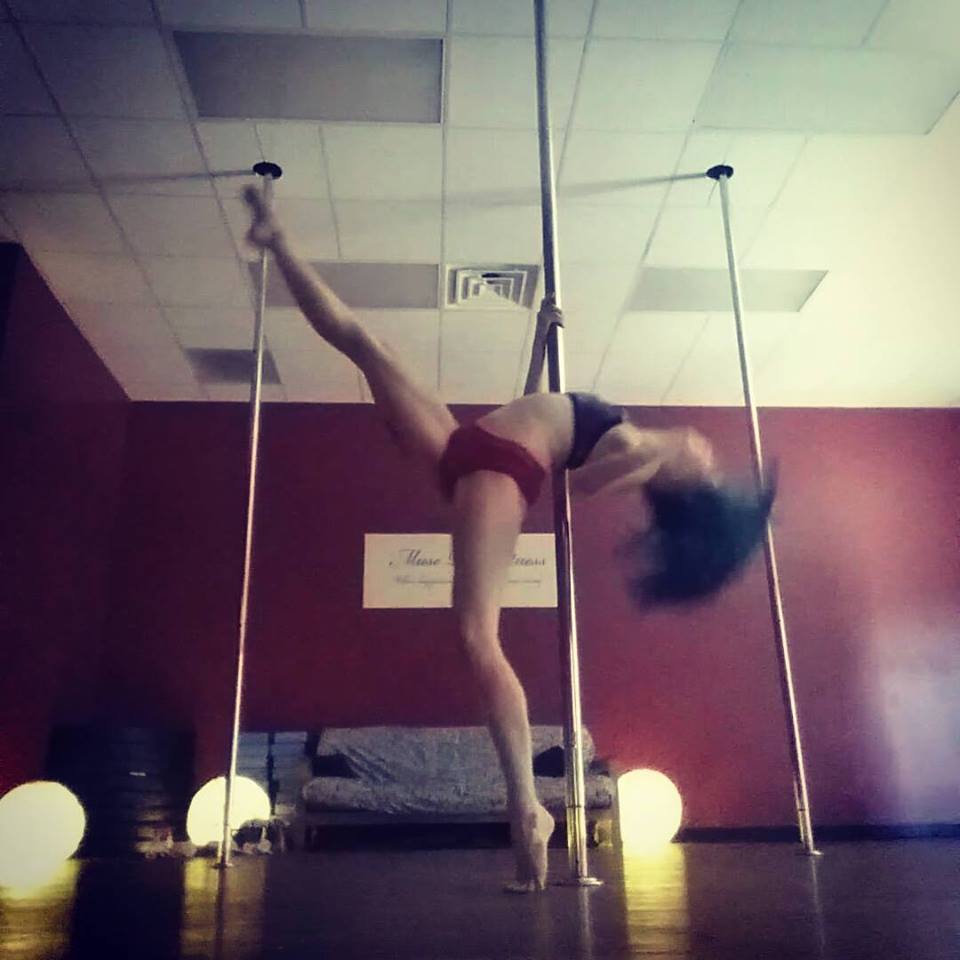 As the competition season wraps up this year, I am forced to sit back and evaluate my pole journey and where I am headed. I found myself saying "I want to focus on my dancing this year." I feel as if I am not alone in saying this. For those of us who do compete regularly, we are all too familiar with consistent injury and piecing together routines that are trick after trick. While there is nothing wrong with that for that, I would like to remind everyone about the part of pole that I know every pole dancer loves. Why do you dance? Are you finding yourself stuck in a rut? Here are some reminders and tips to help you let go and dance it out in class.
*Listen to new music*
Music is the number one inspiration for me when dancing. Whenever I find myself stuck in class, doing the same thing over and over again, I always go home and look up new music to get my inner dance going. It can get really difficult to seek out new artists and songs when you are rehearsing a routine to the same tune every day of the week but sometimes you need to throw on a new jam and just dance it out. Who knows, you may find a new song to choreograph to as well!
This brings me to the next challenge, where do I find new music? One great place is to pay attention to what your pole friends and family are dancing to on Facebook. Social media is your best friend when it comes to finding new things so when you find a new song that you love, make sure you share it. Someone out there probably needed to rock out to it as well. Besides Facebook, there is also the obvious Spotify application. Spotify has some wonderful features to explore as well such as mood playlists, new music playlists, and discover weekly playlists that consist of songs similar to what you listen to most. Here are some other helpful sites for exploring new music:
– https://soundcloud.com/ – Soundcloud – Where new artists as well as known artists share new music (Also includes a ton of free downloads)
http://hypem.com/popular – Hype Machine – the less known version of Soundcloud where thriving artists can share new music (I actually first heard Tinashe on this sight)
http://wearehunted.tumblr.com/ – Wearehunted – A blog that shares all the up and coming artists to look out for (Keeping you updated on all EP releases you need)
*New approach to class*
Try walking in to to class with a different attitude. Remember when you first started pole and had zero to little expectations? It is so much more enjoyable when you approach everything without expecting to be perfect every time. When you get wrapped up in preparing a routine (or multiple routines) for a competition, you focus on being 100% perfect in every move, every transition, every time. The reality in pole is most things take longer than that. Sometimes we step in to class with the same attitude we have when training when actually it's a completely different atmosphere that needs a completely different approach. So if you are a student and you regularly attend classes, take those as an opportunity to be a blank canvas. Allow yourself to fail and try again. It's a beautiful thing to work for something over time and later down the road finally achieve.
Having this new approach will also remind you enjoy the community and the social side of class. When we get in to train mode, a lot of us can get stuck in our own heads and not seem approachable or friendly when working with our pole peers. The more breaths you take before class, the more support you'll have in the end. Just remember to enjoy the learning process.
*The importance of freestyle*
Dance. Dance. Dance. I repeat. DANCE IT OUT. No choreography, no rules, no holding back. You absolutely need to freestyle it out. It isn't for everyone but when I prepare for a competition, I always freestyle at the end of class even if I am running my dance after class and I am tired. Freestyle dance clears my head every time. There is something so uplifting and freeing when you put it all out on the dance floor.
Are you afraid of freestyle dance? Now is the time to take the step forward and cut that out. Freestyle dancing, if even just for you, opens up so many doors for your pole journey. You will become more comfortable with your dancing and you will gain choreography ideas and more opportunities for new tricks and transitions. Finally, you will have a chance to explore your own style. Freestyle dance is all you, no duplication of anyone else and no set movement. If you aren't ready to freestyle in a class, lock yourself in your room and just dance it out on your own. I promise you will feel rewarded.
I really want to encourage everyone to take these skills and pass it on. Is someone getting frustrated with choreography or feeling uninspired? Send them some new music that you heard or share some fun playlists with them. Your friend is frustrated in class because they didn't nail that trick the first time? Remind them why they are there and to sit back and relax. These things take time and they have probably already come leaps and bounds in their pole journey. You don't dance it out at the end of class? Start freestyle dancing now! I highly recommend you to take the time to dance it out or if you are an instructor or pole studio owner, start encouraging your students to to do the same. Remember the importance of dance in the pole community and the support that we all need every once in a while.
Happy poling 🙂
Dance it out

Latest posts by Leah Franklin
(see all)