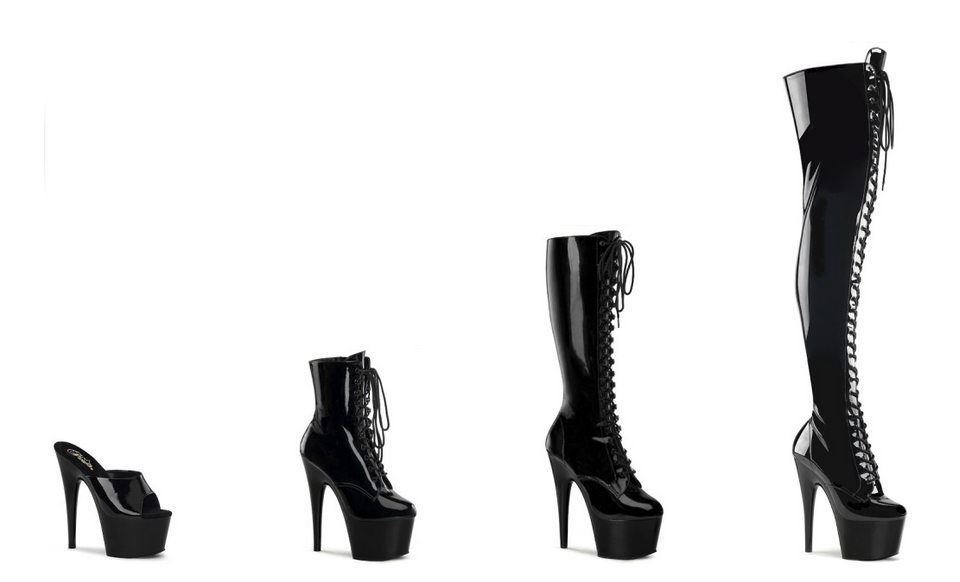 Tips for buying pole shoes
It is important to wear the proper shoes when engaging in pole dance. Whether you're buying your first pair or thinking about trying something new, there are a few things to consider such as style, height and width. This article provides some general guidelines to follow when looking for the perfect pair of shoes.
Style
There are four main styles to choose from: heels, ankle boots, knee high boots and thigh high boots. Each style comes in an array of colors and materials, and provides different levels of support and functionality. Heels are typically open-toed and are either strapless or have an adjustable ankle strap. Boots come in open-toed or closed-toed options and offer maximum leg and ankle support. Choosing a patent pair will assist you to grip the pole, while matte or faux suede styles may detour you from doing so, and are better used for doing floor work. Sequins, glitter and other delicate materials are great for prancing and burlesque, however, these styles may hinder you from doing pole tricks if you are relying on your shoes for assistance. Any style can be worn by any performer, but it is important to consider those factors when selecting a pair of shoes.
Height
Most pole shoes come in 6", 7" and 8" options, while some are 9" and 10" tall. Extended heels are intended for professional use only and not recommended for walking or dancing. As a beginner, you may want to start with a 6" heel until you are comfortable enough to graduate to a taller option; however, everyone has their own preference so whichever height you are most comfortable with is all that matters. Also, it is important to remember that most pole shoes are designed with a platform, which offsets the heel height.
Width
Most styles are true to size. If you have wide feet, you may need to order up one or even two sizes. Due to recent popularity and the need to be more inclusive, some brands offer styles that cater to those who are in need of an extended size with a wider, roomier fit.
Sizing
Wearing the wrong size shoe is not only unsafe and uncomfortable, it can lead to issues with your feet, ankles, knees and back. When ordering open-toed styles, you should select your regular shoe size. For closed-toed styles, I recommend ordering a size up. Pole dance shoes don't come in half sizes, so in most cases it is suggested to order down a half size for open-toed shoes and up a half size for closed-toed shoes. If you typically wear men's shoe sizes, the rule of thumb is to add 2 to your regular size. For example, if you wear a men's size 8, you would wear a women's size 10. For more size info, refer to the conversion charts provided below.
Fit
Your shoes should fit snugly, yet, not so tight that they crush your toes while dancing. Keep in mind that patent and leather shoes stretch with wear. If your shoes are slightly too big adding an insole insert may provide a better fit. Wearing shoes that are extremely loose is not only dangerous, but you risk the chance of them shifting or falling off while you are in motion.
In closing, a good pair of shoes will act as an extension of yourself. When you are confident in your shoes it will show when you are on stage or at the pole studio.
If you have any questions about shoes or require assistance placing an order, send me a message and I'll be happy to assist you.
PLEASER SHOES SIZE CHART
| | | | |
| --- | --- | --- | --- |
| US WOMEN | US MEN | UK | EU |
| 5 | 3 | 2 | 35 |
| 6 | 4 | 3 | 36 |
| 7 | 5 | 4 | 37 |
| 8 | 6 | 5 | 38 |
| 9 | 7 | 6 | 39 |
| 10 | 8 | 7 | 40 |
| 11 | 9 | 8 | 41 |
| 12 | 10 | 9 | 42 |
| 13 | 11 | 10 | 43 |
| 14 | 12 | 11 | 44 |
| 15 | 13 | 12 | 45 |
| 16 | 14 | 13 | 46 |
HELLA HEELS SIZE CHART
| | | | |
| --- | --- | --- | --- |
| US | AU | UK | EU |
| 4 | 4 | 2 | 35 |
| 5 | 5 | 3 | 36 |
| 6 | 6 | 4 | 37 |
| 7 | 7 | 5 | 38 |
| 8 | 8 | 6 | 39 |
| 9 | 9 | 7 | 40 |
| 10 | 10 | 8 | 41 |
| 11 | 11 | 9 | 42 |
| 12 | 12 | 10 | 43 |
| 13 | 13 | 11 | 44 |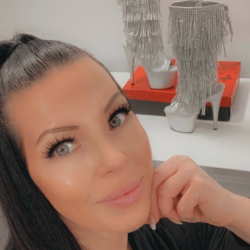 Latest posts by Maria Sombolos
(see all)