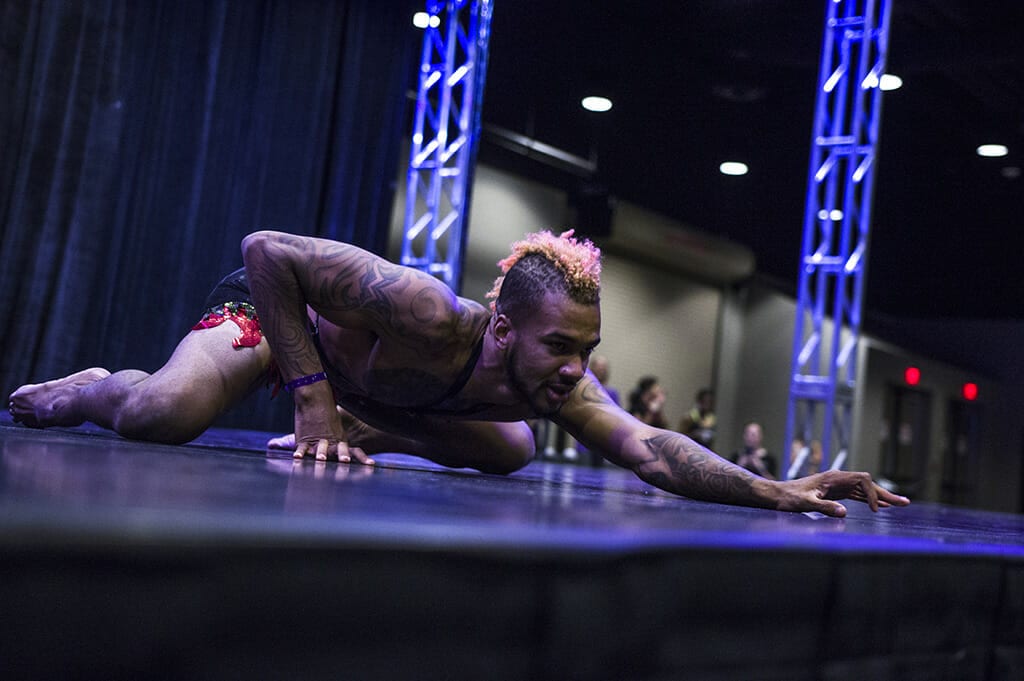 Whether you're a newbie to the magical world of pole dancing/aerial arts or you're a seasoned veteran, there is probably at least one well-known poler whose style resonates with you.  Those of us who have attended events (such as the International Pole Convention!), shows, or competitions have either "fan-girled" or have witnessed others "fan-girling" over their Pole Crush. One of the bazillion wonderful things about the pole community is that our "pole stars" are overall quite approachable and humble. Heck, they all have their own Pole Crush, too!  Thanks to social media and YouTube, there is practically unlimited access to the many well-known polers across the country, as well as across the globe!
My Pole Crush is Josiah "BadAzz" Grant, and I'm quite sure he knows this!  I've taken his workshops, I follow him on social media, buy his merch, and even took a private lesson with him at PoleCon! His style of pole dance just resonates with me for some reason, but I know full-well that I will never be as flexy/flowy/bendy as he is, and I'm okay with that. He is a huge talent with a very kind soul…The private lesson I took with him at PoleCon 2017 was worth every penny!
And, yes, I'll be the first to admit that I've spent late nights watching videos on YouTube featuring the pole stars that I have come to admire (and envy!) over the years. There are so many talented and skilled polers out there and their vids can become downright addicting to watch!  Whether you gravitate toward the exotic/stripper-style pole dancers or the strong and powerful tricksters, there is something out there to suit every pole student's taste.  You may even find someone whose style of polewear "speaks" to you and give you some fun ideas on how to evolve your look!
Having a Pole Crush is not too different from having a crush on that really cute guy/girl in high school that kinda knew you existed, (but not really). Crushing on a pole star can provide some added inspiration to learn a new trick, practice more on getting that front split, or nailing the perfect pole climb! Sometimes when you're having what I've come to call a "not a good pole day", watching tutorial videos or scrolling through IG posts of your Pole Crush can boost your spirits a bit and help provide that extra motivation to keep practicing and pushing through the frustration….or the inspiration to just "dance it out"…!  Many pole stars are very interactive with their FB and IG followers, which can literally make your entire day/week/year when you get a personal reply on a comment.  Admit it, there is (almost) nothing more exciting than having your Pole Crush either a.) follow you on IG or b.) like (or…OMG…comment on ) one of your pole vids! And if they actually repost your IG vid or pic, well then, that's the frosting on the cupcake!!
If you are relatively new to the pole community, you're probably just getting familiar with the "big names" and what they are most known for as far as style of dance, branding, or method of teaching.  I encourage pole newbies to become familiar with some of the well-known pole stars who have been around for several years. Follow them on social media and check out their tutorials (new ones and ones from "back in the day"). It shouldn't take long to discover a poler whose style and specialty resonates with you. This definitely comes in handy when learning to freestyle pole dance so that you can channel your inner (fill in name here).  And if you are ever fortunate enough to see your Pole Crush perform live at an event, it really takes the crush to a whole new level!  Aaaannddd…if you happen to be at PoleCon at the same time your Pole Crush is teaching a workshop, go ahead and splurge and take a private lesson!
Bonus: There is no limit to the number of Pole Crushes you are allowed to have. Many a student will admit to crushing on one of their instructors and/or studio owners. Instructors are often the role models that new polers need when they first start taking classes. You may or may not get feedback from a pole star when you post a vid on IG, but your instructor is always there to cheer, clap, squeal, scream, bounce, and do the 'happy dance' when you nail a nemesis trick or your first fireman spin…