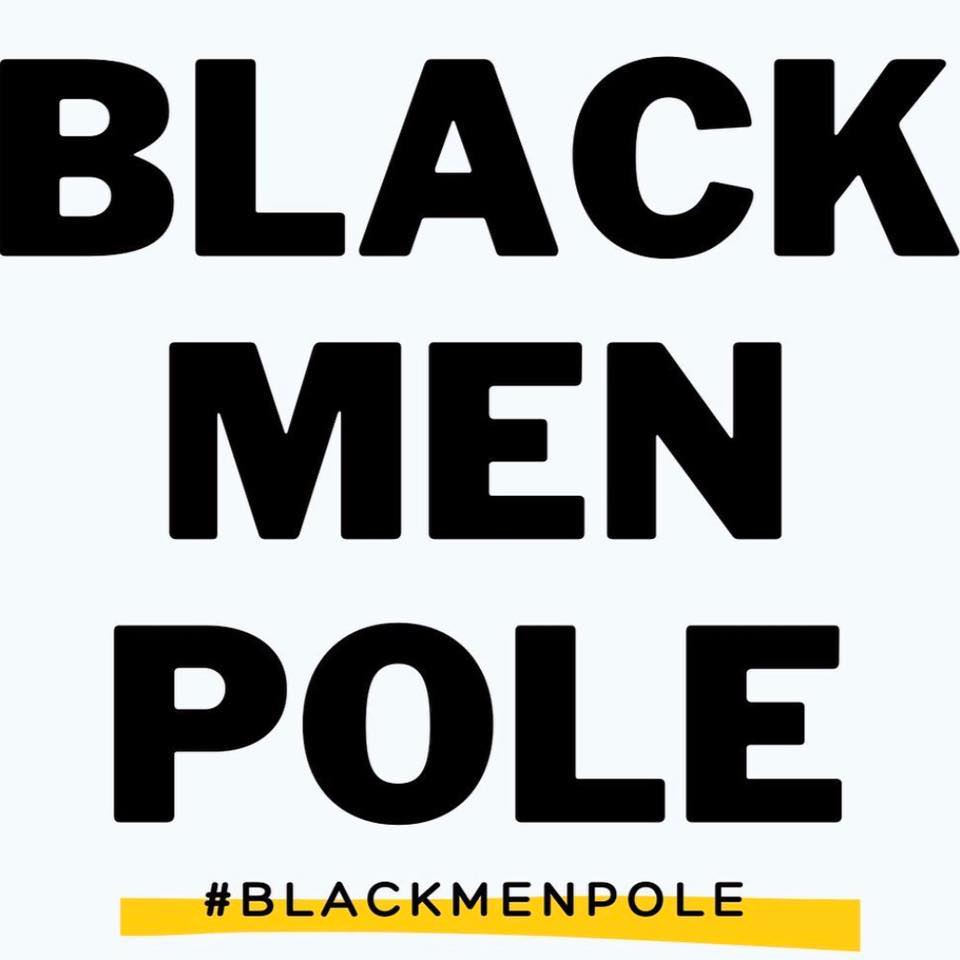 Interview with Black Men Pole
Black Men Pole is a new movement founded this year by
Kendrick Clevor
from LA. We sat down to chat with Kendrick to understand more about the movement and how to get involved. Read more below and then check out Black Men Pole on:
1. What made you start Black Men Pole (BGP)? Why now? 
When I first started my pole journey I was searching for men who I could relate to, men to possibly train under, men of color that looked like me. Everywhere that I searched I came back short, only finding maybe two or three men that actually taught classes. I didn't see much representation of men of color in the pole community, so I wanted to change that. I wanted to create this platform to showcase another side of the black men in the world. I wanted to create a place to connect and inspire more men to start pole dancing, especially our men of color.
2. What do you hope to achieve with BMP?
The purpose/goal of BLACKMENPOLE is to provide a platform that celebrates, uplift, and brings together our black men in the Pole & Aerial community.
3. Tell us about your background in general and related to pole.  
Known to most as "Trap Daddy", teaching my brand "TRAP GROOVES" all around the world. I've been in the dance industry for years now as a professional dancer & choreographer. My credits include: Kanye West, Iggy Azalea, Keke Palmer, Ray J, Tarralyn Ramsey, Tyga, Meek Mill, Jennifer Hudson, Roberta Flack, Hayley Kiyoko, BET Awards, World of Dance, LA Sparks, and more. Before opening up STUDIO 216, I taught weekly at different studios throughout LA and taught workshops throughout the country.
Before opening up my studio (STUDIO 216), I created one of the hottest dance showcases in LA called "Friday Night RAW" which featured all types of dance styles, including pole. I was renting out space every month, until one day I decided I needed my own place to call home. I needed a space to create and execute all of the ideas that I had in my head. A place that not only inspires me, but inspires others to create, and motivates them to train. STUDIO 216 officially opened our doors in 2017! We now have one of the largest pole studios in LA, offering a safe space for everyone to come train, network, and grow together.
Although I'm fairly new to the pole community, I haven't participated in any pole competitions personally, but I have assisted in choreography for pole competitions and showcases over the years. I'm training every week now, and looking forward to performing in the near future.
4. Do you work with Black Girls Pole and/or any other groups? 
We currently are working with DancePhreakz, a black owned production, and pole apparel company based out of LA, and Lupit Pole as one their new brand ambassadors!
At the moment, we don't work with Black Girls Pole… but I do look forward to the possibility of future collaborations, I love my Queens! #blackgirlspole ❤
5. How is the male pole community different from the female or non-binary pole community? 
For starters, I would say that the male and non binary pole communities aren't acknowledged enough, they need more attention, and need to be highlighted more.  The men and non binary pole community is significantly a lot smaller than the female pole community, and there aren't as many resources and opportunities either for us. Over the years it has got better, but we still have some ways to go.
6. How do you address the black male poler's needs within the pole community as a whole?
I'm working on so many different things to address the needs of our black men in pole. I'm  providing more teaching opportunities, offering a safe space for men to train at, and currently working on a program specifically for men who pole and men interested in learning how to pole. A program where they can feel comfortable to train, network and grow together without judgment from anyone. I'm also the dance director for Unlimited Possibilities Music & Talent Agency (UPMT), we look forward to representing and providing more opportunities for our pole community, especially our men who pole.
7. What are your future plans for BMP?(I.e.,showcases, merchandise and retreats or something else?)
I have so many plans for BMP, which definitely includes retreats, showcases, workshops, our own merchandise, bringing in brand ambassadors, and so much more. Our official website will be launching soon with more information on all of our future plans, ways for people to contribute and details on how they can get involved.
8. How can someone be featured on the BMP Instagram?
Anyone can DM us on our Instagram page, or tag us using either of the hashtags #blackmenpole or #blackmenpoletoo to be featured on our Instagram page. You don't have to have a lot of followers, or be at a certain level in your training. We don't discriminate, we love diversity, and we love finding and posting new talent.
9. Anything else you'd like to add?
The biggest surprise that I have discovered since I started working Black Men Pole was that learning I am officially the "FIRST BLACK MALE POLE DANCER" who owns a pole studio in the WORLD, and the "SECOND BLACK MALE POLE STUDIO OWNER" in the WORLD, after Virgil Avery, he is one of the founders of Foxy Fitness and Pole. This news was really amazing, and at the same time I was glad to know that I am a part of something so much bigger that I am writing history!
Thank you so much Kendrick for chatting with us today!
PoleCon loves and supports the diversity of the entire pole community and we are so excited to see how your movement evolves and continues to help support black male pole dancers.