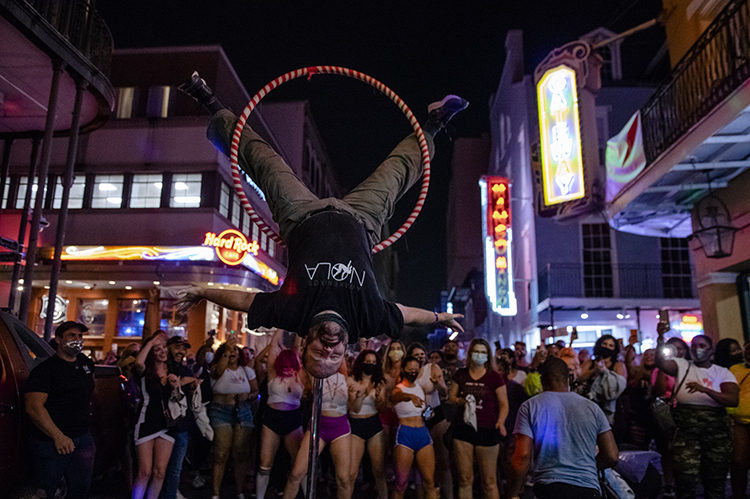 Thank you so much for coming to PoleCon 2021 in New Orleans!
This is my sixth, live PoleCon as CEO/owner, the tenth overall live event (eleventh total) since its founding, and it was definitely one for the history books!
We kicked off the event with a parade through the French Quarter led by the Krewe of A.S.S. organized by Awakenings Pole and Aerial Fitness that started in the hotel ballroom led by the brass band Big Easy Brawlers!
PoleCon 2021 officially had just under 500 people attend, including attendees, exhibitors, and workshop leaders over the course of the weekend; not everyone is at the convention all at one time. We communicated, followed, and enforced all relevant New Orleans City guidelines (which changed regularly) regarding COVID-19 including wearing masks at all times when indoors (except when performing) and checking vaccine cards and/or negative PCR tests during the event. Lunch was switched to grab-and-go to limit exposure, and we did away with attendee gift bags which take many touches from many people to fill.
Showcases
This was the first year for the live version of the Experimental Pole showcase (it debuted during Virtual PoleCon in October 2020) and we reprised the new-as-of-last-year Para Pole, Low Flow, Creepy and Freestyle (sponsored and organized by Gold Sponsor Butter & Filth) showcases. The Lyra showcase is now called the Aerial showcase and was sponsored by FabPole. They are offering 10% off Full Priced Units and Trainings using code "POLECON10" good from now until September 26th, 2021, on their website!
This year we also reprised our livestream, featuring all showcases free/pay-what-you-can on our YouTube channel. The last livestream was done in 2017. We will be posting individual HD videos on our YouTube channel per usual once we receive them from our amazing videographer. Any video that does not appear is because of music copyright issues on that platform NOT because we censored it OR because a performer has requested their video not be posted.
We had some awesome returning troupes including Bish Whaa and Head Over Heels perform, the "left" shark performed, some amazing and hella strong and bendy youths performed and Hip Hop duo Hybred closed the always popular Black Girls Pole Show as they kicked off their North American tour! People from all walks of life, all gender expressions, all colors, all shapes and all sizes performed on our stage and had a great time! PoleCon really is a family affair, and several generations of pole dancers and pole dance enthusiasts came to take part in some aspect of the Convention.
Panels
Most of our panels unfortunately were canceled due to the storm. Catch the panels during the Virtual PoleCon presented by the IPIA October 16, 2021.
Survey and Next Year
Per last year, after I review survey responses (going on now!) I may make some adjustments to aspects of the event moving forward. I will write another blog to explain the changes so y'all are prepared. I will not be raising prices on workshops but will likely be raising prices on the Weekend Pass presuming the event goes forward. Typically, we announce next year's location in our event booklet. We instead made this announcement:
"Last year (and this year) have been very difficult times for all of us.
Due to the continued uncertainty with the COVID-19 pandemic, we have not booked a location for PoleCon 2022.
We have started the search to understand options but have not committed to a contract with any location.
Please watch our social media and our email newsletter for information about the 2022 event."
Refunds and Next Steps
Refunds were (and still are!) readily available for anyone who could not attend due to a COVID-related concern and/or Hurricane Ida. Refunds process almost automatically from our account and take a few days to show up in your account.  Email [email protected].
Keep tagging #polecon2021 in your memories and we'll keep sharing them!
Thank you for believing in PoleCon and in the community we all love and support. If you can afford to support attendees who had unexpected travel expenses due to the storm, please do. If you can also help those impacted by the storm in Louisiana, please do.
PS If we ran out of your size in the PoleCon merch — the online store is open now.