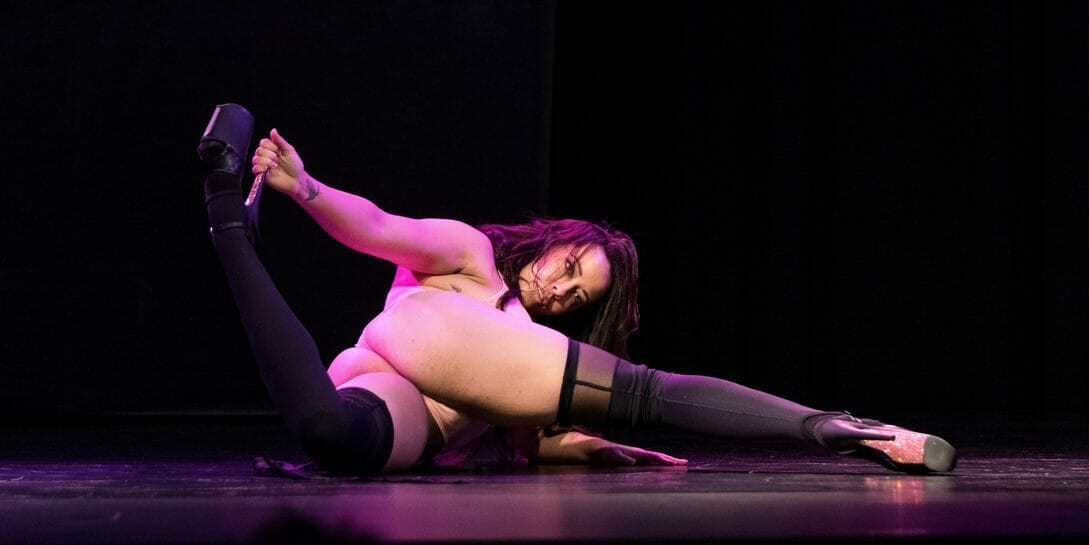 5 Awesome Polers You Need to Know to Unleash Your Siren
If you could be any siren when you pole dance, who would you be?
Imagine you're performing live at a grand event. It's a packed house tonight. You've choreographed a special number to impress industry reps and international audiences. The lights dim as you get on stage in full costume. As the music begins, you focus on getting into character…
Who are you, when the audience sees you for the first time?
What's your signature style? Do you reveal a sexier, more flamboyant, version of your day-to-day self? Or do you embody an entirely different persona that catches everyone by surprise?
Whether you decide to channel the same siren consistently or go through various transformations over your dance career, your magnetism on stage hinges on your ability to tap into this innate power to enchant and enthrall.
Here are a few siren archetypes, as embodied by the pro's, to inspire your next pole performance:
1. The Classic Siren
Remember the stories of sea nymphs whose enchanting singing lured sailors to shipwreck on the rocks around their island? Every time I watch Bobbi, it's always the same. The music starts, she dances, and soon you're spellbound by her sensual style. You can't stop looking, she's visually arresting. That long blonde ponytail swinging from the top of her head. Those long, slender, legs. You feel you're privy to a secret performance no one else gets to watch. There's such a mystery to how she makes every move so attractive, so flattering to the female form.
In fact, Bobbi is always conscious of the lines she creates. You'd think her legs run for miles; in real life, she's not very tall. You can tell when she's holding a split flush with the pole, splitting in a handstand perfectly parallel to the floor, or rolling on her shoulders with her legs extended. It's all in the choreography and the execution, which is flawless. She uses her legs and her posture to make sexy statements; the effect is naturally provocative and racy.
She doesn't need to rush through daredevil acrobatic tricks to impress you. She's confident in her own skin. All she must do is hold every move longer than a few counts, and transition between moves deliberately slowly, so you can see her emphasize her form in the most flattering manner. Her 'trucker chick' pose, with arched back and pointed toes, is so simple, yet visually arresting. It offers the dangerous promise of the thrill, the adventure, the chase. She's Bobbi, larger than life, the one and only.
2. The Natural Siren
I don't know how a person can be so small but have this powerful ability to move you at the same time. Felix Cane is like Puck in a Midsummer Night's Dream ('I am that merry wander of the night' – Shakespeare). She's impish, childlike, fearless, and completely magical when she mounts the pole. All her moves look as though she was born to do them.
She's not dancing to show off advanced acrobatic tricks or trying to make a statement to provoke you. And yet she was the first pole dancer to make people sit up and take this art form seriously. Her colleagues say she has the movement range of a contortionist backed by an incredible dance background. She just looks like she's doing what feels good naturally, and her dance looks like it was meant to be. She makes unthinkable, never-seen-before pole dancing moves look easy. Even when she's pulling off her infamous Spatchcock move.
You'll notice, there's a kind of reverence she has for the stage. It's evident in how she cups the pole and cups her own body and face. She even touches the floor lovingly. Her seamless technique and performance, her perfectly-timed placement of every little transition and pose…it's a marvel to behold. She has such a natural affinity for the pole, that she understands what to do with her body to get the results she wants.
3. The Charismatic Siren
Sparx, a.k.a. Stine Kronborg is so charismatic she's like a modern Joan of Arc who can stomp on stage and galvanize an army if she wanted to. She's got nothing but spirit! In Denmark, she's known for her discography, being a TV celebrity and a showgirl. In the pole dance community, she's equally well known, bringing her showgirl experiences to pole dance, burlesque, and SLAP (striptease-lap dance).
Everyone cheers Sparx on the minute she walks on stage. No matter what choreography or song she dances to, the audience is with her all the way. In this video, she's a real-life Barbie doll stage lion. She has very high showmanship. It's like she's involving the audience every step of the way, egging them on with comedic elements, popular culture references, and lots of props and theatrics throughout her performance.
On the pole, her poses are always exaggerated: whether they're sensual, teasing, or funny. You can't help but react to her. I mean, check out that smile. That infectious sense of humor. The daredevil stunts on stage. Who steps out of a life-size doll package? Who does the robot in glittering pink high heels? Who holds a handstand split in a candy pink tutu dress? Sparx has a lot of swag. And an uncanny ability to pick out fun, lively, tunes that make you want to bust out a few grooves with her.
4. The Coquette Siren
Polekadot Ruby is like the cartoon Jessica Rabbit come to life. She's an expert at arousing desire when she pole dances, and she's a consummate tease. First, check out her costume. She goes from fully dressed Top Gun pilot to July the 4th bikini in nanoseconds. She's not wearing any less fabric than all the other pole dancers but check out those strategically placed accessories… are those thigh bands?
Ruby's fan kicks, body rolls, and leg splits are designed to keep the audience on the edge of their seats; she's constantly teasing with suggestive gyrations and body bounces. The extraordinary number of splits she executes, both on the pole and on the floor, just goes to show how flexible she is!
Sassy as they come, her positioning strategy is flawless. No matter which side of the pole she spins, you will always be treated to a great angle view of her move. You'll either see her full profile, or her derriere, or her full frontal. She works both audiences and cameras simultaneously!
5. The Warrior Siren
If Sporty Spice, Athena, or Wonderwoman were pole dancers, then they would have stiff competition from Fontaine Bradbury. She is the embodiment of physical fitness. Her pole performance is regal because she oozes strength and determination.
Check out her muscle definition. Your jaw drops watching her in a shoulder-mount invert or slow-motion hand stands flush with the pole. Her choreography is a full-on cardio workout from start to finish. She spends more time dangling from the pole out of sheer strength than teasing the audience with sensual floor moves.
In fact, she barely spins for two rotations in each pose before she's getting into a series of aerial combinations high on the pole. Even when she's transitioning between poles, she's not satisfied just walking or dancing between them. She cartwheels on one arm and handstands!
Sweet, sassy, molassey! Which siren are you inspired to be?

Latest posts by Bee-Lee See
(see all)