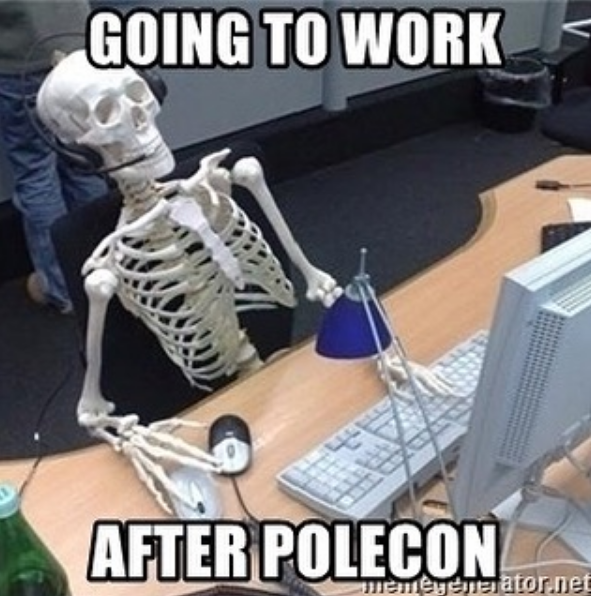 How to Fix Your Post-PoleCon Blues
You're back home, back at your regular pole studio, home space (maybe both) missing your friends from all over the world and you're wondering how you're going to survive until next year. Perhaps you're still reminiscing the amazing BGP showcase, marveling at how creeptastic the creepy showcase was, pondering if you should have bought that one outfit, etc. etc. But fear not fellow PoleCon'ers! While next summer might seem like eons from now, there are still ways to keep the fun going until we're in the Big Easy.
Find Your Friends
First of all, you can find all your favorite instructors and performers on IG! Most of them were listed in your programs (hopefully you kept a copy as a souvenir from the weekend!) so you know how to find them. Secondly, you can catch most of the performances soon to be on YouTube in case you missed one of them or just want to re-watch some of your faves. You can also connect with your new pole friends as well! Maybe you will now have roommates for next year you didn't know from before. How cool is that?!
Start Saving Now
I know it might sound a bit far-fetched, but you can also start saving for next year's convention too. If you're like me, you probably stretched your budget a little bit to make sure you had fun, got most of the things that you wanted, and did a little sight-seeing. If you've never been to NOLA before, it's a big party and eating city! So brace yourself for hurricanes and beignets while listening to jazz music being played on a street corner. In all seriousness though, start looking into how much your flight will cost, get an idea of things you want to do while you're there, etc.
Prepare to Perform
If planning a budget isn't really your thing but performing is, start thinking of a cool concept to submit with your performance application. Maybe some song(s) have really spoken to you that you'd love to do a piece to. Perhaps a great idea came to mind while you were at PoleCon that you feel like the rest of us would enjoy. Let the wheels start turning so when it's time to submit your application you have your idea down packed! All performers receive a discount to PoleCon — more information on how to apply is coming soon.
Be a Vendor
Have a cool product or service that you think would benefit the pole community? Maybe think about being a vendor for next year as well. It is not a cheap venture so I'd recommend joining the PoleCon FB group and seeing if others would be interested in sharing a booth with you. FYI a booth also comes with two PoleCon passes as well so that is an added bonus. And you can write your booth costs and related expenses off of your taxes the following year! Yay!
And speaking of booths and vendors….you can still order products from your fave PoleCon vendors even if you didn't buy them during the weekend itself. Most of the vendors have a website, IG, or email you can reach out for product information. I like to follow some of my fave clothing brands year-round to see if they offer any holiday specials!
Practice What You Learned
Keep what you learned during workshops and seminars fresh in your mind! Incorporate new moves into upcoming performances or showcases, improv sessions or at the club! Take note of inspiring words and find ways to weave them into your pole life. Stay in touch with your instructors via email or IG. Some of them will continue to offer private sessions online as well if that is something you wish to do! If you are a studio owner, you could even invite them to teach a workshop in your home state! The possibilities are endless!
Sharing is Caring
Finally, don't forget to share your favorite pics (make sure you hashtag the event and tag your friends!) and tell your friends about how much fun you had at PoleCon! We are still a growing community that needs and wants support! Some of you may have read/seen the article that the local Denver news did about us. We, as a community, need to let the world know how great pole dancing is and help others understand why we love it – as well as the importance of PoleCon!
So tell your friends, studio owners, instructors and whomever else you can think of to join us next year in New Orleans for PoleCon 2020! And don't forget to check in on your new pole friends throughout the year as well!